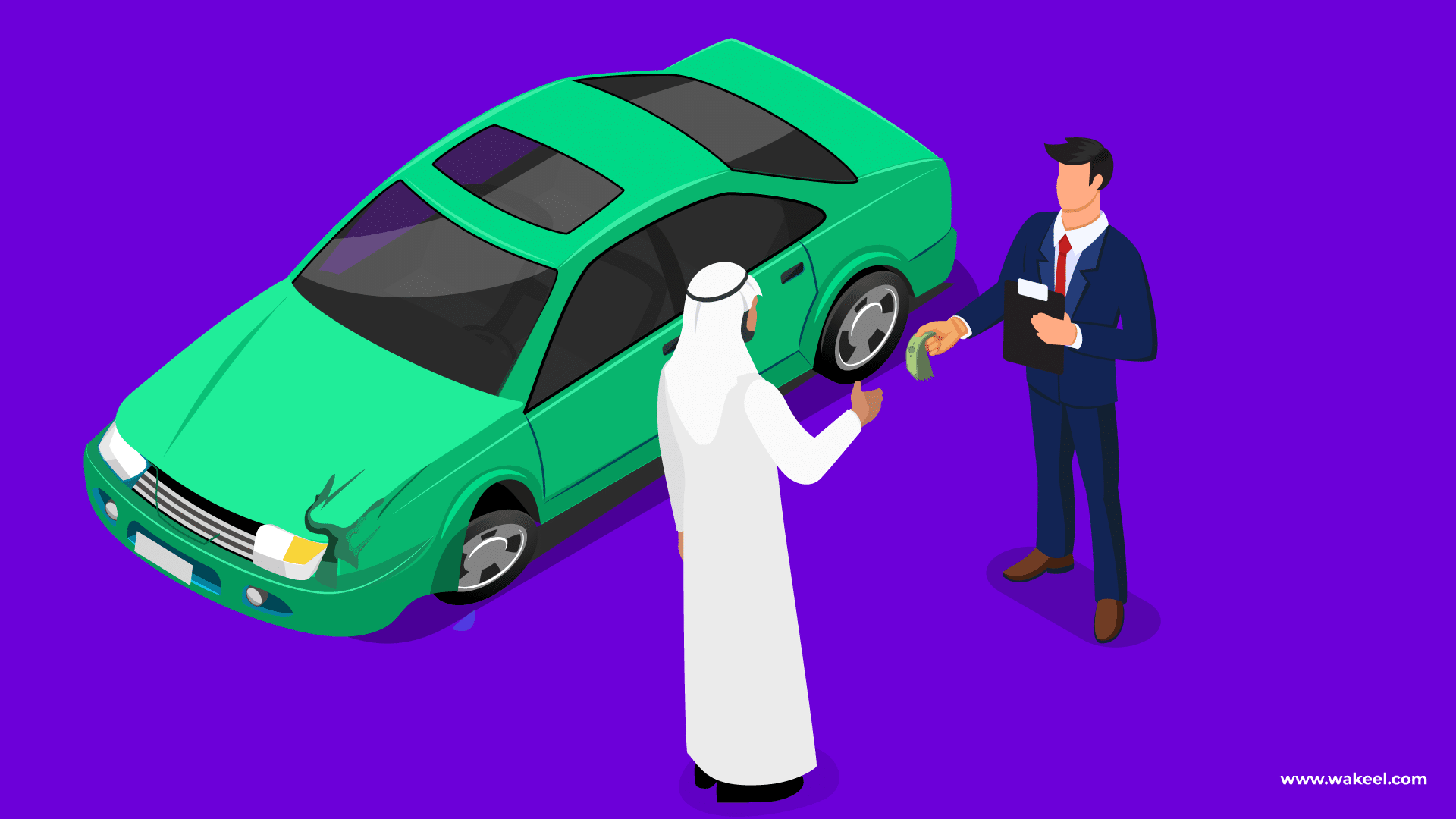 When should you make a claim for compensation
Believe it or not, driving could be the most dangerous thing we do on daily basis. When we do things day after day that are routine, we don't think of them as being particularly dangerous. But the truth is, whenever you are in the car, there's the risk of being involved in a car accident. And while many of these accidents are not fatal —thankfully— they often result in dents and bents, stress, injury, or astronomical repair bills!
Accidents happen, but that's why car insurance exists. Car insurance ensures peace of mind knowing you're protected in case something goes wrong unexpectedly. After a car mishap, receiving compensation can cover any expenses arising from the unfortunate event. But before filing a claim, make sure to know exactly what your car insurance can pay for.
What does car insurance cover?
First thing first, it is important to get a clear understanding of your own car insurance policy; knowing what is and isn't covered should anything happen to your car.
Overall, compulsory car insurance in Saudi Arabia protects you from any claims that may arise from damage your car causes to others.
| | | | | |
| --- | --- | --- | --- | --- |
| Car insurance type | Example | Policyholder | Who receives compensation? (The Insured) | Coverage |
| Compulsory car insurance | Noura insured her car with a compulsory car insurance policy, also known as, TPL car insurance. | Noura | Others i.e third party | Covers Noura against any loss or damage (personal injury or property) others may suffer from as a result of an accident caused by her car. |
Learn more about Comprehensive vs TPL car insurance.
But what about your own car? Or the bodily injury your passengers may suffer? Usually, car accidents involve two parties; So it makes sense to seek comprehensive insurance because your car may be damaged in the same way.
| | | | | |
| --- | --- | --- | --- | --- |
| Car insurance type | Example | Policyholder | Who receives compensation? (The Insured) | Coverage |
| Comprehensive car insurance | Saad bought a comprehensive car insurance policy for his car. | Saad | Saad & others | Covers third-party liability, Saad, and his car – even when the accident is Saad's fault. |
Learn more about Comprehensive vs TPL car insurance.
Don't skip out on understanding your policy fully or purchasing one without comparing car insurance first. Now, you can compare car insurance rates and coverages online in Saudi.
When can I claim compensation?
In an accident that wasn't your fault, you're entitled to make a compensation claim if you have suffered loss, damage, or injury because of the car accident.
Car insurance is more than just one item on your to-do list when buying a car. And understanding your specific policy is important to know what is and isn't covered. So, make sure to get to know your car insurance limits section, before filing a claim.
On the other hand, a comprehensive policyholder can claim car insurance for their own damage regardless of fault. What's more, comprehensive insurance covers losses like car theft, fire damage, vandalism, natural perils, and hitting a stray camel.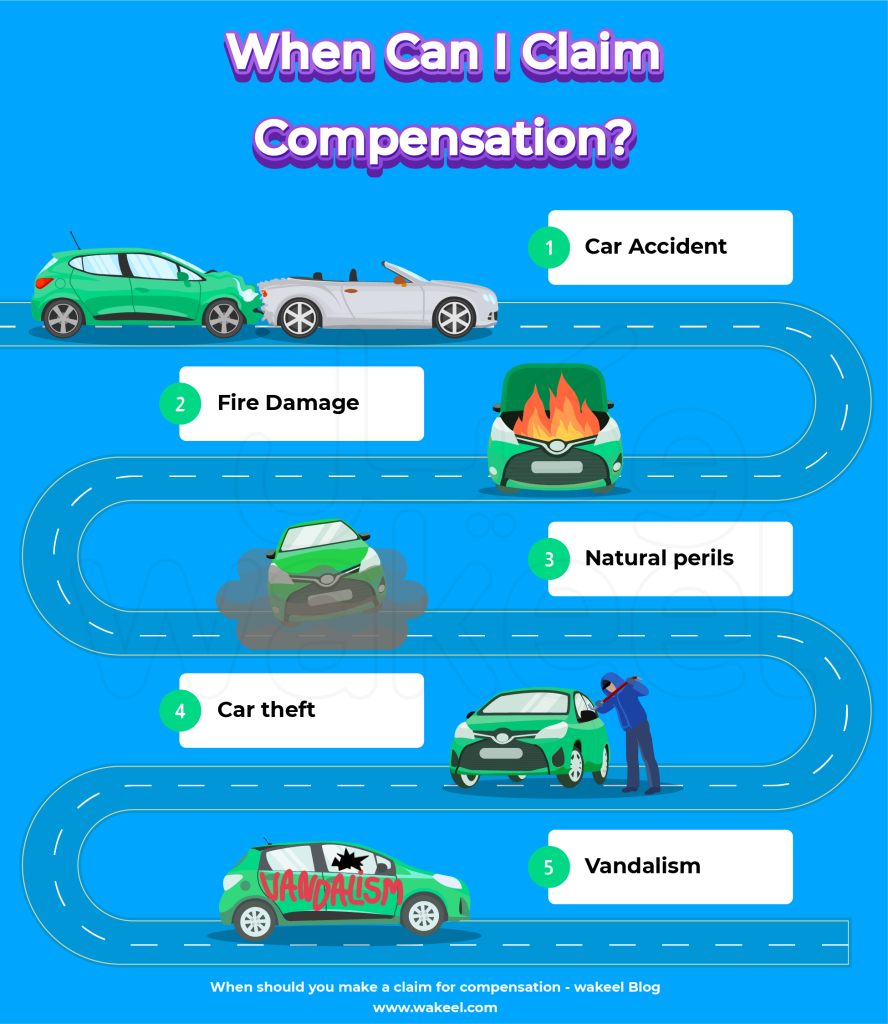 What's compensation, in insurance terms?
In simple terms, compensation means reimbursing someone in recognition of loss, damage, or injury. Accidents can cause a lot of damage; especially, to your own wallet! And without car insurance, the final bill to fix car damages can get very high, very quickly.

Even though buying car insurance requirement in Saudi, that doesn't mean it's not the smart thing to do regardless! When you obtain car insurance, you sign an agreement with your insurer to compensate for any expenses you incur in return for paying your car insurance premium.

Typically, there is a number of ways to offer compensation:
Cash Payment: In most instances, car insurance companies settle third-party claims with a wire transfer directly to the beneficiary's bank accounts. Direct payment is also used to settle a claim for a total loss car. Insurers offer compensation amounting to the car's current market value.
Repair: When the damage is minor, the insurance company rules partial loss. To settle partial loss claims, the insurer will offer to repair the damage at your car's agency or an approved workshop.
Replacement: If a part of your car is damaged beyond repair, the insurance company is obliged to provide new spare parts to replace the damage, in order to bring the car back to its pre-accident condition.
In the last two cases, the insurance company will likely send the check directly to the workshop.
What can you get compensation for?
Here is an overview of some of the things that you can get compensation for. Again, the benefits you get vary depending on your insurance type, but insurance payout may include:
Medical expenses
Bodily injury, including the sums estimated for blood money.
Damage assessment damage expenses
Car towing or transporting expenses (if any)
Replacement car hire expenses (if any)
Car repair costs
Cash value when the car is a total loss.
Before you buy car insurance, take the time to compare the benefits of each policy.
Know your rights during the insurance claims process
Insurance companies have an obligation to process your claim fairly and in a timely manner. As per the time limits set by SAMA, car insurance companies must settle claims within 5 working days.
You can dispute the car insurance company's valuation of your car.

But keep in mind, that car insurance calculates your car value after deducting your deductible and the depreciation from your car's current market value.

Insurance companies must compensate the amounts paid as VAT in third-party claims.
You also have the right to claim compensation for delayed claims, or litigation expenses
Most importantly, you have the right to have a detailed explanation of your insurance inclusions and exclusion before buying car insurance. Take the time to really assess and compare your car insurance option.
Don't rush the process — Read, compare, and ask! This way you can take full advantage of your insurance coverage, and save yourself time in the event that you think something is covered when it actually wasn't.