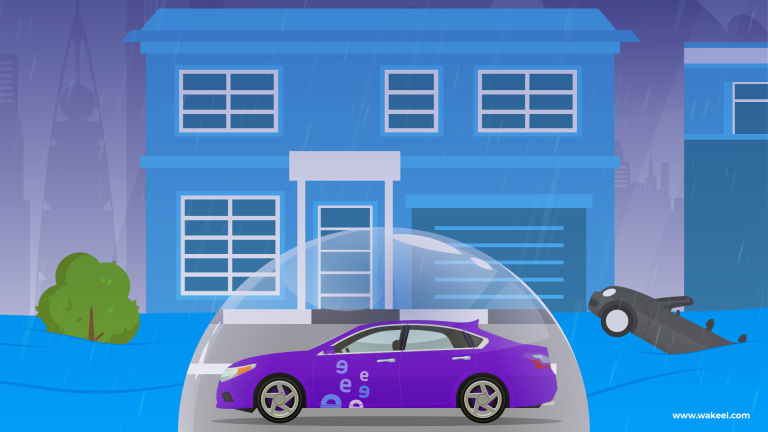 Get Kitted Up with Natural Perils Insurance
Winter in Saudi Arabia has its charms. The Kingdom is surprisingly vast, and due to this, conditions can vary wildly in different regions. At this time of year, you might be lucky enough to witness snowfall in Saudi. Warm days turn into frigid nights in Riyadh, where temperatures could drop to as low as 6 degrees during the night. Meanwhile, Jeddah might experience a downpour – we have it all! It's no surprise then that after a blazing summer; many of us find winter months ideal for planning a Kashta, going camping, or exploring Saudi Arabia's highlands. However; During this time of the year, Saudi gets its share of hail, rain, and flood – all of which can turn your immaculately planned-out outings into a series of unfortunate events! Natural perils can significantly damage your car and your financial well-being. Therefore, you need car insurance to cover your back even when nature gets out of hand.
Natural Perlis in Saudi
Last weekend, the Saudi civil defense issued weather warnings across the Kingdom. A weather warning is a serious alert, severe weather can pose a risk to life as well as serious disruption to travel and possible damage to property.
The best way to stay safe is to stay in and avoid driving at all. Ideally, your car should be inside too parked in a garage! Yet, to be more realistic, Natural perils can strike at any moment! Sometimes, you can be caught off guard when sudden rain causes cars to skid out of control on the highway. During flash floods, the water can even sweep away or submerge safely parked cars.
In that case, you might also look into a policy that could fully protect your car during unavoidable harsh weather conditions. Consider an 'all-risk' comprehensive car insurance to safeguard your car against natural perils.
Comprehensive Insurance Coverage
Essentially, comprehensive car insurance is there to protect you against unexpected risks & bills. Being insured gives you peace of mind, and allows you to enjoy financial security.
Comprehensive car insurance covers damage to your car caused by events that are out of your control. In 2017, SAMA obligated all insurance companies in Saudi to include natural perils coverage in comprehensive car insurance. Meaning, that the cover is 'built-in' in each comprehensive policy and provided free of charge.
What does comprehensive insurance cover?
Compensation for cars damaged by rain & floods.
Windshield and body damage caused by hail.
Vandalism and fire
In any of these scenarios, comprehensive insurance will work on repairing your car to bring it back to its original state, or pay upfront its value – in case the damage is beyond repair.
Useful Insurance Add-ons
Aside from the natural perils coverage your insurance provides, you might want to take advantage of several add-ons that could be of great help during these hard times, such as:
Roadside assistance: You can't drive a flooded car before examining the engine. Roadside assistance is available to assist you 24/7 and tow your car to the nearest workshop.
Agency repair: Agency repair is typically the safest choice when it comes to maintaining or repairing your car.
Hire car: Because life still goes on while your car is being repaired, and you surely need a car to run your errands.
Find affordable comprehensive Insurance
If it's time to renew your car insurance, you might want to start shopping around to find better offers and affordable car insurance rates.
Visit wakeel to compare car insurance prices in Saud. You will be able to discover more options, compare different rates, and buy your car insurance online!
How to Claim Car Damages Due to Natural Perils?
If your car is damaged because of rain or floods; then:
Call the Civil Defense at 998
Civil Defense report will assess and value the damage.
Contact your insurer to claim for damages & attach the Civil Defense Report.
Safe driving tips for bad weather
When driving is a must, please carry out the following procedures:
Be vigilant when Civil defense issues weather warnings.
Take caution and care during weather changes occurring suddenly on the road.
Reduce speed, avoid overtaking other cars, and turn on the lights.
Maintain a safe distance between vehicles.
Stay away from streams of torrents, valleys, and low places.
Do not risk crossing water pools or flooded areas, flowing water could make you lose control over the car.
Use the flashing indicators only for warning and use front and rear wipers to maintain a clear vision.
Take care & stay safe!