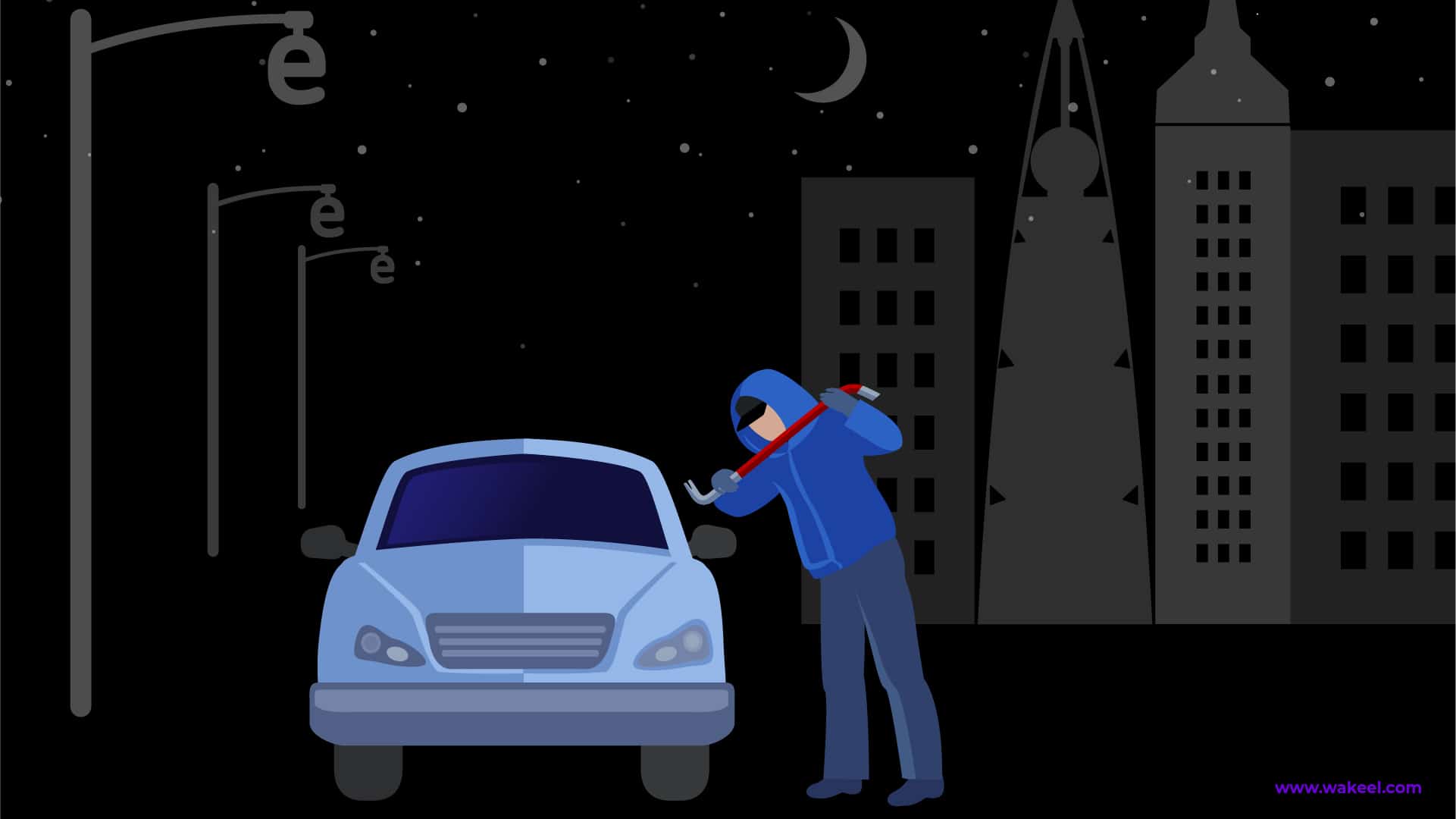 How to Claim Car Theft on Insurance
What could be worse than fumbling in your empty pockets for your car keys, other than your car going missing entirely? Car theft is a real nightmare. In 2017, official figures from the Ministry of Interior reported an average of 38 cars stolen in Saudi every day. The report said most of the car thefts took place in the major cities; where the thieves usually change the car›s outlook and its plate number, before dismantling cars and sell their parts. While car theft is not as common as it once was, it is unfortunately still something you need to protect yourself against. So, here's how what you can do to keep your car safe and avoid theft.
Car Insurance: Theft Cover
Car theft is an awful experience, leaving victims overwhelmed and disoriented. However, finding out your car insurance covers theft could ease your worries and help put this situation in the rear-view mirror. That is to say, you will be able to recoup your loss with the right insurance policy. Let's be clear here, compulsory insurance (TPL) won't cover theft of the vehicle. Whereas, a comprehensive car protects you against loss, damage, and theft-related problems, such as:
Replace your stolen car
Replace some car parts that are stolen or damaged – but not your personal item, unfortunately.
Repair damaged caused by theft or attempted break-in.
Steps to Report Car Theft in Saudi
It can feel like a real-life nightmare when you discover your car isn't where you left it. But before you start panicking, rule out these possibilities:
Have you loaned the car to a family member or a friend before?
Have you parked your car somewhere else this time?
Was it parked illegally and got towed away?
If you're behind on payments, was it repossessed?
If your car was indeed stolen, then here's what you should do:
How to Report a Stolen Car
Firstly, Report the theft to the police: Call 999 or visit the nearest police department. You'll need to provide information about your car, such as its license plate number, registration (ISTIMARA), color, make and model. Ask for a copy of the police report and the case number, which you'll need in the next step.
Secondly, contact your insurer: After filing a police report, you must inform your insurance company that your car is no longer in your possession to avoid legal liability. So, make sure to attach the police report along with the documents required to file a claim.
Post your lost car online: posting about your stolen car on social media can put your community on notice. This could help recover your car faster. Especially, when you include a picture and the date and time you last saw the car.
How Do You Prevent Car Theft?
Car thieves are getting increasingly savvy. In reality, car theft gangs are very organized and can steal your vehicle in seconds. They will choose an easy target, so make it hard for them! Here's what you can do to prevent your car from being stolen and fend off thieves:
Don't leave your car running unattended. Every year, a great number of cars are stolen when the car's engine is on. In this case, you can't claim any compensation if your car is lost due to negligence.
Keep your doors locked, windows and sunroofs closed anytime you aren't in the car.
Install anti-theft devices or alarms, even dash cams can deter car thieves if they know they can easily be identified.
Don't leave any valuable items in your car.
Wherever possible, park your car in the garage.
Otherwise, always opt for secure, well-lit, and monitored parking.
On a final note, sophisticated or even unsophisticated criminals will always find a way to crack code and steal cars. So, don't get caught off guard by not having a backup plan to carry your day-to-day life. The easiest way to avoid such a headache is to be protected by comprehensive car insurance.
Struggling to find affordable insurance?

Get the best car insurance in Saudi
Saudi price comparison platform, wakeel, offers you a safe and efficient way of buying the right insurance policy for your car. Get detailed quotes, and compare car insurance prices online from multiple insurance providers in Saudi. Compare your options independently, easily, and effortlessly! wakeel is always in your corner. Find out all about car insurance offers and compare car insurance rates online.