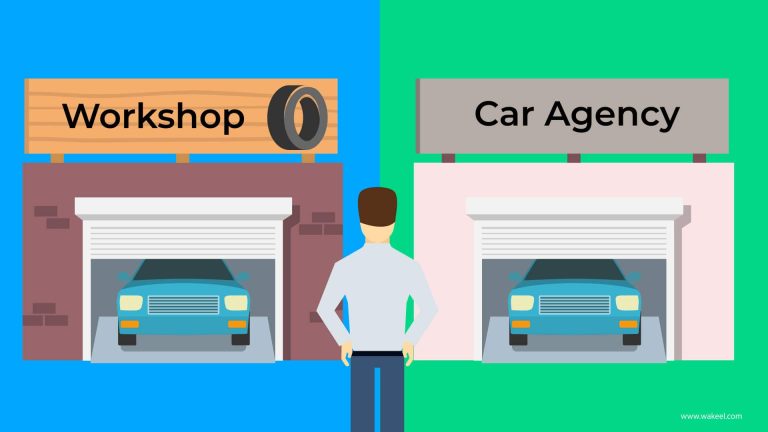 Car Insurance Add-on "Agency Repair vs. Workshop Repair"
Car insurance can surely pay big repair bills and take the burden off your shoulders. Besides, you will have the choice between fixing your car damage after an accident in the agency or an authorized workshop. Generally speaking, buying car insurance in Saudi means that insurance would cover your car and take responsibility for the financial cost that arises in the event of car accidents. According to SAMA', Car owners can expand comprehensive car insurance in Saudi for an additional premium to cover the following:
Renting an alternative car while insurance repairs the damaged insured car.
Roadside assistance service
Repairing damaged car at the agency or a workshop (also known as repair shop and garages)
No car insurance comparison is complete without considering the full details of each policy, like the type of repairs offered. Now, you might be wondering what type of repairs should you opt for? Agency repairs or workshop repairs. Worry not, we'll help you understand the difference between the two options and what works best for you.
What's the Difference between Agency Repair and Non-Agency Repair in Comprehensive Insurance?
First, let's explain how insurers cover the cost of repairs if you are in an accident. If your insured car is damaged in an accident -God forbids- the insurance company will not write you a cheque to cash out – in fact, the company would actually supervise the performance of repairs and pay the expenses themselves, offering the policyholder two options for repair:
First: Agency Repair
Agency repair guarantees, that in the event of a car accident or other risks mentioned in the policy, the authorized agency of your car manufacturer will repair the insured car in their licensed workshops.
Most insurance companies deal with well-known car agencies to offer repair services at the car manufacturer's licensed and authentic workshops. Saudis also refer to this option as garage repairs. Agency repairs are costlier, but also ensure the use of high quality and genuine spare parts.
Second: Authorized Workshop Repair
Whereas, authorized workshop repair guarantees, that in the event of a car accident or other risks mentioned in the policy, you will have a choice from a network of authorized and reputed workshops to repair the insured car. The list of authorized workshops or garages might differ from one insurer to another.
Agency Workshop Repair Vs. Authorized Workshop Repair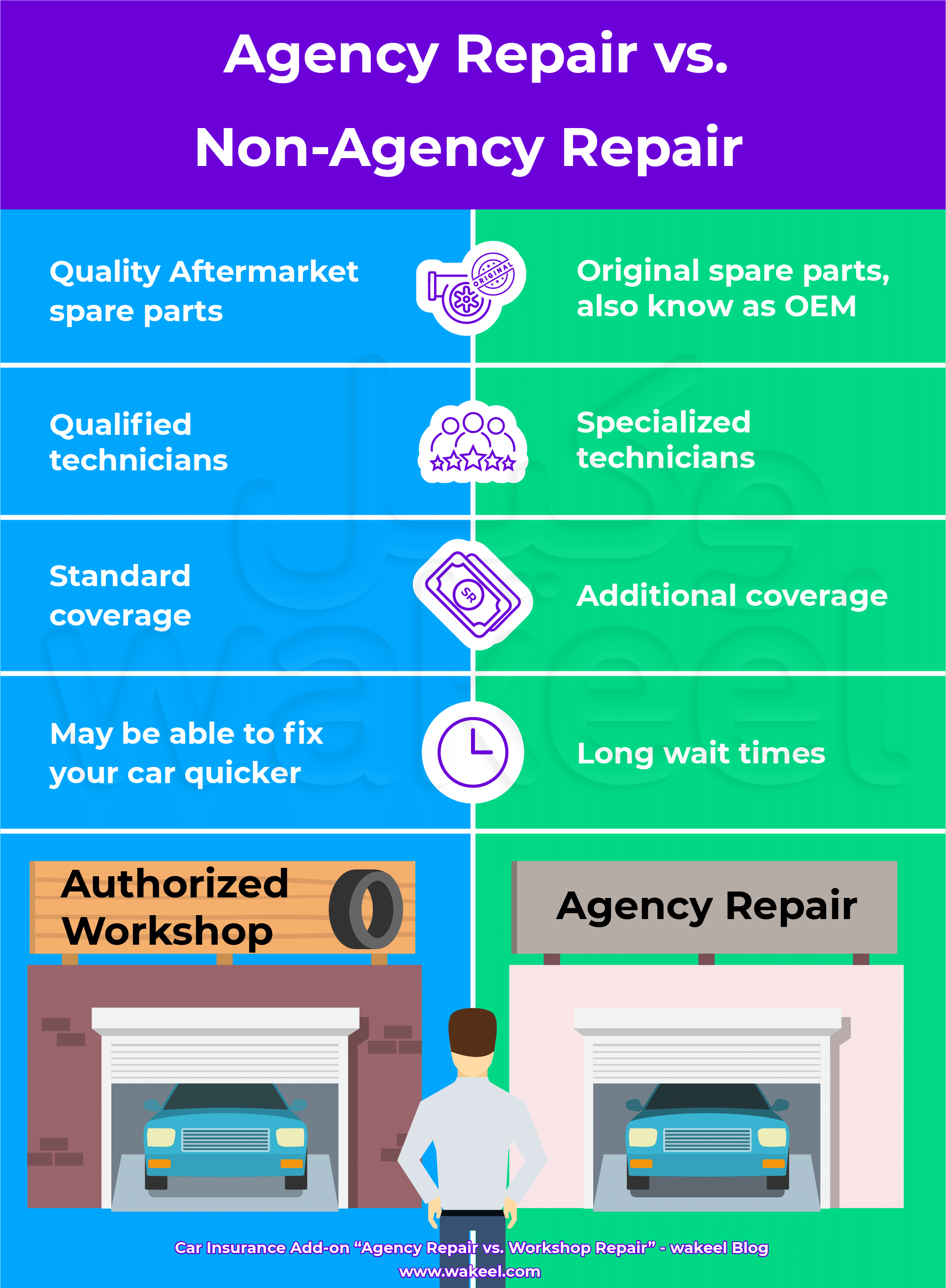 It goes without saying, that repairing cars in the agency guarantees authentic spare parts and high maintenance. What's more, qualified mechanicals will handle the repairs; since these people are trained by the car manufacturer, they know their cars best. Thus, they will be able to diagnose any car issue and give the best solutions. The only downside is agency repairs tend to be more expensive and you will have to pay extra to receive their services.
Agency repairs cons
Sometimes there may be delays in parts delivery or in the scheduling of appointments. These factors can all contribute to the length of time it takes to complete repairs after an accident; which is extremely inconvenient if the car isn't drivable.
Agency repair costs can quickly become too high for minor damages. An insurance company might consider a car to be economically unfixable or a total loss, if the cost of repairing the damage to the vehicle is anywhere near 75-90% of the car's market value.
On the other hand, if you wish to lower your car insurance rates then choosing workshop repairs is a real bargain. Workshops offer low-cost services without compromising the quality of their services and the quality of spare parts used equally. Obviously, well-reputed car insurance companies choose their authorized workshop carefully based on the standard of work they offer. Otherwise, they will be risking losing their reputation and customers. As a matter of fact, many qualified mechanics, who previously worked in agencies' workshops, establish their own workshops. In general, workshops are quicker than agencies when it comes to carrying out repairs. Nobody likes to wait!
Workshop repair cons
Lower resale value. If you plan to sell your car later, the resale value of your car could be negatively impacted.
Delays. Sometimes repairing your car in a workshop can also take longer than if you were to take it to a professional repair shop. This could leave you without a car for an extended period of time, which can be inconvenient.
Which type to opt for
Last but not least, here is wakeel's rule of thumb to help you make a well-informed decision when it comes to choosing the location of repairs
If you have a brand new high-tech car, you should opt for comprehensive car insurance and choose to repair your car in the agency workshop for sure.
However, if your car is older than 5 years old or your car system is simple, then it's best to save on insurance and opt for authorized workshop repairs. All you have to do is compare car insurance prices in Saudi online, and buy a proper car insurance policy from a licensed insurance company. This way you will have the luxury of choosing from a wide network of authorized and reputed workshops.
Picking & Buying the Right Car Insurance
it's important to shop around to get the best deal. In order to get the best, request quotes from multiple car insurance companies to find the policy that works best for you and your budget. Luckily for you, finding the right coverage for your car insurance is easy. Saudi price comparison platform, wakeel, offers you a safe and efficient way of buying the right insurance policy for your car. Get detailed quotes, and compare car insurance prices online from multiple insurance providers in Saudi. Compare your options independently, easily, and effortlessly! wakeel is always in your corner.