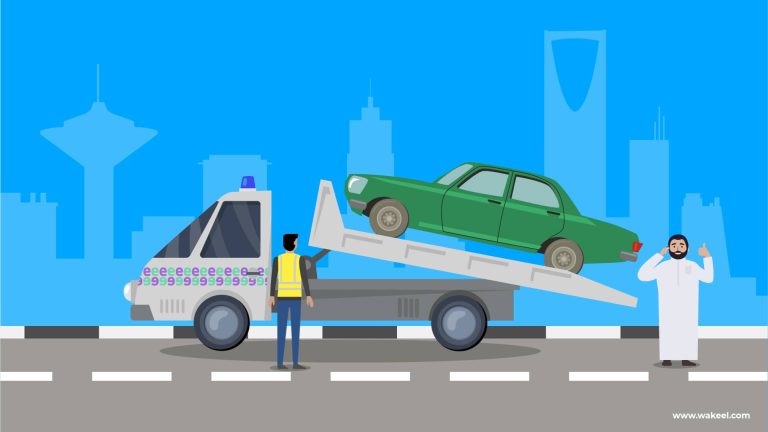 How Important Is the Insurance Add-On Towing Service?
Being on the road is a wonderful experience. Being stuck on the side? Not as much —especially if you often travel solo, have long commutes, or aren't a DIY mechanic! Thankfully, many comprehensive car insurance policies offer roadside assistance either as an add-on or within their coverage. Usually, roadside assistance includes services like towing, jump-starts, tire changes, and fuel delivery in case of emergencies.
From unexpected breakdowns to accidents, having access to reliable towing assistance can provide you with peace of mind and ensure that you're never stranded on the side of the road. So, let's find out why it's a valuable asset for every driver in Saudi.
First things first, what's an add-on?
Add-on covers, as the name suggests, provide additional services that are not included in a standard car insurance policy. These optional covers play a vital role in offering extra protection at an additional premium price.
For instance, a towing add-on, often bundled with roadside service, is an optional coverage that can be added to your TPL or comprehensive car insurance policy. It serves to protect you from the financial burden and inconvenience that comes with car breakdowns or accidents.
Towing Add-On in Car Insurance
Towing coverage assists and covers the expenses involved in moving your car when it breaks down or is involved in a major accident. Additioanlly, roadside assistance services included in this add-on can help with tasks such as changing a flat tire or jump-starting a dead battery in case of a car emergency.
Without this coverage, finding a tow truck or roadside services can be pricey; especially if your car breaks down in an unfamiliar location or during adverse weather conditions.
Can you add roadside assistance to your car insurance?
Yes, you can typically add roadside assistance to your car insurance after purchasing it. Many insurance providers offer roadside assistance as an optional add-on to your policy. You can contact your insurance company and inquire about adding this service to your existing car insurance coverage. They will guide you through the process and provide you with the necessary information regarding any additional costs or changes to your premium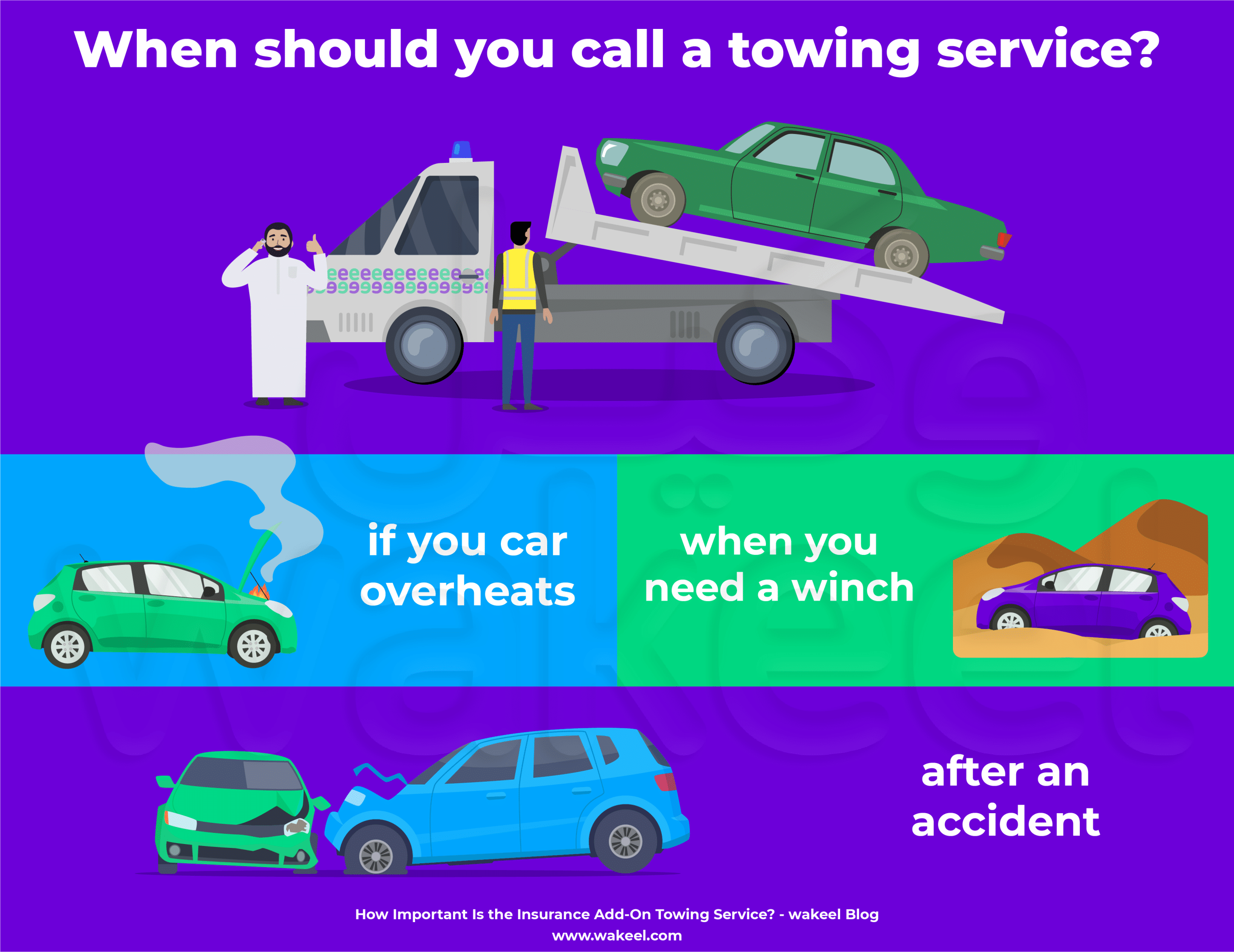 When should you call someone to tow your car?
Here's how to know when you need to call a towing service
Warning signs, when your car's temperature gauge is too high, that's a sign that you might be overheating.
Be on the lookout for unusual sounds, which can be an indicator of serious problems like
Pay attention to any strange smell, which can indicate a serious leak.
Difficulty driving, if it doesn't feel safe to drive your car, you should get it checked by a professional as soon as possible.
What Does a Towing Service Cover?
Whether you are an experienced or inexperienced driver, finding yourself one day in frustrating scenarios is simply inevitable. Accordingly, we can help you find out the right add-ons and compare car insurance policies in Saudi Arabia based on your needs and risk profile; preparation is key to pull you out of these sticky situations:
You've Been in an Accident: When a collision happens, your car might not be in a state to be driven any longer, attempting to could be dangerous even if it seems possible. Your wisest decision is, to move yourself to safety and call for your car insurance roadside assistance services to help you out the situation.
You're Stuck in Inclement Weather: Whether your car skids off the roadway on your way to Abha's hill station or ends up stuck in a ditch alongside your daily route. Towing services bring help to you 24/7, putting you back on the road so you can get to your destination smoothly.
Your Car Overheats: The hot months of summer seem to take a toll on everything, or it could be a faulty fan belt or a radiator hose wear. If your temperature gauge makes a leap toward "H", now is a good time to dispatch a call for your car insurance company to send a tow truck to help.
All you have to do is to rest easy when the towing truck comes to the rescue. Insurance companies can arrange a truck to tow your car to your house or the nearest garage. In addition, the towing service can tow your car to Taqdeer (Traffic Accidents Evaluation Center) if needed.
What is more, a comprehensive roadside assistance add-on covers change of flat tires, refueling empty tanks, jump-starting your battery, and lockout services when you are left stranded.
Why should you consider a towing service?
Vehicle age: Theoretically, older cars generally need more maintenance. Thus, these cars are more likely to end up on the side of the road than a brand-new car; however, no car is immune. Think of it this way: it is a precautionary measure just as invaluable as being equipped with a seatbelt or having an airbag to cushion the impact.
Distance and commute: Give thought to how far you typically drive. If you frequently drive long commutes to work or enjoy road trips to AlUla and Bahrain; then it's a good idea to have a professional network from your car insurance provider within your reach.
Convenience: If you simply value convenience or lack mechanic skills, add-ons are a great way to make your insurance work a lot better for you. Little known fact — Some insurance companies can extend their policies to cover your family member of driving age. Roadside assistance is exactly what drivers who are just getting behind the wheel need to ease some of their worries.
Which car insurance companies provide car towing in KSA?
Luckily, nearly all car insurance companies in Saudi Arabia provide car towing services to their policyholders. But of course, comprehensive insurance policies are designed in such a way that insurance benefits and car insurance prices vary from one policy to another. Some car insurance companies in Saudi will only offer to tow your car in the wake of an accident. On the other hand, other companies will offer you roadside assistance if your car suddenly breaks down, runs out of gas, or needs a tow wherever you are on Saudi roads. 
Get the protection you need
In brief, always be prepared for the unexpected. A "towing add-on" service is a worthy car insurance add-on in Saudi Arabia. When it comes to buying car insurance in Saudi Arabia, you need to search and get car insurance offers from different car insurance providers in Saudi. Using online car insurance price comparison websites can save you time and effort, in searching and looking for car insurance offers.