Compensation for Stray Camels Accidents
Nothing compares to the joy of driving on a highway in Saudi: cursing the road swiftly away from the town's traffic and busy streets, surrounded by golden sand dunes and high mountains – it doesn't get better than that! That's the joy of going on a Kashta in Saudi, but before hitting the road, there's a lot to prepare like getting your car ready for a road trip in Saudi. Moreover, there's a lot to think about when you encounter wildlife on the road. As a matter of fact, wildlife can be a real risk to motorists in Saudi, especially, stray camels crossing the road. Here's everything you need to know for a great and safe driving experience in Saudi!
Stray camels accidents in Saudi
According to MEWA, the number of camels in Saudi is estimated at more than 1.4 million heads. Riyadh region has the largest herd of camels and their population is estimated to be about 322,57; Followed by the Eastern region with a population estimated to be about 256,079 camels. Actually, camels are involved in 97% of Saudi traffic accidents. In 2018, the Ministry of Transport reported that there are five main causes of traffic accident injuries in Saudi which include: stray camels, reckless driving, distracted driving, fatigue, as well as tire exploding.
Avoiding stray camels on the road
Camels have a tendency to unexpectedly cross the road. Because of this, Saudi came up with several countermeasures to alleviate the heavy losses from such accidents.
In particular, the Ministry of Interior has slapped a hefty fine on camel owners who leave their herds wandering onto the roads. Accordingly, the law will penalize owners of camels that cause road accidents. Moreover, the authorities erected fences to keep animals from wandering astray. What's more, Saudi Arabia created a nationwide camel database by micro-chipping every camel in the Kingdom to keep track of owners and for the safety of everyone on the road.
How to avoid hitting a camel?
A few simple tips can help you avoid hitting a camel or other animals on the road.
Avoid speeding always, and wear your safety belt.
Pay attention to the warning signs. These signs are here to let drivers know to stay alert and watch out for camels crossing the road.
Typically, camels travel in groups. So, if you spot a stray camel, assume there will be more. Therefore, slow down and scan your surroundings carefully.
Reduce your speed at night and make sure to use the high beam headlights; because it will reflect their glowing eyes or collars making it easier for you to scan the area.
Be alert to camel activity between the early hours of dawn, especially during the rainy season; as herds of camels often come out to eat during this time.
If a collision is inescapable, stay in your lane and apply the brakes firmly to prevent a head-on collision with another vehicle.
Wildlife barrier fencing aims to prevent camels from crossing roads and to protect all route users. To report a fence or barrier in a damaged condition, causing an immediate safety hazard, please call 938 or use the Ministry of Transport and Logistic Services App.

Ministry of Transport and Logistic Services in Saudi
Does car insurance cover camel accidents in Saudi Arabia?
In general, there are two types of car insurance in Saudi Arabia: compulsory insurance and comprehensive insurance. Put simply, the main difference between the two is the kind of coverage it offers.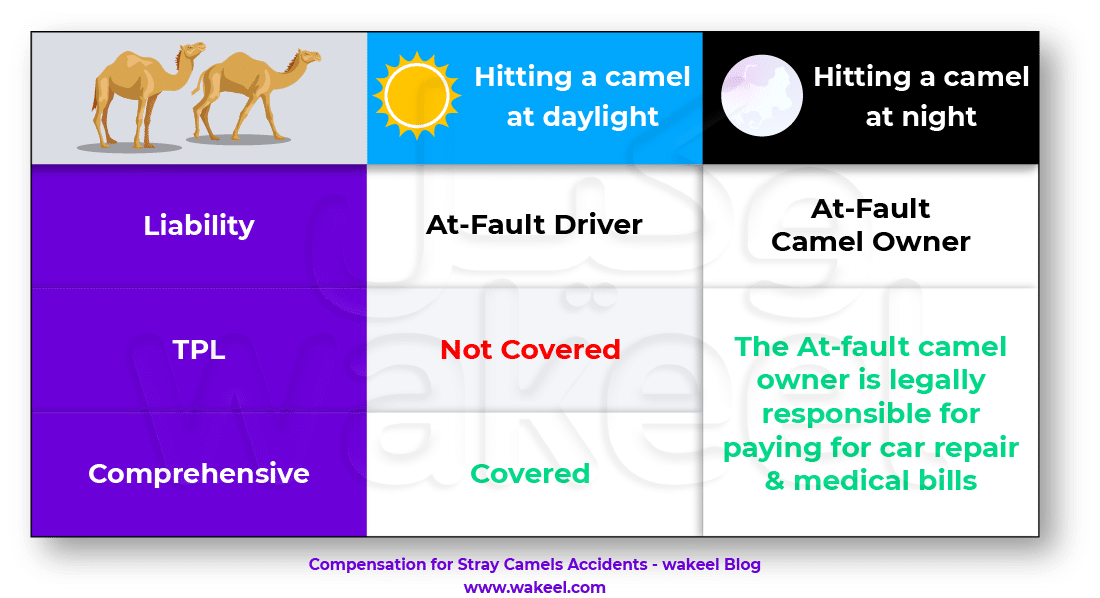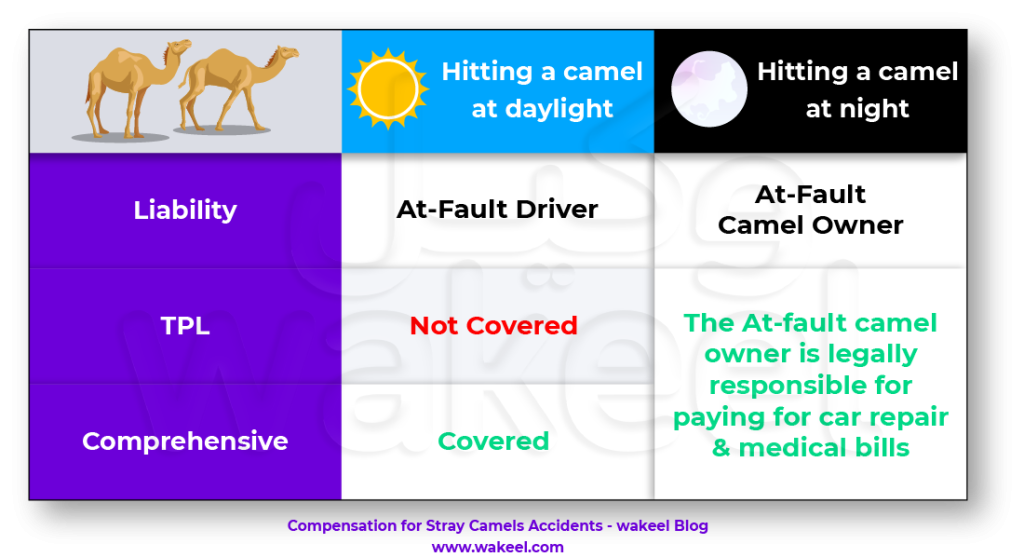 Compulsory insurance, also known as TPL insurance, covers damage to other cars and their passengers, but typically not much else.
Unlike TPL, comprehensive insurance will cover you, your car, and others for a wide range of accidents and damage. This includes:
Car damage resulting from a collision with camels.
Any damage resultant from attempting to avoid camels.
In addition to the expenses of emergency medical treatment for the driver and passengers.
In this context, the Saudi Traffic Law holds the driver liable for the accident if it happens in broad daylight. However, if you hit a camel during the night in Saudi, the camel's owner will be liable for the accident. This is because all camel owners are supposed to keep their camels off the road. In any case, comprehensive car insurance will protect you from stray camels.
Do you have to pay a deductible if you hit a camel?
When you buy comprehensive insurance, you agree to pay a certain amount called a deductible. When you hit camel – God forbid – you have to pay the deductible and in turn, the insurance company will pay all the remaining costs of repairing the car. You will not be required to pay the deductible if:
The camel owner is 100% liable for the accident
Can hitting a camel total your car?
Yes, accidents involving stray camels often result in serious losses and damages to cars. Of course, it varies depending on a few factors such as speed, the size of the car, and the impact of the accident itself. In this case, you may need a car towing service because your car may not be in a drivable condition after the accident.
You may not be able to avoid all animal crossing accidents, so the best you can do is to be alert and prepared. At wakeel, we can help you to protect your car (and wallet too!) Get the right insurance, compare car insurance rates online in Saudi.
Safeguard your car on the way
Saudi price comparison platform, wakeel, offers you a safe and efficient way of buying the right insurance policy for your car. Get detailed quotes, and compare car insurance prices online from multiple insurance providers in Saudi. Compare your options independently, easily, and effortlessly! wakeel is always in your corner.