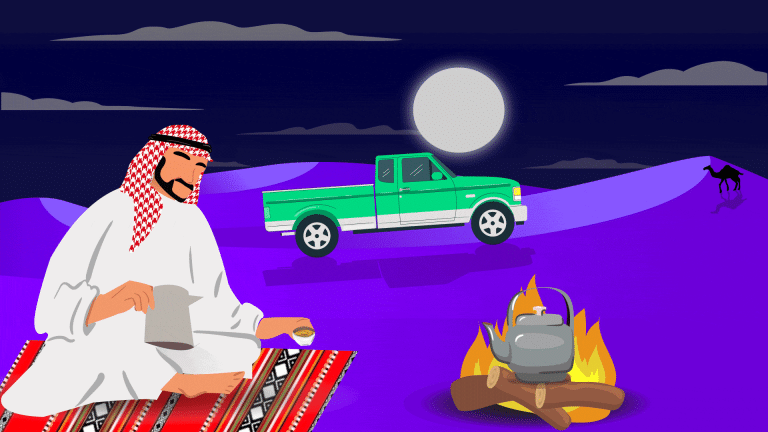 Desert Your Worries in Kashta
Looking for a cure for weekends losing their edge? Thankfully, things can never get dull around here, because Kashta season is here! Kashta is a common theme of Saudi winter plans. And with a wide expanse of the country accessible by car, your destination options are nearly endless. So, if you're anything like us and get excited over all things outdoors, then you'll love an open-air picnic away from the bustling city. Imagine this: bashing the dunes, staying up under the starlit sky, huddling around the bonfire, and chugging tea brewed on coal – that'll surely hit the spot! Come desert your worries in a Kashta in Saudi..
What does Kashta mean in Saudi?
If you are not familiar with the word "Keshta," it refers to Saudis' winter retreat. In simple words, Kashta is going camping in the desert, or a picnic – depending on the length of your stay. Usually, People can huddle around outdoor wood-burning, exchanging interesting stories, or playing card and carrom in between delicious servings of traditional meals and tasty Arabic coffee. Saudis have a strong connection to the deserts which has been an integral part of their identity. Therefore, the desert has always been a primary place for entertainment and outdoor activities. Trust us: there's a reason why this Khaleeji tradition keeps on hitting TripAdvisor's Top ten most exciting things to do in Saudi!
If you are planning a kashta in Saudi, then, there are several camping dos and don't that every seasoned camper or beginner should be aware of. For your convenience, we compiled a quick guide to get you and your car ready for a great – and safe – desert experience.
Prep your car for a Kashta in Saudi
Since you are going on a long trip the first thing, you should do is insure your car is ready. Here are a couple of things to keep in mind before you hit the road:
Keep up on maintenance and do some routine safety checks: change the oil, and filter if needed.
Check the tires and their pressure, also check for a spare.
Fill up! Never go on a road trip before you learn how much fuel does your car consumes & how to save gas
To avoid submersion, don't overload and strain your car.
As tempting as it may be, avoid off-roading since car insurance doesn't cover those damages.
Gather your gear for emergencies
In every season, The Civil Defense urges all campers to pack a first aid kit and a fire extinguisher.
Make sure you have got the right coverage for your upcoming adventure: Does your insurance cover personal accidents? Does it include roadside assistance? How about compensation for stray camels accidents?
Ps. use a Saudi price comparison platform – like wakeel – to compare insurance rates online & check out all the perks you can get when you buy car insurance online in Saudi!
There is no planet B
There are no limits to the things you can do, and the fun you can have on a Kashta trip in Saudi. Nonetheless, you have to show some respect for mother nature:
Root for Trees!
Some people would not think of camping without a campfire, because gathering around fire is steeped in history and tradition. But today, cutting trees to collect firewood's is no longer a necessity for cooking, lighting, or warmth. In fact, it does more harm than good. In the past decades, the Kingdom has witnessed serious environmental degradation caused by the overuse of fires and the increasing demand for firewood. Today, Saudi is on a mission to turn the desert green, to plant 10 billion trees in order to rehabilitate 40 million hectares of land to tackle climate change.
Collecting firewood for camping
Anyone who cuts down a tree or plant in Saudi Arabia will be fined 5,000 Saudi riyals, jailed for up to 10 years. This is out of keenness to achieve environmental sustainability, which is part of Saudi Arabia's Vision 2030 plan.
Show your appreciation for the environment and your support for the Green Saudi Initiative! Instead of cutting trees, try using:
Imported firewood: wood is all the same! The main difference between your local firewood and imported firewood is that the first comes from an environment that is scarce with trees and rain that cannot afford to lose a single tree, whereas the latter comes from an area with an abundant supply of wood.
Gas heater & portable grills.
Respect Wildlife
Hunting is a popular pastime and has been an established recreational activity for many years and is considered a way of life. Hunting is permitted in Saudi, but strict regulations are imposed to protect wildlife. These include: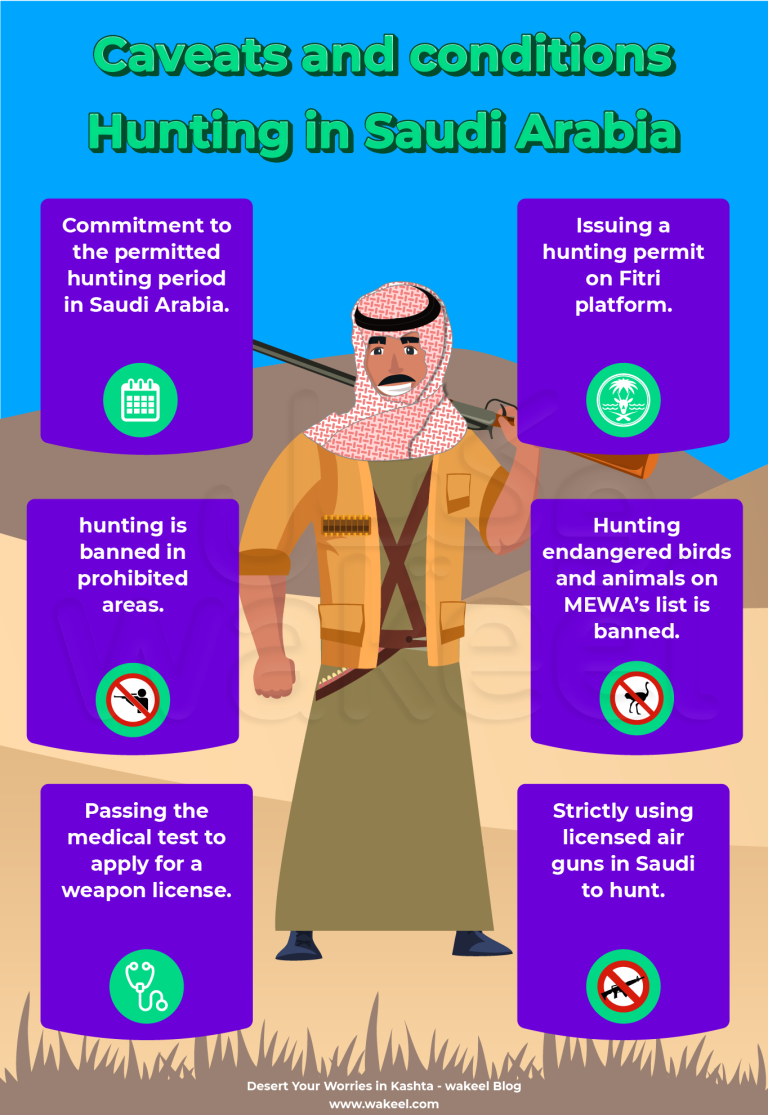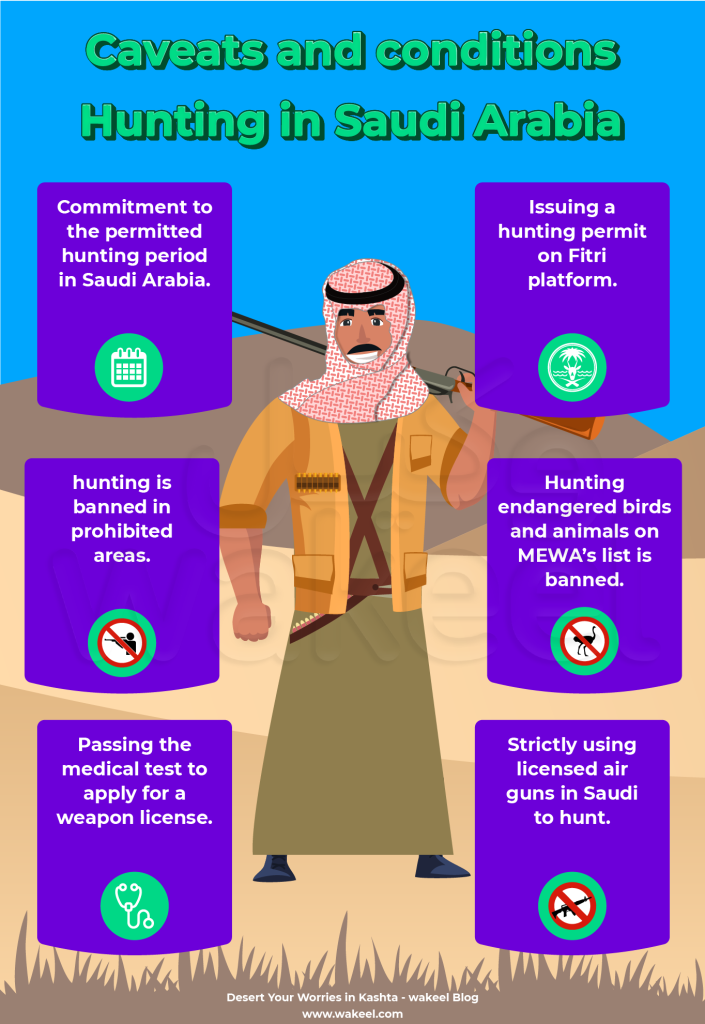 Issuing a hunting permit on Fitri platform.
The hunting period in Saudi starts on November 1st and ends on January 2021.
Hunting endangered birds and animals on MEWA's list is banned.
Also, hunting is banned in prohibited areas.
Strictly using licensed air guns in Saudi to hunt. In order to renew an expired firearm license, you can send a request on Absher platform
Insurance is assurance
No matter where you travel, it is essential to take all precautions before heading out. Make sure that there is no prohibition or need for permission from authorities for the places your plan to embark upon, or the activities you want to try, and most importantly, make sure to stay safe on the road. Speaking of safety, don't forget to check your car insurance coverage.
Luckily for you, finding the right coverage for your car insurance is easy. Saudi price comparison platform, wakeel, offers you a safe and efficient way of buying the right insurance policy for your car. Get detailed quotes, and compare car insurance prices online from multiple insurance providers in Saudi. Compare your options independently, easily, and effortlessly! wakeel is always in your corner.