How Najm's Remote Review System Works
The General Department of Traffic, in cooperation with Najm for Insurance Services Company, launched on Monday (April 11, 2022) the first phase of a remote review system for minor traffic accidents. The newly launched system offers innovative, speedy solutions for citizens, residents, and visitors in Saudi Arabia.
In a nutshell, resolving minor traffic accidents in Saudi just got easier through Najm app! If you encounter a minor accident, you will be able to complete the entire post-accident procedures on your own without involving Najm surveyors— Saving your time and effort!
However, motorists can only use this service if one of them holds a valid car insurance policy; there are neither injuries nor deaths; and the location of the accident is within the Najm's area of service.
What does the remote review system bring to the table?
Statistically, Najms has a lot on their plate but minor car accidents can be a major headache for everybody involved. Now, this is something from the past. The remote review systems provide convenience and efficiency. Through this service, Najm aims to speed up the process in order to save time and effort. In particular, motorists won't have to wait for Najm to arrive and start the accident assessment. Currently, the app allows motorists to automatically report the accident, and later receive the necessary documents to start post-accident procedures.
Dr. Muhammad Al-Sulaiman, CEO of Najm Company, explained that the remote review system aims to attend rapidly to the needs of motorists while ensuring the safety of all road users in the Kingdom. And that is in parallel with the national digital transformation program outlined by Saudi Vision 2030.
How to report minor accidents via Najm app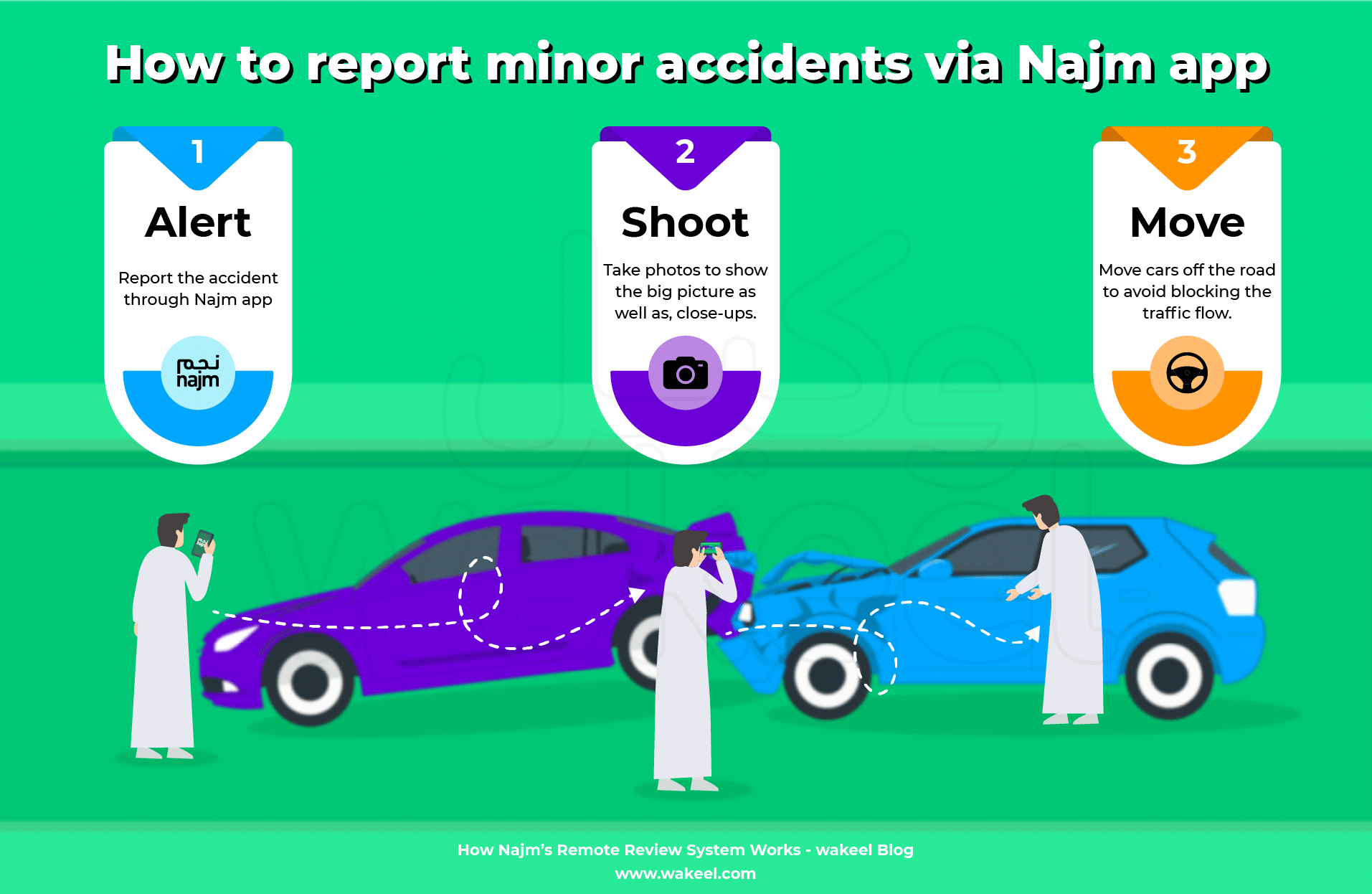 If you get into an accident, you must alert Najm as soon as possible. The accident could be as minor as a bump, but without getting Najm accident report, you will find it hard to get your car repaired or file claim insurance. Failure to report may also lead to legal consequences.
To use the new service, drivers must first download Najm app, and then follow these steps:
Alert: First things first, report the accident through Najm app, or by calling Najm number (199033).
Take pictures: Ideally, you should take photos from a short distance away of the entire accident scene to show the big picture. As well as, close-ups to show damage clearly.
Move: Move cars off the road to avoid blocking the traffic flow. If the car had been totaled or is not running properly, you must contact a car towing service. Otherwise, this can create chain accidents and unbearable congestion.
Afterward, the accident parties will be able to check if the accident report is ready on the app. Once it's ready, Najm will automatically send the report to the insurance company. At the same time, the accident parties will receive a notification on their mobile phones. As soon as the report is ready, parties can contact the insurance company to file a car insurance claim. Learn more about car insurance settlement and compensation in Saudi.
Who can use remote review system service?
The Traffic Department said that there are certain conditions to avail the service. These include the following:
Valid car insurance: Driving without insurance in Saudi Arabia is illegal! You could receive a fine ranging from 150 – to 300 Saudi riyals.

When both drivers are uninsured, they must call the traffic police (993). The at-fault driver will have to take care of all the bills and expenses, as well as pay their fine. Remember, paying out of pocket is never fun; Compare car insurance rates, and see how much you can save today!
No injuries: Make sure everyone is safe. If there are any serious injuries, call an ambulance immediately (977) and report traffic police to attend the scene.
Within Najm's range: The accident location should be within Najm's area of service. Najm works inside Saudi lands only and serves 40 Saudi cities. You can easily check if Najm covers your current location by enabling phone location on the application.
Insure & Be Assured
Undeniably, spreading awareness about insurance culture and road safety is a priority for Najm. Recently, Najm launched "Insure & Be Assured" campaign, which aims at raising awareness among car owners and drivers; highlighting the significance of carrying car insurance.
The campaign encourages drivers to invest in car insurance, by focusing attention on the finical and psychological perks of having insurance. One thing about insurance is that it's a necessity and never a luxury! Without car insurance, dealing with a car accident can be a long, tedious process. On top of that, you will have to pay for repairs and compensations out of your own pocket.

Meanwhile, with car insurance, Najm simplifies all post-accident procedures for you. Once you file a claim with the insurance company, the company will take care of the whole process for you. Comprehensive car insurance will help you put any car mishap in the rear-view mirror easily. Be sure that insurance will pay third party compensation, repair car damage, replacing any damaged-beyond-repair parts, or tow your car when needed. This is why you should invest in proper car insurance. Check a price comparison site if you need to find affordable car insurance rates in Saudi.