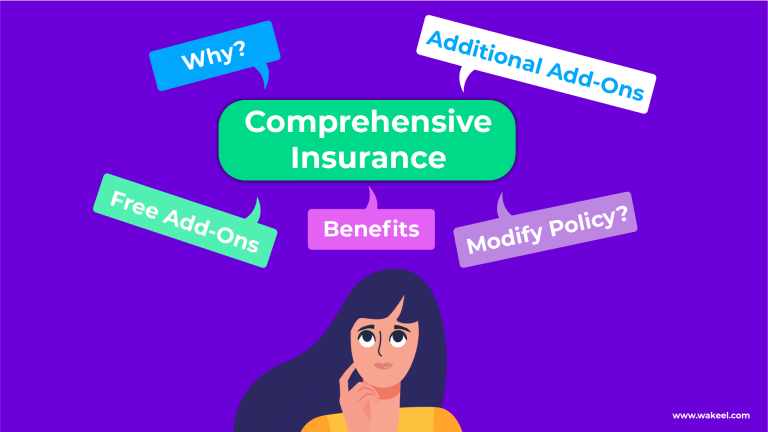 Guide to Comprehensive Insurance Cover & Add-ons
In Saudi, getting your car insurance is compulsory. However, choosing your car insurance coverage is entirely up to you. Given the different options of policies available in the Saudi market, choosing between car insurance policies can be confusing. That is why it's important to compare car insurance types and understand the difference between comprehensive insurance coverage and third-party cover before making a purchase.
Is buying Comprehensive Insurance a Smart Decision?
Although it is expensive, it's a good idea to buy comprehensive car insurance; because it offers the best protection for both third parties and you. In particular, opting for comprehensive insurance is ideal for leased cars or high-value cars.
How is Comprehensive insurance different than TPL?
To simplify, the main difference between TPL and comprehensive insurance is the level of coverage each offers. Typically, TPL covers typically third-party liabilities only. Whereas, comprehensive pays for damage to your car. Plus, it helps cover different types of losses that are usually not the result of car accidents, such as theft, fire, and weather related-damage.

Let's put it simply, whenever there is an accident, there are always two people involved; one of them is you. If you are at fault, TPL will cover the other person and his car damages only. Whereas, comprehensive insurance will repair your car damages in addition to the others. So, it's safe to say that comprehensive policy has you, others, and your car fully protected. Accordingly, you don't have to worry about putting a dent in your wallet on top of your car dents.
Find all your answers on comprehensive insurance coverage in simple wording here, read on!
New Rules for Comprehensive Insurance
In 2022, The Saudi Central Bank (SAMA) announced the issuance of the Comprehensive Motor Insurance rules. These rules aim to regulate the contractual relationship between the insurer and the insured by standardizing the minimum coverage of Comprehensive Motor Insurance.

According to the new rules, all comprehensive insurance policies must include compulsory coverage (standard) and offer optional coverage (add-ons.)
What is Add-on in Comprehensive Insurance?
As the name suggests, an add-on offers an extension to your coverage, to cover damages that basic car insurance won't cover, for an additional cost. Overall, add-ons can help you avoid paying huge amounts out of pocket.
Can I Customize My Car Insurance?
As previously mentioned, comprehensive car insurance allows you to customize your coverage according to your needs with full and cost-effective protection. In general, TPL insurance restrictively provides the minimum level of coverage. Alternatively, a comprehensive car insurance policy will offer a wide range of add-ons to boost your protection. At wakeel, we promise to fulfill all your insurance expectations according to budget. Compare car insurance policies in Saudi & save up!

What Are Some Basic Comprehensive Insurance Covers in Saudi?
According to the rules, all comprehensive insurance policies must cover the following:
Collisions.
Fire and theft.
Damage resulting from natural disasters such as lightning, floods, and hail.
Towing and storage expenses.
Alternative rental car coverage.
Third-party liability coverage.
Important Car Insurance Add-ons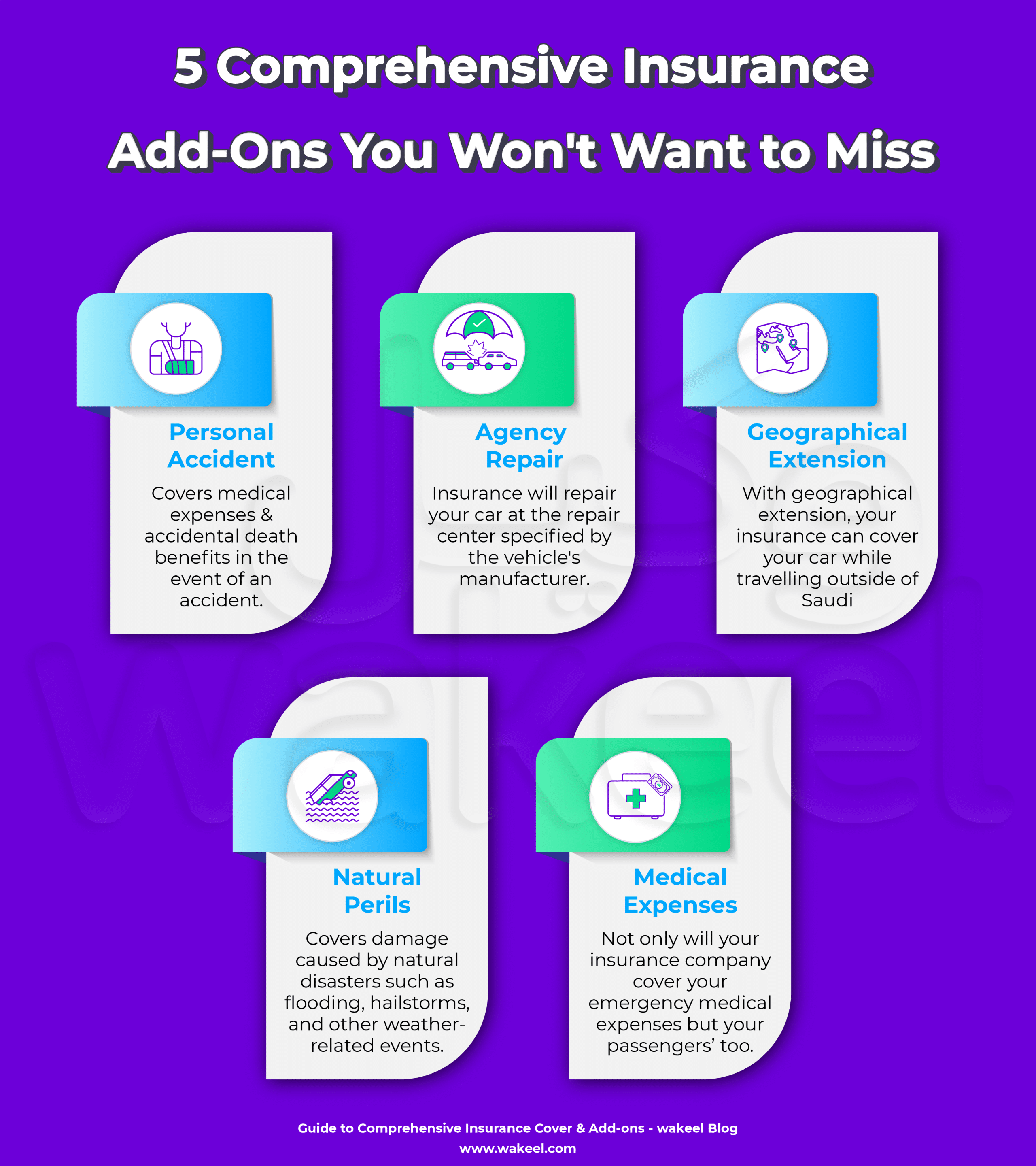 Usually, Saudi drivers look for a comprehensive insurance policy that includes these add-ons:
Geographical Extension: Many Saudis and residents drive to neighboring countries. Most frequent drivers looking for a hassle-free trip are expanding their car insurance coverage to cover and:
Insure Saudi car in Kuwait
Insure Saudi cars in Jordan
Insure Saudi cars in the UAE
Loss or Damage to Your Vehicle: Primarily, most drivers are looking for insurance that will cover their own damages too. In the wake of accidents, your insurer will either repair your car damages or pay upfront in cash its value when it's damaged beyond repair. Moreover, your insurance company will offer you the choice between repairing your car at its authorized agency workshop or guaranteed workshops.
Personal Accident: We hope it never happens, but if it does, we want you to be in good hands. If you are involved in an accident, insurance will cover your personal injuries. Similarly, insurance will cover other drivers as long as they're listed as additional drivers on the policy.
Medical Expenses Due to an Accident: Not only will your insurance company cover your emergency medical expenses (including hospitalization and treatment fees) but your passengers' too. Moreover, when the accident results in death, your insurer will be responsible for reimbursing blood money (Diya).
Natural Perils: Although we live in one of the safest places, nobody can control nature's furies. In 2017, SAMA directed insurers to cover natural disasters in comprehensive insurance cover to include damages rain, floods, and hailstorms may cause. Moreover, some insurers could extend this cover to include fire and theft. Remember, it's always better to be safe than sorry!
What Other Car Insurance Add-ons Are Beneficial in Saudi?
Hire Car: Following a car accident, one of your first questions may be: What am I going to drive now? Of course, life still goes on after accidents. When your car is in the workshop, this add-on comes to the rescue with a hired replacement car for your personal use.
Roadside Assistance: Punctured your tire on the Northern Ring Road? Or perhaps your car broke and needs towing back to Riyadh? In similar situations, this add-on can be of help here. A 24/7 roadside assistance add-on will definitely cost more, but buying your peace of mind = is priceless.
Avoid Depreciation with Zero-Depreciation: Everything wears and tears over time, and even your car could lose its value quickly. As each part of the car wears out, the value of your car equally diminishes. However, if you've opted for a zero-depreciation cover in your insurance policy, you can keep your car value longer.
Safeguard your car on the way
Of course, no one wants to spend more than they should on car insurance. That's why wakeel makes it easy to compare cheap car insurance prices online & learn about insurance offers in Saudi Arabia.
Saudi price comparison platform, wakeel, offers you a safe and efficient way of buying the right insurance policy for your car. Get detailed quotes, and compare car insurance prices online from multiple insurance providers in Saudi. Compare your options independently, easily, and effortlessly! wakeel is always in your corner.