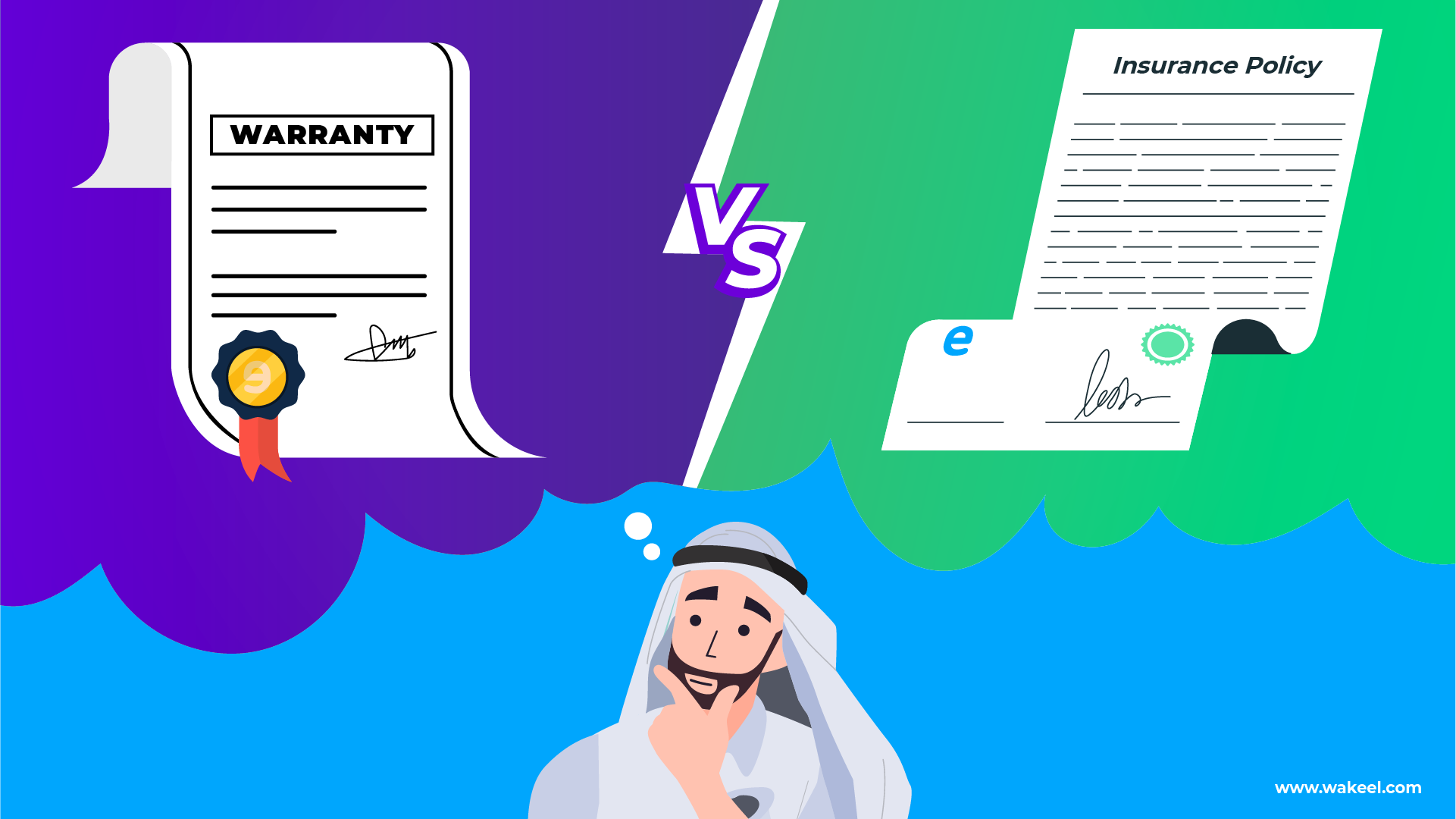 What's the Difference between Insurance and Warranty
By and large, car insurance and warranty are closely related. The two are financial backups that offer peace of mind and protect the vehicle and its owner against unexpected events; however, when comparing car insurance vs. a warranty in terms of coverage and requirements, the two vary completely. To rephrase it, each actually applies in very different scenarios.
Since both can pay for repairing cars, people often confuse the two together without even knowing it. In many cases, this confusion can lead to a couple of unpleasant surprises! If you're able to understand the differences between insurance and warranty, you will be able to adequately protect your car and your wallet.
What is a car warranty?
A car warranty is a commitment the car manufacturer (or their agent in Saudi) gives concerning the car quality. A warranty should repair, without any charge, any failure occurring during the warranty period resulting from defects in material or workmanship. Sometimes, this also includes replacing service supplies, such as oils, coolant, and refrigerant, etc. when needed.
What are the different types of warranty?
Manufacturer's warranty
Every consumer has the right to receive the manufacturer's warranty upon buying a brand new car. The warranty aims to protect the consumers' rights and establish credibility between the consumer and the car manufacturer.
In terms of coverage, a car warranty should be responsible for the repair or replacement during the specified period. This of course varies from one manufacturer to another, but a typical car warranty is valid for five years or 150,000 kilometers — whichever comes first.
Extended warranty
An extended auto warranty is an optional service contract offered by manufacturers, agents, and third-party providers at an extra cost. As the name implies, an extended warranty extends the length of coverage for new vehicles.
Buying one prolongs the duration of coverage provided by the local agent for second-hand car owners with a car outside the manufacturer's warranty. Once again, the coverage length for extended warranties varies widely between providers, but is also measured in years or mileage.
What does a car warranty cover?
Typically, a warranty covers certain types of problems that your car might encounter, such as mechanical breakdowns and defects, as well as vehicle recalls.
Under a warranty, you won't have to foo the repair bill for parts that break due to normal wear and tear. This includes all car systems like the cooling system, the engine, and electrical system; which means electrical parts such as side mirrors and power windows. Also, a car warranty also covers car accessories such as cameras, navigation systems, safety features, etc.
Vehicle Recalls
A "recall" is a global system for goods and products that, after use, are found defective, and are directly subject to recall operations. Vehicle recalls happen when the MOIC or SASO determines that a car creates an unreasonable safety risk or fails to meet minimum safety standards.
In the event of a recall, the recall becomes the responsibility of the manufacturer. Per MOIC, the local agent must first notify all affected clients — even cars outside warranty — directly as soon as possible. Should your car require a recall repair, the local agent must schedule an appointment to inspect it. Regardless of the component causing your car's recall, the agent must repair or replace the defective part free of charge. Plus, if you happen to live 80+ km away from the nearest authorized workshop of the local agent, the agent must either send technicians or cover the transportation fees.
If at any time you are concerned about your car and wish to check if it is subject to recall in Saudi, you can do so by visiting o the Ministry of Commerce website. Then, enter your 17-character vehicle identification number (VIN).
What is not covered by a warranty
In general, the warranty does not cover any accidental damages caused by improper use, car accidents, and negligence. In detail, a car warranty will not cover the following:
Vandalism and malicious acts
Defects or damage resulting from neglecting routine maintenance.
Tires are only warranted by the tire manufacturer.
Negligence, such as driving off-road or continuing driving after the car engine heats up.
Using non-approved spare parts or carrying unauthorized car modifications.
Accidental damages are the responsibility of car insurance.
Using poor fuel quality voids a car warranty.
Natural perils such as rain, hail, and floods.
Exterior wear and tear due to usage, aging, exposure, and usage of chemical cleansing agents.
Damage caused by any unauthorized modifications.
Paint fading or discolouration
Now, what is car insurance?
Simply put, an insurance policy is a contract between the insurer and the policyholder to provide financial protection against legal and finical liability that could also arise from incidents in a car.
With car insurance, you won't have to worry about unexpectedly needing to pay for a costly, covered repair, which can provide financial security.
Unlike car warranties, car insurance is not optional. Insurance is legally required in order to register a car in Saudi. So, you can't really get out of it, because you also have to carry a valid car insurance policy to be able to drive your car.
If you're thinking about driving an uninsured car, bear in mind that this could land you a fine of SAR 300. Besides, it could really jeopardize your savings, car, and driver's license if you get into an accident without insurance.
What does car insurance cover?
While insurance is non-negotiable, you can still choose your coverage, add, or subtract as you like. In Saudi Arabia, there are two types of car insurance: third-party liability insurance and comprehensive insurance. Here's a quick comparison between tpl vs comprehensive insurance.
TPL car insurance
Third-party car insurance is the minimum level of insurance coverage you need to drive legally in Saudi Arabia. Third-party insurance will cover all the possible damage to others that can happen in a car accident you caused. Thus, you won't have to worry about any legal or financial liability arising from accidents.
However, Third-party insurance will pay for the other person's damage only. In case of an accident, you will have to pay for your own repairs out of your pocket. For this reason, you might consider switching from third-party insurance to comprehensive.
Comprehensive car insurance
Comprehensive car insurance provides optimum protection
In an accident, there are usually two cars involved, and yours is one of them! Third-party insurance will certainly pay for the other person's damage. But what about you? The potential cost of medical bills, car repairs, and spare parts can add up quickly and, in some cases, lead to crippling debt.
Not only does comprehensive pay to repair/compensate third-party, but it also protects your car after an accident. Aside from accidents, a comprehensive insurance policy provide fully covers your car from different kinds of risks such as stray camel accidents, fire, theft, and natural disasters. Learn more about comprehensive insurance.
What is not covered by insurance
Most car insurance policies won't cover loss or damage if:
You were driving without a valid driver's license
Gave inaccurate information when buying insurance or reporting an accident.
Using the car for purposes other than those stated in the insurance policy, or simply overloading the car.
Using the car to race or drift.
Driving off-road.
Staging accidents for personal gain – that's actually motor fraud!
Accidents result from violating traffic laws and regulations, such as running a red light.
Accidents resulting from driving a car under the influence of drugs and medical drugs affect the ability to drive safely.
A driver leaves the scene without reporting the accident.
Accidents that occur outside the geographical borders of the Kingdom of Saudi Arabia.
What are the differences between car warranties and car insurance?
Comparison
Car warranty
Car insurance
Length
New car warranty: starts from the date of purchase and typically last 3-5 years.

Extended Warranty: varies between 6 – 24 months in most cases
Renewable annually.
obligation
Car warranties are optional.
TPL insurance is mandatory in Saudi.
Coverage
Mechanical breakdowns and defects
Accidental damage
Exceptions
Improper use, or voiding car warranty.
Violating traffic laws, or voiding a car insurance policy.
When do you buy it
Your car will come with a warranty that lasts for *5 years; after that, you can buy an extended warranty from the agent or another company.
You can buy/renew your insurance at any time.
Where do you buy it
Manufacturer, local agent, a third-party vendor.
You can buy it directly from car insurance companies, or online on an insurance comparison website, for example.
Transferability
Can be transferred after ownership transfer.
Cannot be transferred
Cancellation
Cannot be canceled, or refunded
Can be canceled, and you can receive a refund.
insurance vs warranty
Do you need car insurance and a car warranty?
Whether you're driving a clunker or a fresh-off-the-lot, you'll always want to protect your car against unforeseen damages — Either with your car insurance policy or your car warranty. But do you need both?
If you are looking for a short answer, car insurance is a must. On the other hand, warranties are optional and you do have an option of whether or not to purchase a car warranty after it expires.
People consider buying warranties for a couple of reasons. Mainly, because it can help them maintain a car for a longer period, without having to worry about unexpected costs. Especially, if you consider how common car breakdown occurs, especially in the later years of a car's life. Others find warranties beneficial. because they can increase the sale price of a used car. However, in most cases, an extended car warranty can be an unnecessary expense!
A Consumer Reports survey found that more than half of extended warranty consumers never use it. Those who do use it end up paying more for it than they reap in savings. Not to mention that warranties don't cover everything. Like electronics warranties, most car warranties have limitations on the types of repairs — or amount of repairs — they'll cover.
Sometimes, insurance could be an alternative to a warranty
If a car warranty isn't your cup of tea, alternatives exist! One thing you can do is set up an emergency fund for unexpected car repairs. Second, you can add an extra layer of protection to your insurance coverage to replace your warranty.
Roadside Assistance cover: This add-on covers the costs of towing and towing, and changing tires or batteries in the event the vehicle breaks down on the road.
Mechanical breakdown cover: This add-on works the same way warranties work. It helps repair any mechanical or electrical breakdowns and defects. This cover the costs of replacing the necessary parts and the wages of labor in the event your car breaks down for a reason indicated in the coverage schedule.
Before buying insurance or warranty, compare your options to make an informed decision. Don't only focus on comparing prices, be sure to compare features and benefits too! At wakeel, we can help you find affordable insurance that fit your needs perfectly. All you need is a little information and extra minutes to compare insurance policies from different insurance providers in Saudi.