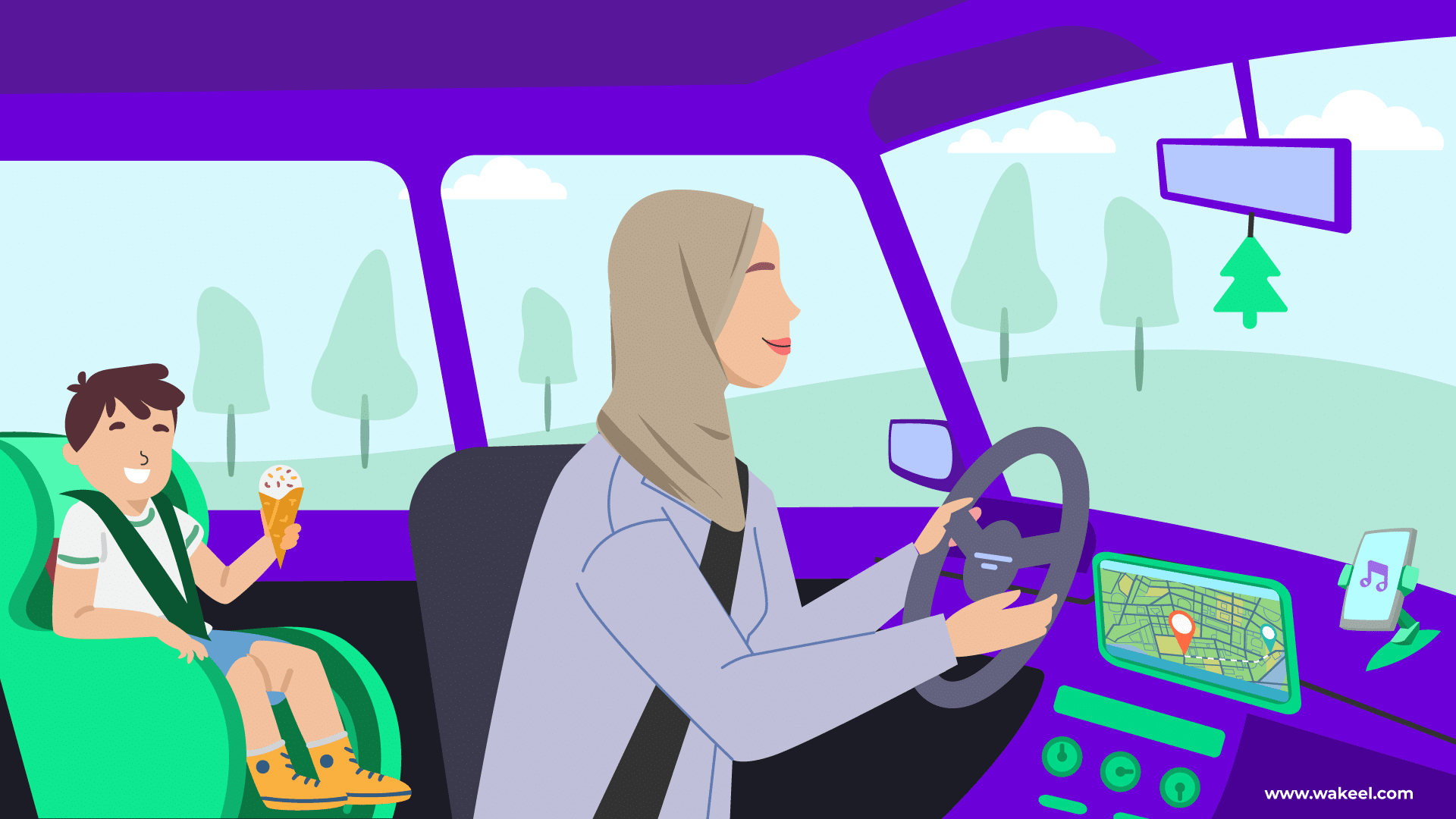 Does Insurance Cover My Car Accessories Too?
People buy cars for many different reasons. Price, performance, safety, and efficiency all factor into the search process.
If you're always on the road, then you will want a comfortable ride that has all of the luxurious amenities that you need. A car fitted with leather seats, self-parking features, and a large information display on the dashboard — That's the dream!
Of course, not all cars come with the pinnacle of automotive features. But fortunately, having a "comfortable ride" isn't limited to new cars; there's more than one way to upgrade your old car, and some car accessories can make a world of difference!
But before you modify your car or invest in the latest gizmos, consider the dos and don'ts of modifying your car in Saudi. Also, find out if your car insurance covers your car accessories too. Read on to find out!

Are car modifications allowed in Saudi?
Modifying your car is very much allowed in Saudi Arabia, but a few regulations will have to be followed before altering the engine, exhaust system, suspension, or adding accessories. Let's know a little about modifying your car in the KSA – legally.
Modifying your car & adding accessories in Saudi, legally.
The need for speed isn't the only thing that should pop into your head when you hear modification! People modify their cars for all sorts of reasons; sometimes adding accessories can make owning and driving a car an all-around better experience.
But, before you start your art project, keep these pointers in mind: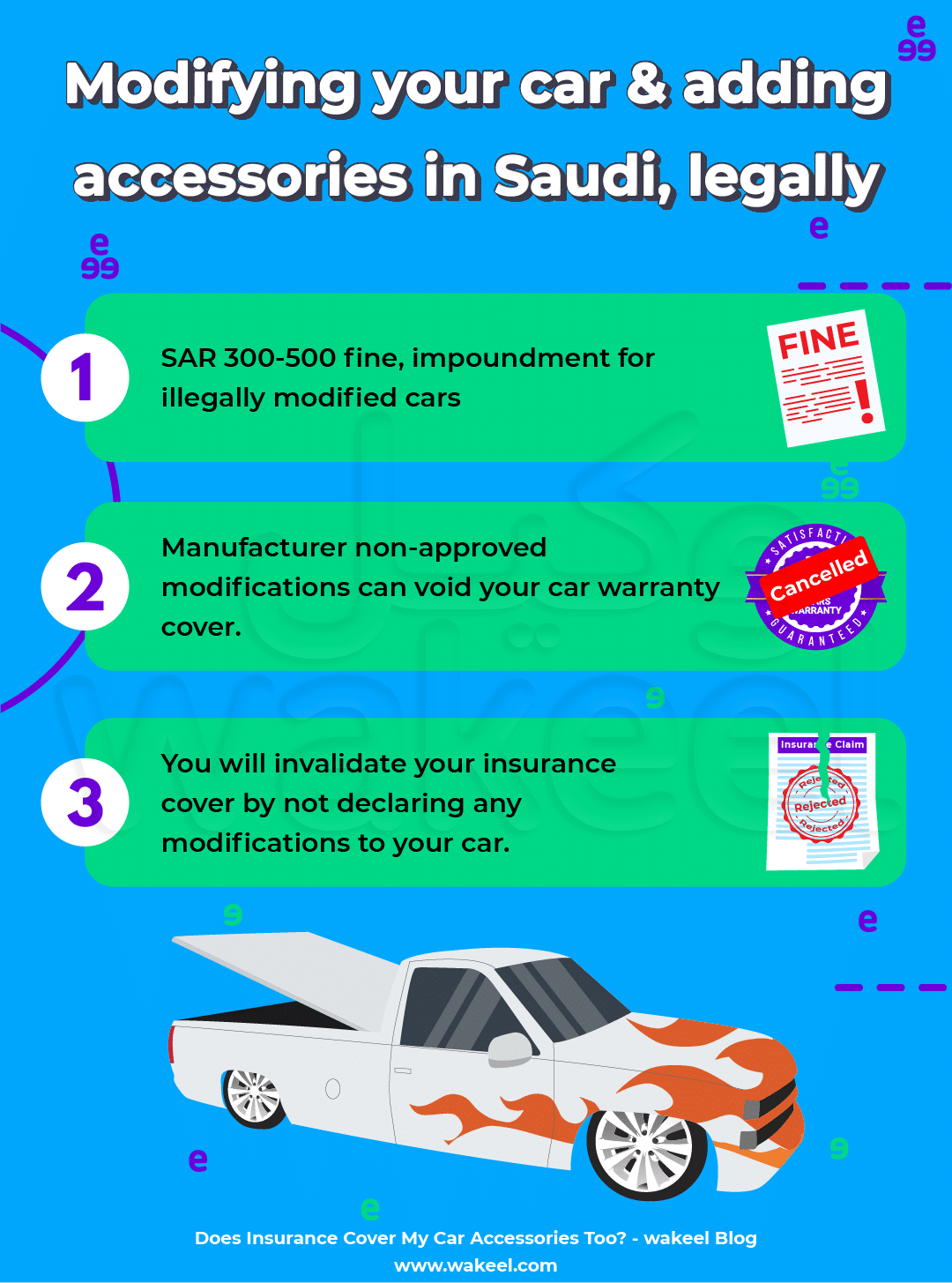 Does car insurance cover interior damage?
In general, compulsory insurance is limited to covering third-party liability. Simply put, it could cover all the possible damage to others that can happen in a car accident you caused. But unlike TPL, a comprehensive insurance policy provides full coverage that protects others, yourself and your car. In detail, SAMA defines comprehensive car insurance as:
An insurance policy that covers the loss or damage to the insured vehicle, including its accessories, as a result of any accidental collision or due to mechanical failure or malfunction caused by prolonged use of the vehicle. This also includes damages that are not a direct result of an accident (subject to the terms and conditions mentioned in the policy).

The Difference between Comprehensive & Third-Party Motor Insurance

Whenever we think of accidents, we rarely think about anterior damage. Undoubtedly, some accidents can damage cars inside and out. Sometimes, unfortunate events can cause damage to your car's internal parts and contents such as your dashboard, sound speakers, and even seats. In this case, the insurance will handle repairing or replacing the interior contents of the car resulting from:
Plus, you can add extra coverage to your insurance coverage to provide optimum protection against the following:
Thankfully, SAMA's definition states that comprehensive car insurance should cover repairing exterior and interior car damage.
As for your car accessories, most insurance companies request declaring your modifications, accessories, and their value beforehand. List all your accessories and changes in your policy table, and rest assured knowing any claim you make later on will be accepted.
So, what do car accessories refer to in insurance?
In insurance terms, accessories mean any additional item that was not a part of your car's normal configuration. In other words, any addition or alteration to your car's automotive factory setting. This includes:
Normally, comprehensive insurance doesn't cover extra parts (ie. your car accessories) leading to expensive out-of-pocket costs when your car is damaged, stolen, or vandalized. Unless you state the facts when you take out your insurance policy, odds are, your insurance will turn down your claim.
Can I update, or add extra coverage to an existing insurance policy?
Absolutely! All you have to do is contact your insurance company's customer service department to buy additional coverage. It's also highly advisable to inform your insurer about any modifications or adding car accessories as soon as possible.

If you are shopping online for comprehensive car insurance, price comparison sites can make the job easier; Give wakeel a try! Find the best, affordable car insurance plans in Saudi Arabia.
What about the other stuff I keep in my car?
You may also wonder, "What about all the other things and personal belongings that were inside the car at the time of the accident?"
In most cases, your car insurance will not pay to reimburse the contents of your car. But here's a silver lining! There are some comprehensive policies that offer extra coverage, like:
Car accessories and accessories can make a world of difference. That's why it makes sense to know what is included and excluded in your car insurance policy before buying it. Comparing car insurance allows you to compare each policy's benefits and may even introduce you to perks you never knew about before.