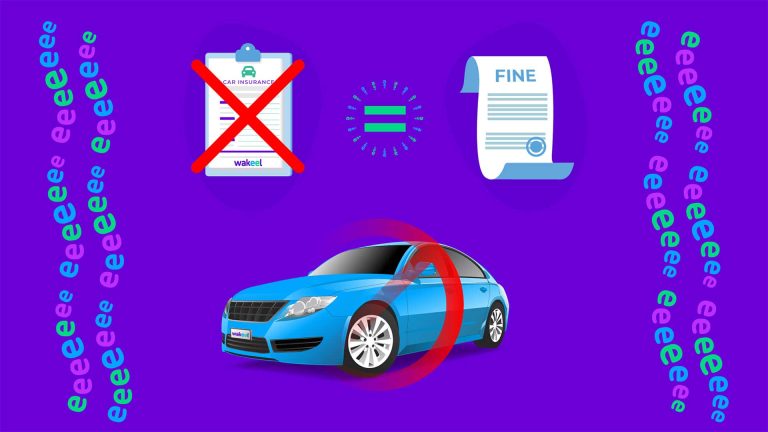 Watch out! Carry car insurance in Saudi or a ticket.
Are you still tempted to get behind the wheel without valid comprehensive car insurance or liability coverage? If you think not carrying or renewing car insurance in Saudi can go unnoticed, think again. Actually, it is a big risk not worth taking because the consequences of driving an uninsured vehicle in Saudi are expensive. As a matter of fact, driving without a car insurance policy is illegal in every region of the Kingdom of Saudi Arabia.
What are the risks of driving an uninsured vehicle in Saudi?
More drivers are carelessly driving without insurance. Clearly, some still think car insurance is a luxury; others have other excuses like:
Driving a car without insurance is no big deal!
I am not causing any harm to anyone when I'm driving an uninsured vehicle.
Nothing bad will happen, because I am an experienced driver.
I can save some money if I don't renew my car insurance.
As a matter of fact, the percentage of people reluctant to insure cars was high during the covid lockdown in Saudi. Since there were fewer drivers on the road, there were fewer accidents – so what's the point of buying car insurance in this case?
How do people get caught driving an uninsured vehicle in Saudi?
Typically, people who drive without car insurance get caught when stopped at a checkpoint. When a police officer pulls you over, they may demand to see proof of valid car insurance. Police can also find out which car is uninsured if two cars get involved in an accident.
In addition, Saher has a network of cameras and fixed and mobile radars to monitor and control traffic violations — eg. an uninsured vehicle — automatically and issue violation notices.
What can go wrong if you drive an uninsured vehicle in Saudi?
Pay a traffic violation
If you are at fault in a car accident and you don't have auto insurance, you will be expected to pay out of pocket for any damages to the other driver. Fail to do so, and you might spend some time in jail.
Of course, this threatens your financial stability because then you will be obligated to pay all repair costs and medical expenses to compensate the injured party.
Exceptional circumstances
On the 8th of July 2020, the Traffic Department in the Kingdom of Saudi Arabia has announced that all car owners must have car insurance. Additionally, all car owners need to verify their valid vehicle insurance with the National Information Center, before the implementation of traffic contraventions for non-insured vehicles commences the following month.
Saher cameras to spot uninsured vehicles in Saudi
The roadside cameras (Saher), that are placed around major cities in Saudi, will capture images of non-insured vehicles to pinpoint the violation, which will be dealt with a fine instantly.
Fines for a non-insured vehicle will range between 150 SAR to 300 SAR.
The non-insurance violation fine goal is to compensate all citizens and residents who own or drive a car from the financial burden of damages, repairs, and injury from traffic accidents.
Why is Having Car Insurance Important in Saudi?
Taking into consideration, Saudi Arabia's high geographic area, highway network, and dependency on private transport. As a result, the number of road accidents injuries, and deaths remains high.
Carrying proper coverage to insure your car becomes a necessity for every driver in Saudi Arabia. What is more, carrying comprehensive car insurance for your car promises to cover damages and compensations for road accidents. Moreover, it can cover car theft and paying medical expenses following an accident. Furthermore, comprehensive insurance also covers third-party vehicle losses and damages.
How to Check Vehicle Insurance Validity Online on Absher?
In order to, avoid traffic contraventions related to car insurance in saudi & ticket payment. Check if you have valid car insurance on Absher. Absher is a smartphone application which allows to use a variety of digital governmental services. Amongst several other services, citizens of and residents in Saudi Arabia can access Traffic e- services through Absher. It allows them to check the validity of their car insurance or vehicle insurance at any time and place.
The steps to check the Validity of Vehicle Insurance through Absher platform are easy, all you have to do is:
Firstly, log in to your "Absher" account from a safe browser or mobile application.
Secondly, you will receive an OTP message on your mobile for verification.
Next, head to "Vehicle Services" and choose "Inquiries".
After that, click on the "Vehicle Insurance Validity".
Following, fill out the marked fields: ID number, plate number, and image code.
Finally, click on the "View" button.
Car insurance is assurance

With that being said, carrying car insurance while driving in Saudi will definitely take any financial burdens off drivers' shoulders, and ease their worries about the hassle of who and how much is needed to pay in the wake of an unfortunate accident.
No one wants to spend more than they have to on car insurance. That's why wakeel makes it easy to compare cheap car insurance prices from a wide range of insurance companies in Saudi Arabia online.