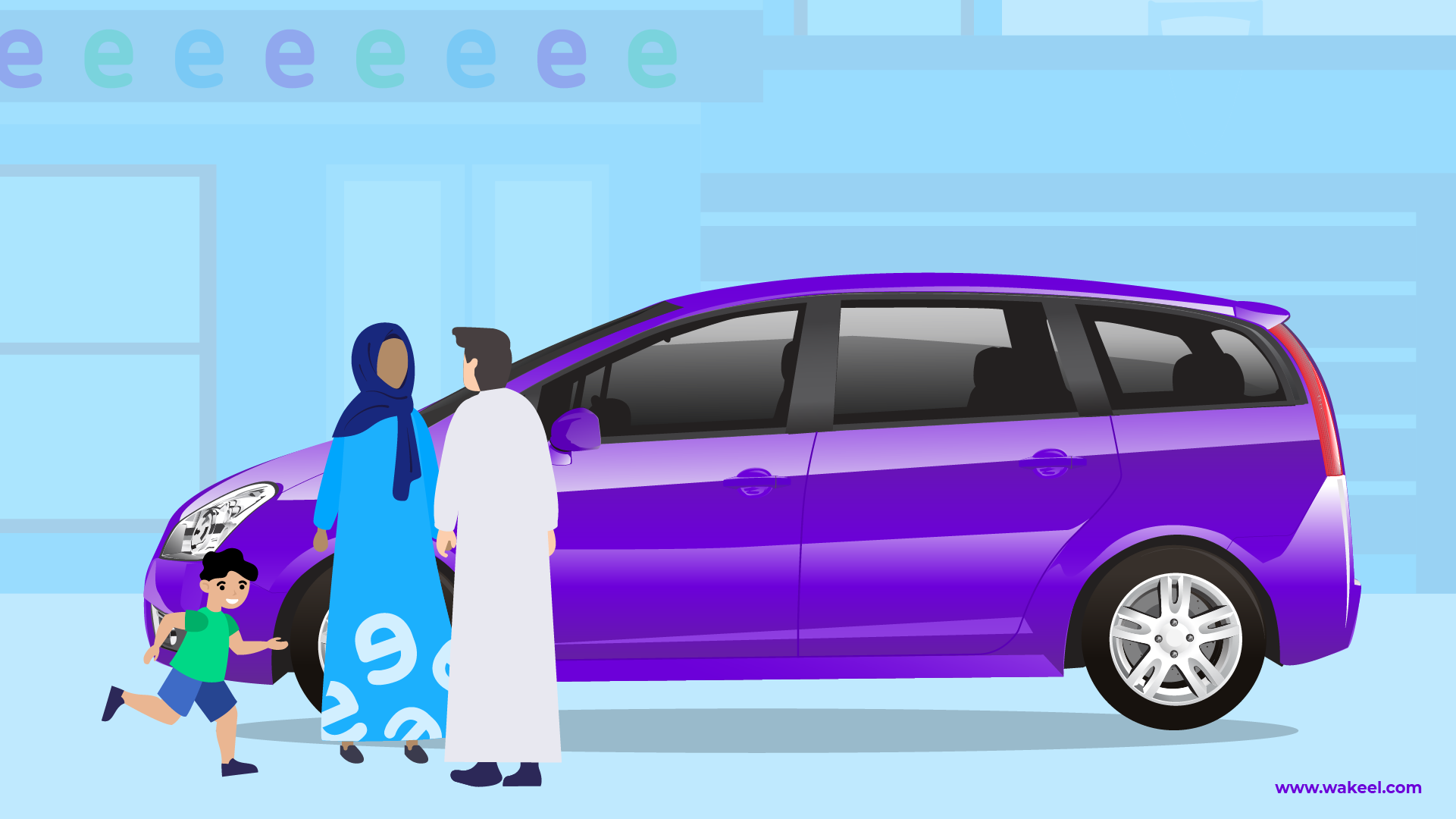 What to Look For in a Reliable Family Car?
Being a mother is a full-time job! At times it can feel like you have signed up for multiple jobs. One of them, of course, is being your children's personal driver. Day in, and day out you are driving multiple schedules, driving between schools, gatherings, extracurricular activities, and orthodontic appointments — you name it! Without doubts, mothers are among the best drivers on the road. Think about all the distractions going on inside a family car, who would've done it better?

In fact, Confused.com data reveals women are better drivers than men. Statically, men make around twice as many insurance claims as women. Meanwhile, women, mothers in particular are more likely to be obedient careful drivers. Not to mention that mothers are even better drivers because they choose to drive the safest cars. Thus, mothers are usually rewarded with lower car insurance prices!
What to consider before buying a family car?
What makes mothers even more drivers is their preference for owning a car. Once you become a mother, your family's safety and well-being become your priority. For many mothers, this also means swapping sleek sedans for spacious SUVs that fit the family's needs.

But with all the options available in the market, figuring out where to start could frazzle your brains! How do you find a family car that will exactly suit your needs for years to come?
Here are some practical considerations to keep in mind when shopping for a family car.
Affordability: first things first, set your budget! As soon as you buy a car, you'll quickly learn that you will pay more than the price tag! your budget should include other expenses like gas, maintenance, and car insurance expenses.
Roomy: Minivans and SUVs make great family cars because these cars have enough room to fit a child's seat without taking up all the space.
Reliability: What's worse than a car breaking down on the road? A car breakdown when you're traveling with children! Thus, take advice from people in the know to avoid cars that breakdowns frequently. Also, be sure to choose roadside assistance coverage when you buy your car insurance.
Storage: Think about all the things you'll have to fit in your trunk: your baby stroller, bikes, luggage, toys, and other baby essentials — don't forget your personal items!
Safety: Safety is a no-brainer for mothers! Advanced safety systems help you and your passenger remain safe on the road, some systems can sense the danger before it even happens. Look into safety ratings and consider what safety features each car offers.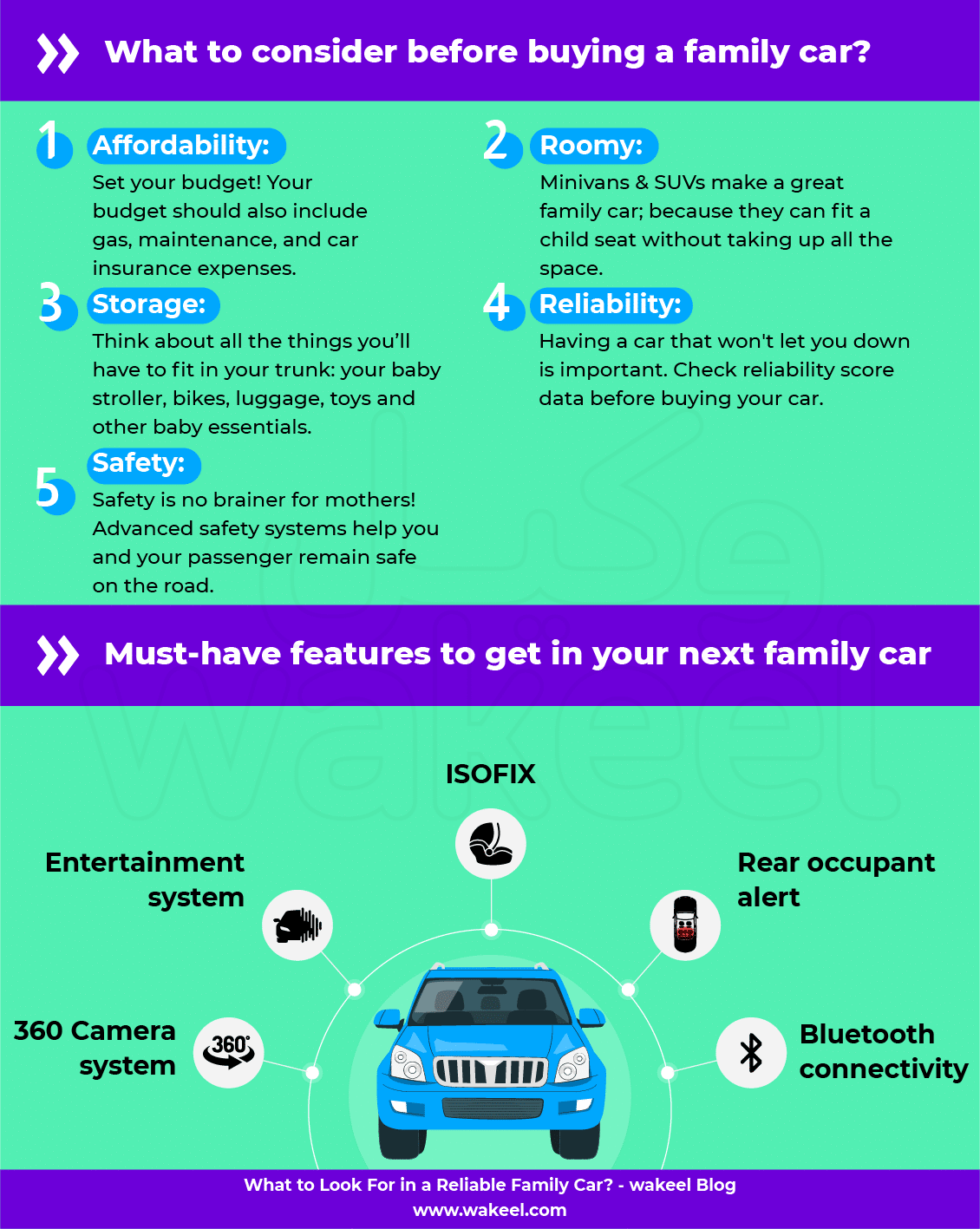 Must-have features to get in your next family car

Today, most mid-range cars in the market have advanced safety systems, that go far beyond the standard seatbelts and airbags. Those features can certainly keep help keep you focused and prevent accidents. Yet, with all the extra options available it can be hard to pick and choose which ones are must-haves and which are nice-to-have. Here are the most sought-after features in family cars:
Bluetooth connectivity
Although this feature comes standard on most cars today, it's one that cannot be overlooked. When you're driving with children, you don't need any other distractions. Connecting your phone to your car with Bluetooth can help you stay focused on the road and still be able to answer or make phone calls, follow your GPS route directions, and much more.
Entertainment system
There's never a dull moment with a backseat entertainment system. When kids are in the car, parents are either breaking up fights between siblings or claiming tantrums. Investing in a car entertainment system is a must if you happen to travel by your car with family. It ensures a fun ride for the children and a less stressful drive for you. Typically, mid-range family cars come with a rear entertainment system, but it's still possible to modify your car and install car accessories like a backseat screen.
360 Camera system
Rearview cameras are becoming indispensable, they give drivers peace of mind when they are backing up, ensuring them that there is nothing in the way like a child seat covering your rear window view. But if you are trying to park in a busy lot, or are so tired you forget to check your blind spots, a 360 camera can help prevent an accident.
Isofix for the baby chair
Surely seatbelts can hold a child seat in place, but ISOFIX tethers or anchors make it much easier to install and detach a child seat. Isofix is the international standard for attachment points for child safety seats in passenger cars.
Rear occupant alert
Forgetting a child in the backseat could result in great bodily harm, especially during the hot summer months. The backseat alert displays a reminder for the absent-minded driver to check the back seats before leaving the car. If the system detects movement in the back seats after the driver leaves the vehicle it will honk the horn, or send an alert to the paired mobile phone.
Also, it's important to know child passenger safety laws and regulations to save lives and prevent injuries.
Child passenger safety in Saudi
According to WHO, accidents in children are a significant health issue. Every year the lives of approximately 1.3 million people are cut short. Many suffer serious injuries and long-term disabilities around the world as a result of car accidents.
Nonetheless, most car accidents are preventable when you adopt safe driving habits and take the necessary child safety precautions when driving. In Saudi, The General Directorate of Traffic imposes fines on parents who violate child safety in vehicles. These violations include:
Allowing children under the age of 10 to sit in the front seat. Parents risk fines ranging from 300 riyals to 500 riyals.
Driving with children without car seats, restraints, and seat belts. In this case, parents could also risk fines ranging from SR150 to SR300 under the new rulings. Learn more about the importance of car seats and booster seats for children
Leaving children under the age of 10 unattended or supervised by an adult in the car is another traffic violation, with a fine ranging between 300 riyals and 500 riyals.
Insuring your family car needs
Although good driving habits and safety features can significantly reduce car accidents from happening in the first place. Car accidents remain inevitable. Even when you are driving safely, you can rely on other drivers to do the same or predict unexpected actions, objects, or weather conditions on the road.
Clearly, avoidance is not always an option. However, you can reduce the severity of accidents on your family and your savings. For this reason, it makes sense to invest in car insurance.
Like any responsible driver, your next step after buying a car should be buying the right insurance. The right car insurance should provide optimum protection for your family car without breaking the bank.
Finding the best car insurance for a family car
Comprehensive car insurance provides full protection for you, your passengers, and your car. In particular, the comprehensive insurance policy may cover personal accidents for passengers, and can even pay to replace a damaged child car seat after an accident. Fun fact: comprehensive insurance can pay for a rental car while your car is getting repaired. This way you will be able to resume your life normally, picking up children from school, going grocery shopping, or visiting the park.

Here's another fun fact! Having children can lower car insurance rates, and we're not talking about insurance companies' offers on Mother's Day! Insurers often favor mothers for two reasons. Often, mothers focus on driving safely with children on board. Insurance companies reward this demonstration of responsibility with more affordable car insurance rates. Plus, a no-claim insurance discount. Another reason is that mothers inadvertently pick ideal cars for insurance too! Cars with high-tech safety features reduce insurance firms' losses too. Call it a win-win situation for both parties.

Of course, the criteria change from one place to another, so be sure to compare car insurance prices online before buying!