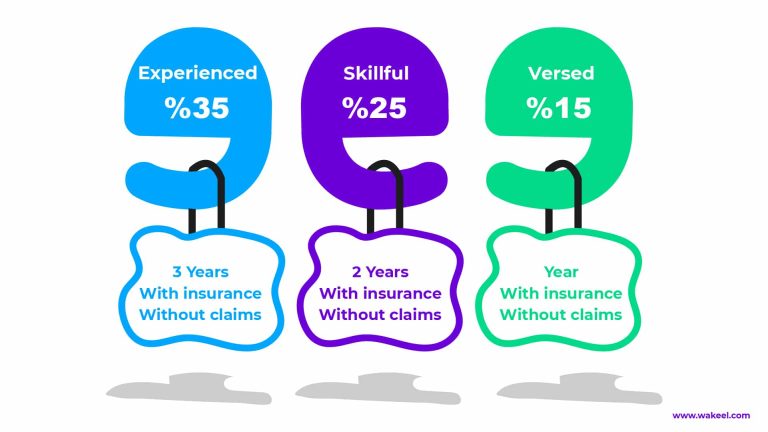 No Claims Insurance Discounts in Saudi Arabia
To get the best car insurance rates in Saudi Arabia, there are two guaranteed ways — comparing rates and earning a no-claims discount. Basically, if you don't make a claim on your car insurance, this implies you are a safer driver and therefore cheaper to insure. As the name suggests, the no-claim discount is a reward for safe drivers. This discount ranges from 15% to 60%, and the specific percentage depends on the number of years without claims and the type of insurance policy. For instance, if you don't make any claims in a year, you can get a discount of up to 15% when you renew your comprehensive insurance the following year. The more consecutive years you accumulate without making a claim, the higher your discount will be!
Ready to save on your car insurance? Discover how the No Claims Discount can benefit you and start enjoying discounted rates today! Read our blog to learn more.
How does a No Claim Discount work in Saudi Arabia
The no-claim discount is a great way to save money on car insurance in Saudi. If you don't make any claim for an entire, you'll receive a 10%-15% discount amount. As you continue without making any claims, your discount gradually increases each year. For example, if you stay claim-free for 3 years, you receive a 35% discount. With a SAR 1,000 premium, your cost would be reduced to SAR 650. So, drive safely and enjoy your reward!
How do I check my NCD status in Saudi?
To verify your eligibility for a no-claims discount before purchasing or renewing motor insurance, simply use "Eligibility" on Najm's website at www.najm.sa.
Which drivers qualify for no claims discount in Saudi?

To be eligible for a no claims discount (NCD) in Saudi Arabia, you need to meet the following criteria:
Keep your claim record spotless. Car insurance companies consider this as an indicator of lower risk, and therefore, they offer a discount on your premium.
Renew your insurance on time. A lapse in car insurance coverage, which occurs when you don't have insurance after your previous policy expires, can jeopardize your no-claim discount.
Keep all your cars covered. Make sure all cars under your name have valid insurance policies. This also includes out-of-use cars, so consider writing them off or transferring their ownership if you no longer need them!
Meeting these criteria will qualify you for a no-claims discount on your car insurance.
As per SAMA's directives, all insurance companies are required to offer a no-claim discount to eligible TPL and Comprehensive car insurance policyholders. In case of any unfair practices by insurance companies, individuals are advised to file a complaint with the Client Protection Department through the SAMA website (www.sama.gov.sa) or by calling the toll-free number 8001256666.
NCB calculation
In accordance with the SAMA directive, drivers with a no-claim record of one to five years are entitled to an assured reduction in premium ranging between 10 and 60 percent upon renewal of their policy. It usually begins with a 10% discount on the premium and subsequently goes up with each consecutive claim-free year.
How is NCD calculated in Saudi?
Below is a table outlining the calculation of No Claim discount (NCB) for car insurance. This schedule illustrates how NCB is determined based on the number of consecutive claim-free years.
| | | |
| --- | --- | --- |
| Num. Years No Claims | TPL Insurance % Discount | Comprehensive Insurance % Discount |
| 1 | 10% | 15% |
| 2 | 20% | 25% |
| 3 | 30% | 35% |
| 4 | 40% | 50% |
| 4+ | 50% | 60% |
No claims discount equals big savings
Will I lose my no claims discount if you make a claim?
Contrary to popular belief, you will not find yourself in square one if you make a claim! In Saudi Arabia, insurance companies use a step-back scale to reduce the discount at the time of renewal, in case a claim arises. This ensures that a single accident doesn't eliminate your right toward a no-claims discount.
The table below will help you understand how the step-back scale works.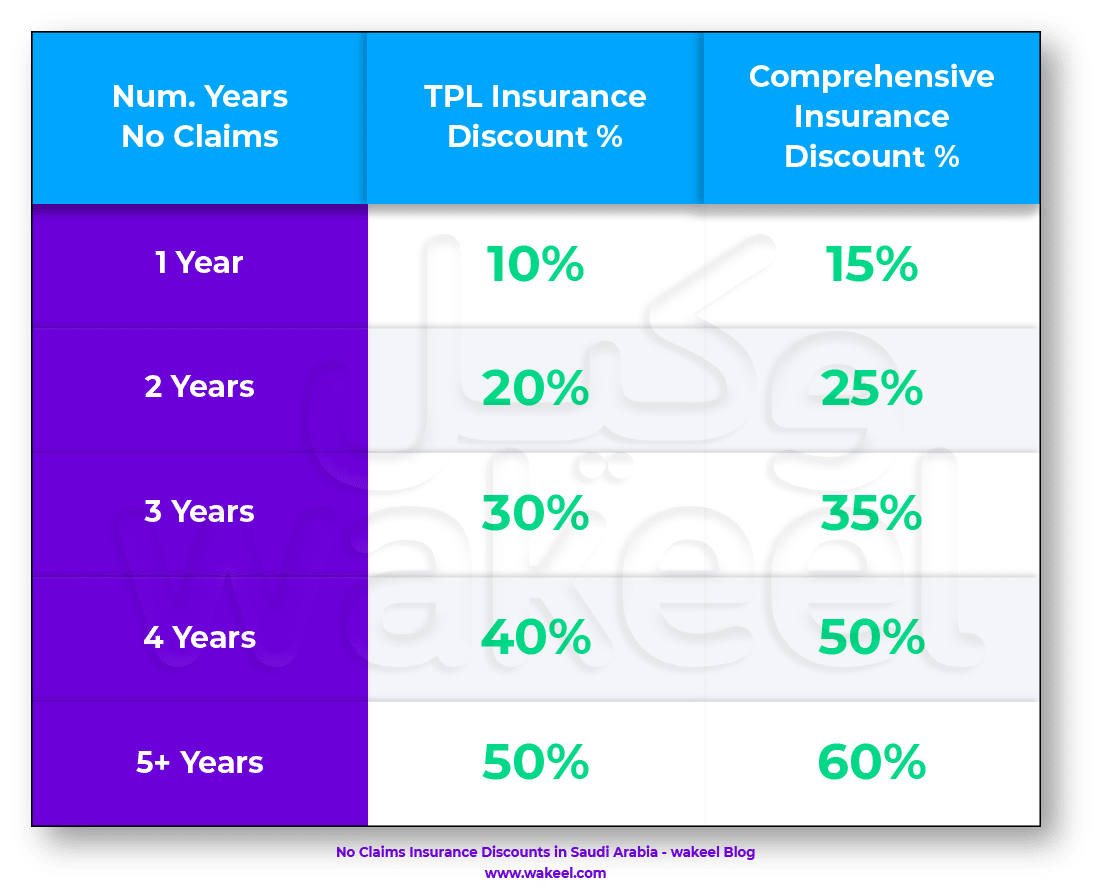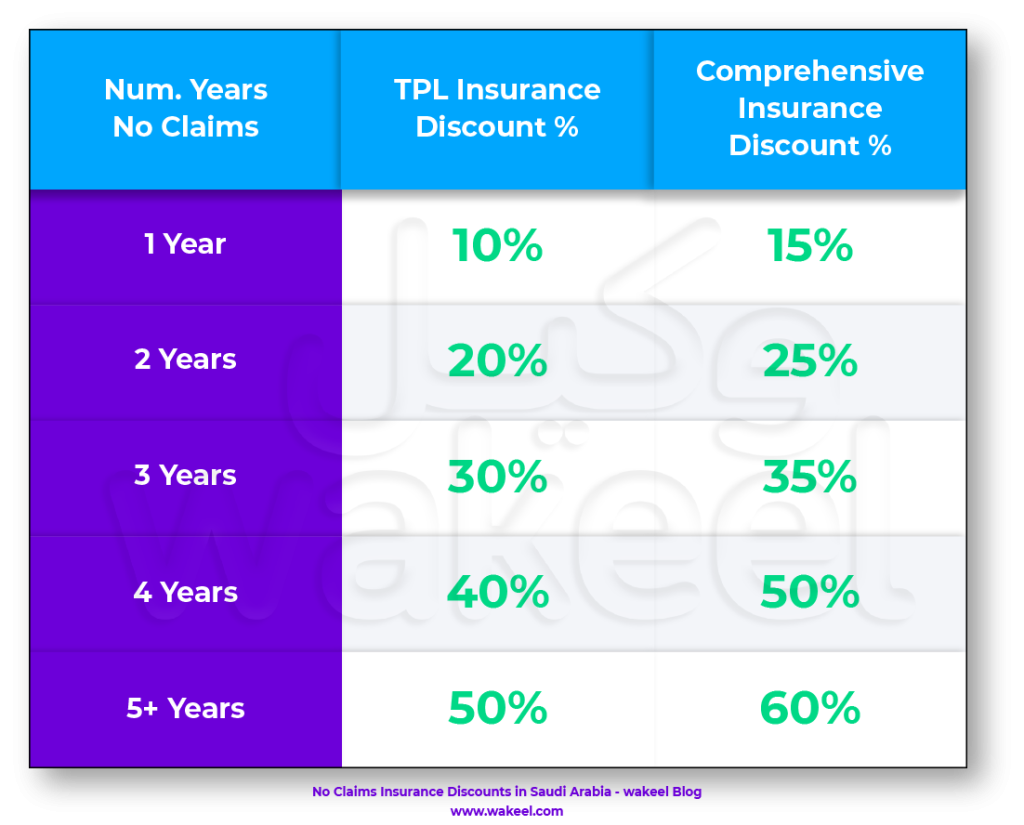 To conclude, reducing the cost of car insurance is easier than you might think! It only takes two steps. First, maintaining a clean driving record is crucial as it not only shows your commitment to safety but also makes you eligible for a valuable premium discount. By driving responsibly and avoiding accidents or traffic violations, you can enjoy the benefits of lower rates. Second, due to the multitude of car insurance companies in the market, comparing policies is essential. Each company offers different rates and coverage options, so investing time in researching and obtaining quotes from multiple providers allows you to find the most cost-effective and suitable policy that meets your specific needs. By combining a clean driving record with a thorough comparison of policies, you can maximize your savings and secure the best car insurance deal.