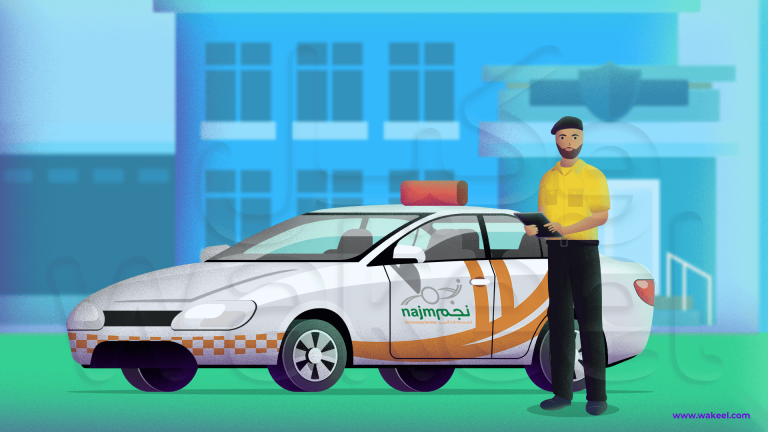 A Closer Look at Najm Insurance Services
Dealing with the aftermath of a traffic accident can be a hassle, but reporting an accident in Saudi Arabia is a piece of cake, all thanks to Najm Insurance Services. Established in 2007 through a joint effort between the Saudi Central Bank (SAMA) and the General Authority of Traffic, Najm's mission is to manage traffic accidents and support the car insurance industry in the Kingdom. Let's go through the details!
What is Najm?
Najm Insurance Services – is a non-profit company that serves citizens, residents, and visitors in Saudi Arabia. One of their key roles is maintaining the central record of all insured cars in the Kingdom. With a presence in 40 cities across the Kingdom, their experienced team of Saudi professionals is readily available to handle traffic accidents, evaluate losses and damages, settle claims, and offer a diverse range of insurance services.
Najm's main services
Najm offers three main services to the public, ensuring a smooth and reliable experience in managing accidents and insurance claims in Saudi Arabia.
1. Maintaining a car insurance database
Najm is like an insurance database in Saudi Arabia. It's a secure and centralized system that keeps all the important details about insurance policies, claims, and policyholders. So, when you buy car insurance in Saudi Arabia, your information goes straight into Najm's Database. This database is super important because it helps enforce the law that says all cars must be insured. Plus, it's a big help in investigating road incidents and making sure claims involving uninsured drivers get sorted out.
2. Reviewing car accidents
With a 24/7 call center, Najm promptly receives accident reports and dispatches assistance to the scene. Their trained surveyors assess accidents, gather relevant information, and carefully document the incidents. You can simply use Najm's app or call their toll-free no. 920000560 to report car accidents in Saudi.
3. Processing insurance claims
Najm works closely with insurance companies to streamline claims processing. They ensure timely submission of required documents, expediting claim settlements. By facilitating effective communication between parties, Najm provides faster resolutions to policyholders and supports insurers in managing claims efficiently.
E-services provided by Najm
Najm for insurance services has an online portal and a smart app that enable drivers/insurance Co. clients to take advantage of the following services:
Remote review system. This service allows motorists to report minor traffic accidents conveniently, instead of waiting for Najm to arrive at the scene. Motorists can report the accident through the app to receive an official accident report by text message for any insurance claim.
My Accidents. Stay updated on accident status starting from reporting the accident till sending the accident report automatically to the respective insurance company.
Claims. This service makes it easy for you to file your insurance claims and follow up on the process.
Damage Assessment. This service enables drivers to submit their damage assessment reports and repair estimates online.
Forms and Prints. Najm's "Forms and Prints" service simplifies accident-related paperwork. Drivers can easily print accident reports if they've lost their previous copy.
My Vehicles. With Najm's "My Vehicles" service, drivers can easily check car insurance validity to ensure all their registered cars comply with the law.
Add/Update Accident Report. If drivers disagree with the accident report, they can object and request updates to the information through the "Adding and Update" service. This ensures accurate and up-to-date accident records.
Insurance Discount Eligibility. Drivers can check if their car is eligible for a no-claims insurance discount. Najm offers this incentive to promote safe driving and reward drivers with a clean claims history.
Complaint and Suggestion. Najm values customer feedback and promptly assists through their "Complaint and Suggestion" service. Drivers can voice concerns or provide suggestions for continuous service improvement.
In conclusion,
From quick claims processing to efficient damage assessment and easy accident reporting, Najm ensures a smoother experience during challenging times on the road.
To further enhance your insurance journey, we encourage you to use price comparison platforms when buying car insurance policies. These platforms help you explore multiple insurance options conveniently, ensuring you find the best coverage at competitive rates. By combining Najm's efficiency with the advantages of price comparison platforms, you can enjoy a hassle-free and well-informed insurance process, giving you greater peace of mind and confidence on your journey. Drive safely and let Najm and price comparison platforms guide you towards a safer and smoother road ahead.