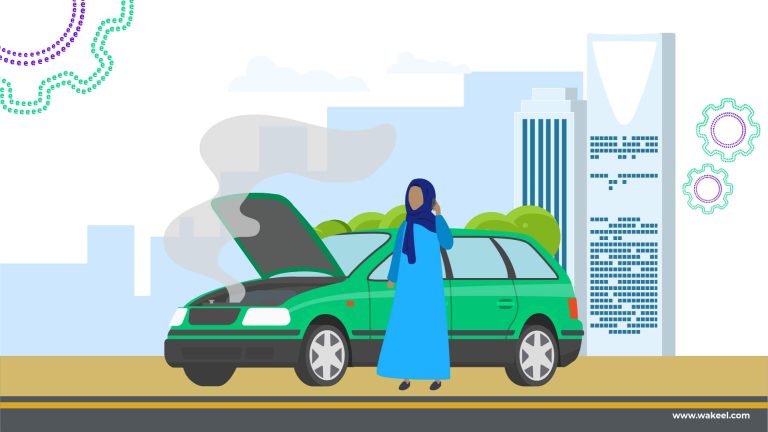 Common Types of Roadside Assistance in Saudi
If you are in the Kingdom of Saudi Arabia, then you certainly cannot stop yourself from going on road trips across the Kingdom. Many enjoy the landscapes or even thought about driving long routes to travel between major cities in Saudi. As much fun, and exciting road trips are there is also the fear of the unexpected misfortune of car accidents, breakdowns, and punctures. We at wakeel also advise car owners and especially drivers who are fond of going on long trips across Saudi Arabia to get the right car insurance policy. We look at the types of roadside assistance in Saudi.
Roadside assistance is one of the prime add-on services that you can add to your Saudi comprehensive car insurance policy for an additional amount to your coverage.
First of all, what is roadside assistance?
According to Comprehensive Insurance Rules, roadside assistance must be included in all comprehensive insurance policies in Saudi. This cover offers different types of services to help drivers get going again if their cars break down.
What does roadside assistance add to a car insurance policy in Saudi?
Mainly, the different types of roadside assistance in Saudi can provide the following services to a policyholder: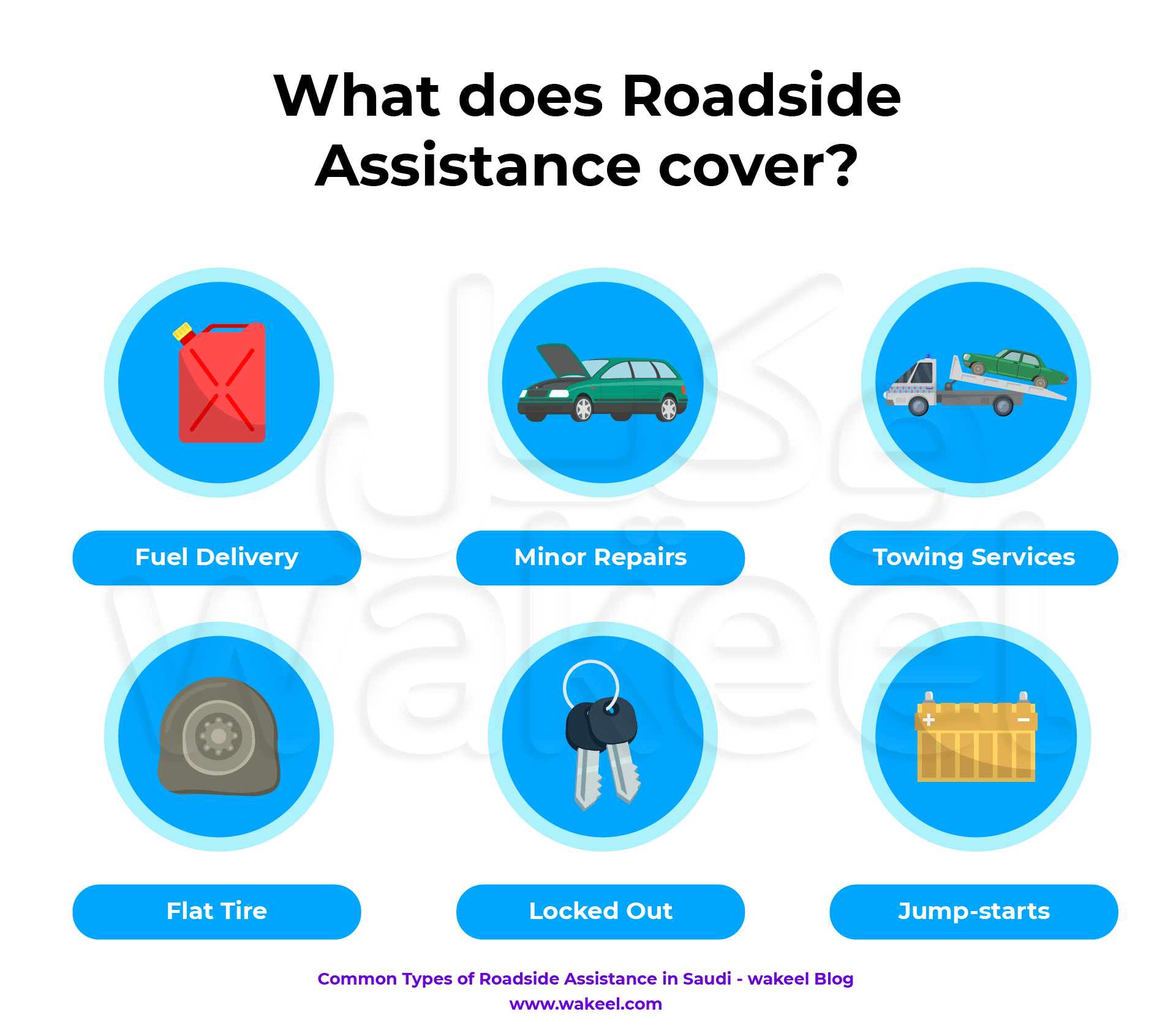 Towing Services. You never know when your car might just stop moving and you need a tow to the nearest agency or garage to get it fixed.
Minor Repairs. Some minor repairs may occur when you are on the road with your car. In this case, the insurer can send you a mechanic directly to you and your car.
Fuel. You thought you could make it to the next petrol station but you run out of fuel before you do and end up in the middle of a desert road. With roadside assistance, the insurer can get gas delivered to you. That means you won't be needing to push your car to the next petrol station.
Battery Replacement. Surprisingly, your car battery stops working when trying to start your car and you need a jump start or a replacement. With the roadside assistance add-on, you can get your car battery replaced or given a jump start.
Locked Out of Your Car. You accidentally locked your keys in the car and need help getting back into your car. The roadside assistance add-on can get you the help you need in getting back into your car.
Flat Tire: The insurer can ensure that help comes to you in case of a flat tire soon.
Stuck on the road? Don't worry!
These are just some of the services that are provided by the roadside assistance add-on. Depending on the type of insurance policy and add-on purchased different insurance companies provide different types of roadside assistance
My car broke down on the side of the road in Saudi, where can I get it fixed?
You wouldn't have to worry about where to take your car to get fixed, most insurance companies provide a network of certified workshops or agencies across all of Saudi Arabia. Whether your trip is towards the city of Al-Ula in the north or in the mountains of Abha in the south, your insurance will direct you to an authorized garage or agency for repairs.
Who should get roadside assistance in Saudi?
Luckily, almost all car insurance companies in Saudi offer roadside assistance to their comprehensive car insurance policyholders. If you are not sure whether the benefits are right for you, then consider the following reasons:
3 reasons to consider roadside assistance
Vehicle age: Brand-new cars generally need less maintenance and have fewer mechanical problems, which means you could skip roadside assistance. Whereas, older cars are more likely to break down or need towing
Mileage and commute: Another factor to consider is how far you typically drive. If you typically stay within a small area, you might skip roadside assistance. But If you commute or travel much for work or pleasure, you are more likely to need roadside assistance at some point. A Saudi car insurance price comparison website can help you find the best insurance policy based on your mileage.
Convenience: Some people have no problem changing a flat tire or asking another driver for a jump start. Other people need or prefer assistance in case of these types of roadside emergencies.
Cost: Roadside assistance insurance is usually not very expensive, but it does cost something. Price is an important factor for some people; so make sure to scan the market for comprehensive car insurance rates and compare prices.
Car Insurance Companies That Offer Roadside Assistance in KSA
Luckily, a wide range of car insurance companies provides various types of roadside assistance in Saudi to their policyholders. That is because comprehensive insurance policies are designed in such a way that insurance benefits and car insurance prices vary from one policy to another.
So, when it comes to buying car insurance in Saudi Arabia, you need to search and get car insurance offers from different car insurance providers in Saudi. An online car insurance price comparison platform can save you time and effort, in searching and looking for car insurance offers. Wakeel can help you find a car insurance policy customized to your own needs and fits your budget.