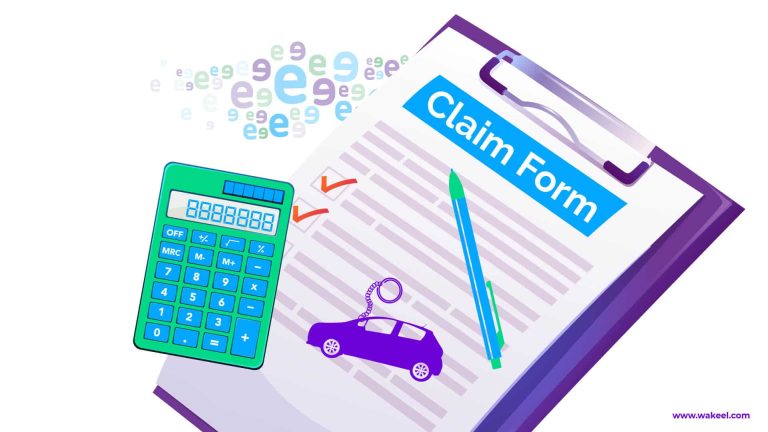 Claim for Damages on my Car Insurance in Saudi Arabia
When driving in Saudi Arabia it is safe to say that having car insurance is the best protection against damages and loss of finances. Insurance policyholders in the kingdom of Saudi Arabia are covered against road accident damages and the third party's car involved in the accident, car insurance also protects policyholders from risks of theft, fire damages, and natural disasters. Yet, there is a lot of confusion on what to do or how to go about when in a traffic accident or how to claim damages from a car accident. The type of paperwork needed and where and how you can submit your insurance claims. At wakeel, we have made things a lot easier for you; with a step-by-step guide on how to properly claim for damages on your car insurance in Saudi Arabia.
Post Accident Procedures
After an accident, follow these steps to fulfill the requirements to submit a damage claim.
First of all, report the accident immediately. Whether it's a minor fender-bender or a major collision, reporting Najm is legally required. To report, you can use Najm mobile app or call 199033.
Najm's responding detectives will fill out an accident report and document the scene. If the accident is minor, you can complete a report yourself on the app.
Next, visit Taqdeer Center to assess the damage.
What are the documents needed to claim for damages on my car insurance?
Car claim form (in some exceptional cases like third-party liability or theft)
The official report from the direct authorities at the scene of the accident.
Copy of the driver's driving license.
Copy of the car registration form.
Document reform.
Correct estimate for car repair from specialized centers.
Court report if any injuries or deaths.
Estimating the repair of insured cars in the event of a third-party conviction.
Where can I submit a car insurance claim?
Through the claims service center in Saudi Arabia.
Insurance companies call center.
Steps to follow to formally claim for car damages:
Provide your details. Information about the car owner and the holder of the insurance policy, visit the insurance company's website or go and visit the claims office of your insurance company, fill in information such as policy number, compensation amount, type of claim, owner name, ID number, and other requested details.
Details of the accident. You must fill in the related information, such as location, date, and time, party at fault, and the number of the issued report.
Attach the required documents. Documents that have been mentioned in the application form should be attached and all IDs are attached to the claims application as well. You can submit the documents either by scanning and uploading them online or by providing a hard copy to the claims center.
Confirm acknowledgment. Declare that the information provided is true and correct after attaching all the required documents.
If your insurance claims have been rejected by the insurance company contact your insurance company immediately and ask for a reason, if you feel the reason was not fair you can request an appeal for damaged claims from your insurance company.
If the rejection is final and you are not happy with the decision you can always shop around and find and compare other insurance companies online when renewing your car insurance next. Luckily for you, finding the right coverage for your car insurance is easy.
Find the best car insurance in Saudi
Saudi price comparison platform, wakeel, offers you a safe and efficient way of buying the right insurance policy for your car. Get detailed quotes, and compare car insurance prices online from multiple insurance providers in Saudi. Compare your options independently, easily, and effortlessly!