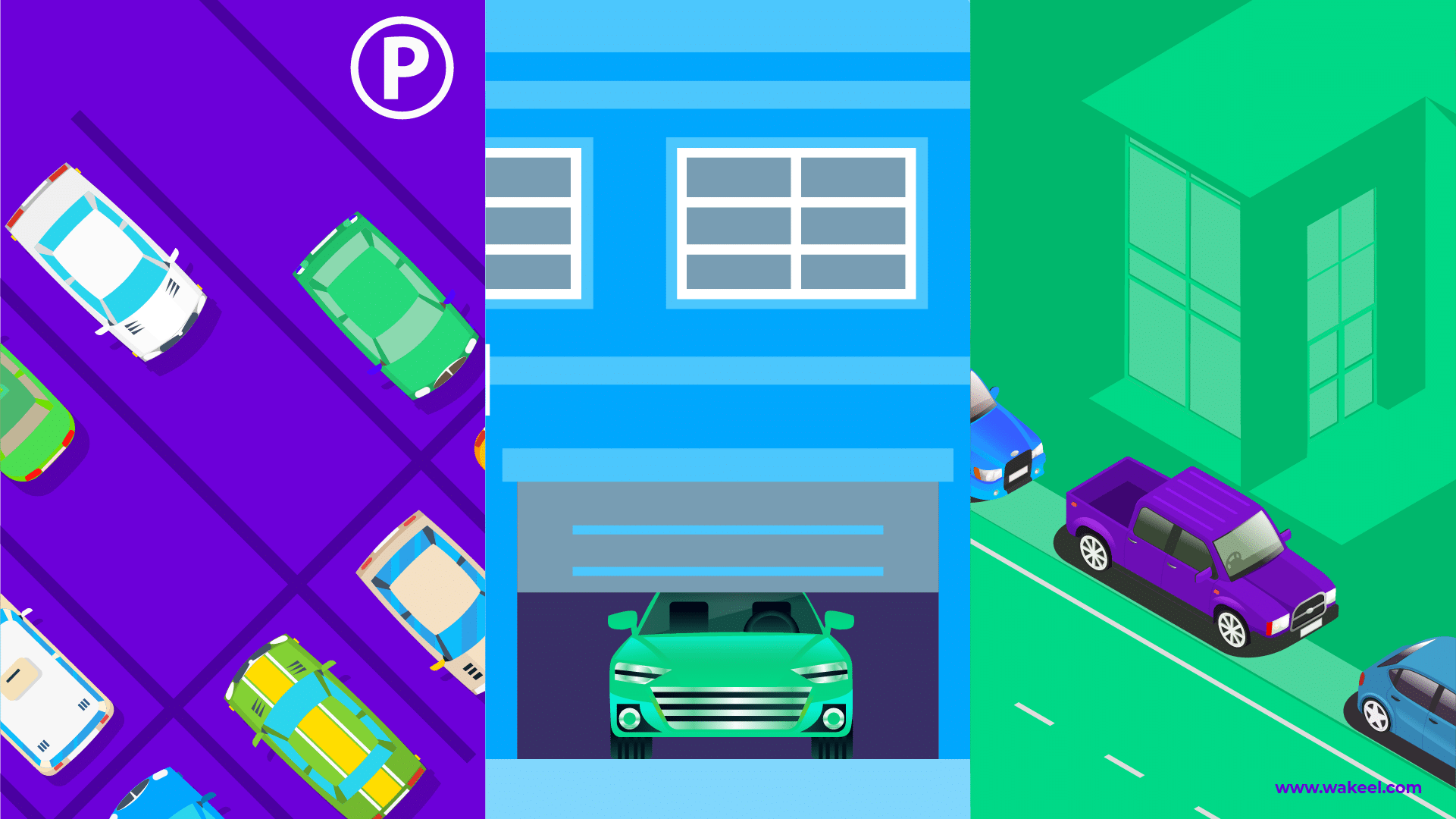 Where Should You Park Your Car
In the sweltering summer, it's a no-brainer why people try to avoid parking their cars outside at all costs. During Saudi scorching heat, no less, your car can warm up to a dangerously hot "oven-like" level within an hour — blame it on "the greenhouse effect". Not only can the sun heat up your car, but it can also cause massive damage. Specifically, exposure to heat and sunlight can wear down the car's interior and exterior, and it can also damage anything you leave inside your car; such as electronic devices, medicine, or food.
Day or night, summer or winter, it's always important to take some time to find the best place to park your car. To protect your car, you must consider convenience, parking restrictions, space, safety, and security before you pick a spot. Interestingly, the locations you choose to park can even help lower your car insurance rates, too!
Sometimes, insurance companies might ask where you park your car
Sometimes, buying car insurance can feel like endless box-ticking and form-filling – without thinking twice most of the time. But the answers you give can make a big difference to the cost. Sometimes insurers ask "Where do you park your car overnight?" Insurers will use your answer to measure how much risk you (read: your car) represent. Your risk typically translates to the number of claims, and fewer claims mean a lower car insurance premium.
Why parking matters to insurers
Every piece of information you provide to the insurance company (such as age, national address, number of claims, where you park your car, etc.) is important in risk-based pricing. Based on claims statistics, insurance companies would consider some locations to be safer and more secure; and other locations to be 'high-risk'. Thus, your parking location could impact the likelihood that you will submit a claim. Data reveal that when you park outdoors, your car is vulnerable to a host of dangers. These include:
Car accidents
Vandalism
Traffic congestion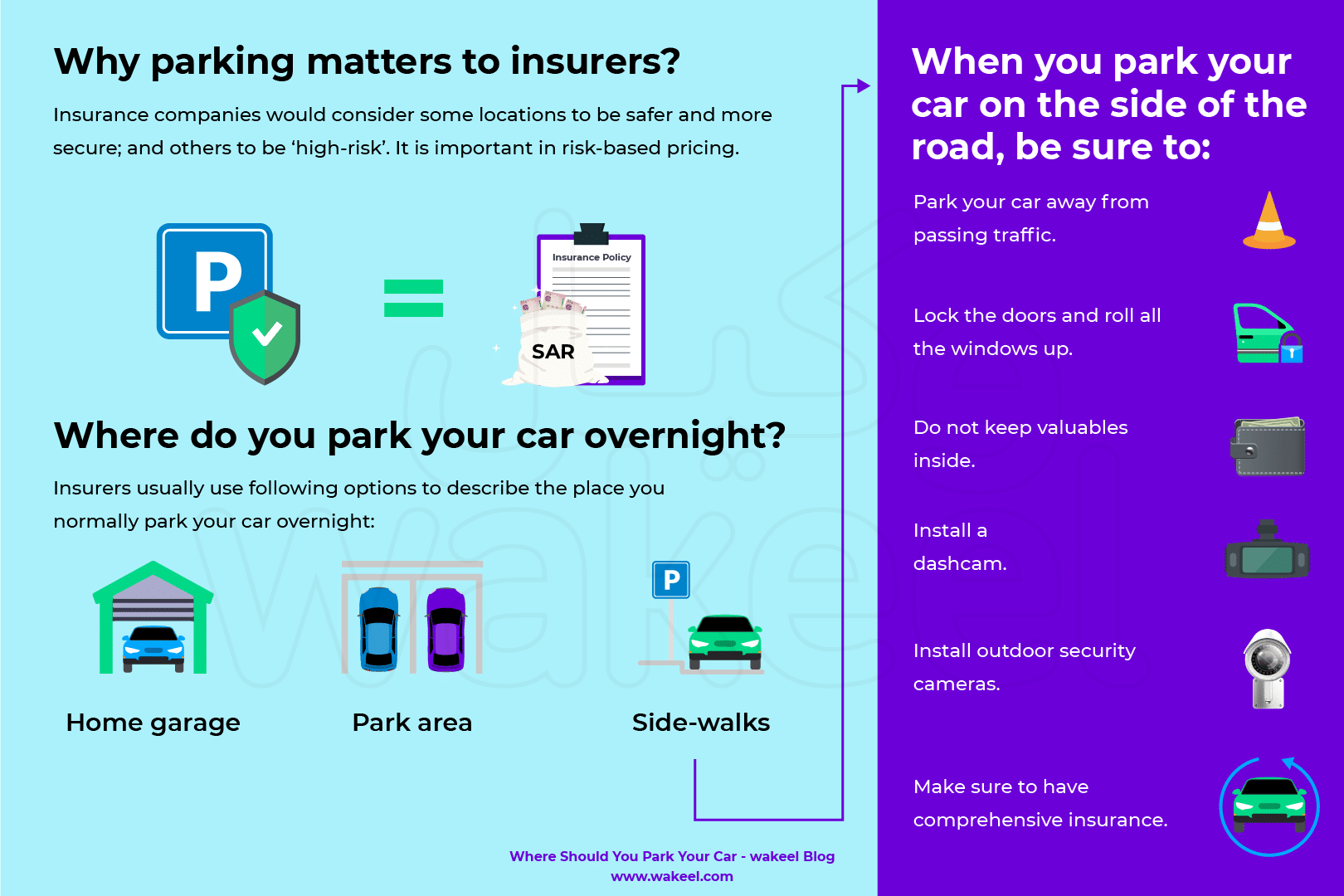 Where do you park your car overnight?
To describe the place you normally park your car overnight, insurers usually give you the following options:
Home Garage
Saudi homes typically have a single or double-car garage. A home garage is a private walled, roofed structure for storing cars indoors. Evidently, your car is more protected in a garage. A garage provides defense against natural perils and may help prevent wear and tear. Additionally, it protects your car from any attempts of theft and vandalism. Most importantly, it can lower the likelihood of accidents when compared to parking outside. Obviously, your car is not likely to be in danger and you are also unlikely to file a claim that the insurance company will have to foot the bill for this could help you earn cheaper insurance!
Car Parks
Car parks refer to a public parking lot or an area under a residential building, where drivers can park their cars. Although these parking spots could solve the crisis, they're not completely safe.
Parking lots are often busy, cramped, and confusing – all of which make them prime locations for car accidents. In particular, hit-and-run accidents. Besides, more often than not, two drivers back out of parking spaces at the same time and hit each other. And then it can be really hard to determine who's at fault.
To keep your car safe, look for parking spaces that have 24-hour surveillance. This will deter thieves and discourage hit-and-run accidents. Ideally, you should buy comprehensive car insurance; full coverage protects others, yourself, and your car.
Side-walks
In busy households and crowded neighborhoods, finding a place to park your car is an increasingly difficult challenge. Actually, a garage is a privilege, an award, a gift, and a scarce commodity! As a result, drivers might resort to parking their cars in front of their residences or on the sidewalks.
From insurers' stand, parking your car overnight on the street is usually seen as the higher risk of the options. Remember, when you leave your car on the road it's most at risk and most on view. Typically, this leaves your car at risk of theft, vandalism, or being hit by reckless drivers at night. In addition, you run a higher risk of damage during extreme weather events; such as hail, wind, and flash floods. Consequently, this will have a direct effect on your car insurance. Still, good security can help keep down car insurance costs.
When you park your car on the side of the road, be sure to:
Park your car away from passing traffic
Choose a well-lit spot where your car can be easily seen.
Lock the doors and roll all the windows up.
Do not keep valuables inside, such as wallets/bags in plain sight.
Install as a dashcam
Install security cameras to keep an eye on your parked cars from your home.
Also, make sure to have comprehensive insurance that covers car theft, vandalism, and natural perils.
There's no foolproof way to keep your car out of harm's way, but when taking these measures, it's unlikely that you'll file a claim. And this way, you will be able to keep your no-claims discount.
Compare car insurance policies
Overall, security is part of the equation. It is always a good idea to park your car indoors in order to best protect it from any damage. But when parking outside is your only option, make sure to compare car insurance prices. Because every insurer will treat the risks associated with your overnight parking spot in a different way, and comparison can help you land the best deal. wakeel can help you compare car insurance prices from different insurance providers in Saudi Arabia — the best way to seal the best insurance deal!