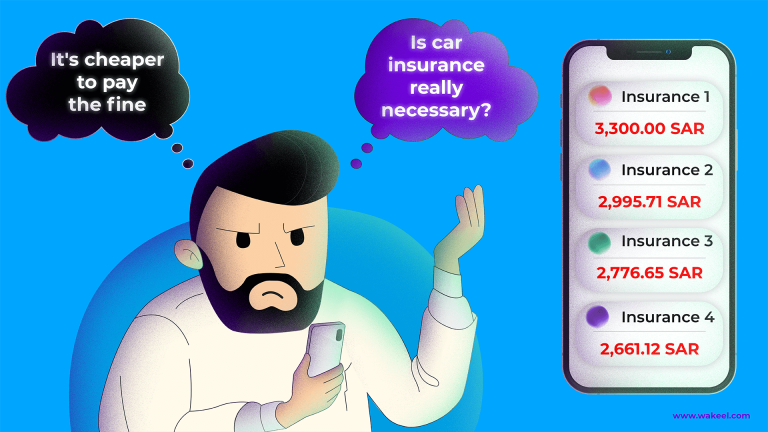 Is it Cheaper to Drive without Insurance in Saudi
Saudi drivers may be in for some sticker shock when it comes time to renew their car insurance; as many insurance companies have increased their premiums! New data from Zad Consulting Center has revealed that comprehensive insurance cost 200% more this year than it did last year. Meanwhile, TPL insurance costs have gone up over 200% over the same period. With these figures, it's not surprising that some motorists may be tempted to skip car insurance renewal this year. When times are tight and people look for ways to cut back, car insurance just seems like a non-essential expense to many. As a matter of fact, 55% of KSA motorists drive without insurance, though car insurance is mandatory in Saudi.
However, the consequences of driving uninsurance in Saudi can be quite serious and can end up costing you so much more in the long run. Whether you're thinking about skipping car insurance to cut costs this year, or simply curious as to why it's necessary — here's why we think driving without insurance is a costly mistake.
"What is the use of having car insurance, if I'm a good driver?" They say,
Basically, the number one reason why you need car insurance is that you have to have it. Third Party Liability is mandatory for all motor vehicles under Saudi law. If you get caught driving a car with an expired insurance policy, you could be looking at a hefty fine.
And while it's true that good driving habits can help you reduce driving risks significantly. But, unfortunately, they don't always prevent accidents from happening! Oftentimes, accidents result in serious car damage or injuries and if don't have insurance to pay those bills, the financial fallout can be devastating. Apart from accidents, other uncontrollable events can also damage your car such as natural perils. Comprehensive insurance protects you from damages when you're not driving. Assume, heavy rain sweeps your car away, or hailstorm results in a broken windshield, you won't have to worry about paying out of pocket for the repairs.
The good news though, car insurers are keen to reward good driving behaviors with a No Claims Discount, meaning that your good driving could save you money!
Key benefits of car insurance
Car insurance can protect your assets and net worth from sudden and accidental damage.
If you cause an accident, your insurance will compensate others' losses.
Similarly, when you're not at fault, the other driver's insurance will compensate your car repair bills and medical expense.
All in all, it brings peace of mind to everyone.
So, is it really cheaper to drive without insurance?
With economic pressures, car insurance can seem like a luxury purchase rather than a necessity and a basic part of car ownership. As such, the percentage of people reluctant to insure cars in the Kingdom is high, according to Najm Insurance.
Speaking truthfully, it's tough to see the benefits if you have never been involved in an accident before. The financial and penal repercussions of driving without insurance can easily exceed the annual cost of carrying basic car insurance.
Let's say you get into a car accident, and you're the at-fault driver. In this case, you'll face penalties for driving uninsured. On top of that, you will be on the hook financially for any damage you cause. Moreover, the driver can also sue you, and you'd have to pay all your legal fees out of pocket too. So, not getting car insurance could potentially end up costing you tens of thousands of riyals.
Here's what to expect if you get into an accident with no valid insurance.
What happens if you get into an accident without insurance in Saudi?
Car repair bills. Due to the sharp rise in spare parts costs and the related increase in repair and maintenance costs, even fender-benders can rack up your bills— let alone if the accident results in a totaled car! With no insurance, you won't have coverage for car repair bills for your own car or the other driver's car.
Medical expenses & Blood money. If you cause an accident that results in any injuries or death, God forbid, you will be held liable for the compensating medical expenses or blood money. Currently, the average cost for a blood money claim (diyyah) is SAR 300,000. If you don't have the cash to pay up, you could be sued, putting your assets and savings, at risk.
Higher car insurance rates. Causing an accident while driving without insurance can land you in hot water with insurance companies in the future. For one, It could imply you've been driving recklessly without coverage, therefore labeling you as a high-risk driver, which could double your premiums.
The consequences of driving without uninsured car in Saudi
Here are more of the consequences you could face, if you drive uninsured in Saudi:
Traffic violation. Insurance is needed to legally drive your car, motorcycle, or any other vehicle in Saudi Arabia. If you get caught driving without coverage, at the very least, you can expect a fine of SAR 150; because the Traffic department automatically checks your insurance record after Saher detects any traffic violation.
Traffic E-services suspension. It is absolutely impossible for anyone to renew their "Istimara" or "Transfer Vehicle Ownership" via Absher if they have no valid car insurance in place.
Fine pile. If you're late to renew your "Istimara" or driving license because your insurance is expired, you will have to pay fees to resolve those problems first. Actually, fines can add up fast since you can receive a fine for the same violation every 24h in Saudi. As a result, you could wind up unable to pay significant amounts of fines in one go.
Vehicle impoundment. In some cases, your car could be impounded if you are not a first-time offender. Or, if 100% at fault for an accident.
Post-accident hassle The outcome of causing an accident can be catastrophic. If you're found to be at fault for an accident that results in serious damage or a person being hospitalized, you may be imprisoned until someone bails you out.
So, consider car insurance an investment that protects your peace of mind and your net worth.
How to find affordable car insurance
If budget is your primary concern, there are plenty of ways to save on your car insurance. One of the best ways to keep your costs down is to have a good driving record; because violations and accidents can raise your risk and make you lose your discounts.
But, the key to finding cheaper insurance is to compare prices and coverage options together. Let's get into the details!
Know what coverage you need
If you don't want to overpay, start re-evaluating the right coverage for your needs instead of ditching car insurance altogether! Re-assessing your needs and getting to know coverages could help you find a lower-priced policy.
| Coverage Type | What It Does |
| --- | --- |
| Bodily injury liability | The part of your liability coverage that pays for medical bills if you've injured someone in an accident |
| Property damage liability | The other part of liability coverage covers the cost of property damage you've caused in an accident |
| Personal injury protection | Covers medical expenses for you or your passengers after an accident |
| Comprehensive | Covers damage to your car after a car accident, no matter who was at fault |
Car insurance covers
Learn more about Comprehensive vs TPL insurance coverage.
Shop around
Right after you find the right coverage for your need, get quotes from several insurance companies in Saudi to compare prices and their coverage options before making a purchase. You can do it all online. All it takes is a few minutes to answer a couple of questions, then comparison sites will generate a number of quotes from every licensed company. Once you decide on which policy is best, you can buy it online.
Bottomline,
All in all, it's not only necessary that drivers in Saudi get car insurance, but also important. We already laid out the fines and penalties, but let's stress that getting coverage is the best way to protect your self & finances from having to pay out of pocket for expensive bills. Finally, another excellent reason why it's important to get car insurance; the higher the number of insured cars in Saudi, the less expensive insurance is for everyone — including yourself!