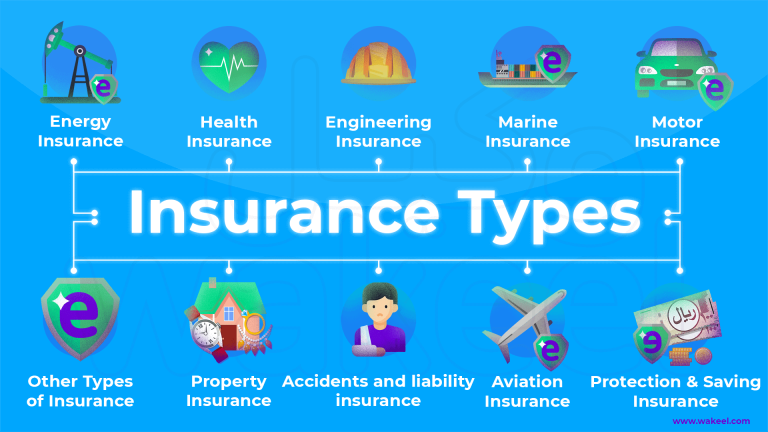 Types of insurance in Saudi
Historically, insurance has always been a necessity to prepare for emergencies and protect our wealth; Dating back to the Babylon era, the law of Hammurabi mentions types of insurance similar to theft and marine insurance today. Similarly, Arabian Peninsula tribes formed a pool together to secure their trade caravans against various risks — think of it as commercial car insurance!
Today, insurance remains one of the best ways to secure your future from the worst of the financial fallout. In Saudi, multiple types of insurance cater to different needs. You probably know how important comprehensive insurance is for protecting your car, or health insurance is for making sure you don't get stuck with high medical bills. But, what about the rest?
Discover the different types of insurance products available in Saudi, and learn how to choose the right policies that will protect yourself, your family, and your valuables.
First of all, what can you insure in Saudi?
Although there are different types of insurance policies that cater to different needs, we can't say for sure you can insure EVERYTHING that comes to mind! Indeed, there are seemingly odd and uncommon things you can insure in other countries. But, in Saudi insurance only covers a possible financial loss that could happen to the person itself (personal insurance), to assets (property insurance), or to third parties (liability insurance).
How does insurance work?
At its core, the concept of insurance is very basic. We can't prevent the unexpected from happening, but sometimes we can protect ourselves and ourselves —and our families—from the worst of the financial fallout. Put simply, when you buy insurance, you protect yourself from losses that you wouldn't be able to afford to cover on your own.
In case of a serious accident or illness, having health insurance protects you from catastrophic bills. In the same way, comprehensive car insurance would help replace your totaled car after a major accident and pay for the damages you cause to others without ruining your finances.
What are the available types of insurance?
On the whole, the Saudi insurance sector is segmented into three main lines of business: general, health, and protection & savings insurance. Figuring out what kind of insurance you need will begin with understanding the different types of insurance products and their coverages.
So, find below a brief overview of the different types of insurance in Saudi:
General Insurance
General insurance refers to any insurance that is not determined to be life insurance. Generally, the line of insurance extends into 7 different branches:
Motor Insurance, has two types:

Third-Party Liability car insurance:
covers the costs for personal injury or damage to others when you are legally responsible for an accident. This includes diyya (blood money), compensation for injuries, medical expenses, or car repair expenses.
Comprehensive car insurance: coverage applies to damage done to your car whether in an accident\ or other covered events such as theft or weather damage. Plus, it also covers the car owners' civil liability towards others.
Property Insurance. provides protection against most risks to property, such as fire, theft, explosion, sand some weather damage.
Marine Insurance. covers the risks of destruction or damage of ships, cargo, and terminals, during transit.
Aviation Insurance coverage includes aircraft cargo, hull losses as well as liability for passenger injuries, and environmental and third-party damage caused by aircraft.
Energy Insurance covers petroleum and petrochemical facilities, other energy facilities, and any other insurance related to this subcategory.
Engineering Insurance includes damage to the Insured property due to engineering risks during engineering activities, planning, designing, erection/construction, testing, commissioning, operation, and maintenance too.
Accidents and Liability Insurance. A good example of accident and liability insurance products is travel insurance and medical malpractice insurance.
Health insurance
Generally, health insurance policies pay most medical and surgical expenses and preventative care costs.
Since 2009, private healthcare insurance became compulsory for expatriates and Saudi nationals (and their dependents) working within the private sector. CCHI said that "the health insurance system covers wives and all male children up to the age of 25, as well as unmarried and non-working daughters." Typically, health insurance policies in Saudi cover hospital expenses inpatient, outpatient, surgeries, maternity care, and cancer care. Additionally, some policies come with extra benefits like dental and optical coverage.
If you don't have health insurance through your job, you can still buy your own health insurance directly from licensed health insurance companies or compare rates through a free insurance price comparison website in Saudi.
Protection and Savings Insurance
A savings insurance plan is a life insurance plan that lets policyholders save and invest their money to financially secure themselves and their loved ones.
On the other hand, protection insurance is designed to physically compensate the insured person (or their legal heirs) in case of an accident that results in an injury, a permanent or temporary disability, or death during the period of insurance.
Although protection insurance is optional in Saudi, some embassies require some families to domestic help to obtain this coverage as a prerequisite for work.
So, now what type of insurance should you consider buying in Saudi?
Clearly, there are plenty of insurance products in Saudi, and with all these options it's easy to feel confused about what kind of insurance you need to buy in Saudi. To help you decide what insurance coverage you need, there are 3 key questions you need to ask yourself first:
Firstly, is it required by law? e.g. Traffic laws in Saudi Arabia require anyone who drives a vehicle to have a third-party insurance policy. On the other hand, drivers who have a leased car or a car loan are usually required to have comprehensive insurance by the leasing company or lender.
Secondly, would you be able to afford to cover your loss on your own? Example: If you worry about something bad happing to your fully-equipped home, invest in home insurance to protect your valuables from any damage or theft due to fire, water leaks, or other accidental damages.
Third, would you be able to maintain your finical stability? Life is unpredictable and unforeseen circumstances like accidents and illnesses arise at any time. At worst, events like these can plunge you (or your family) into deep financial ruin if you become unable to work and don't have insurance to fall back on.
Once you know what kind of insurance your next question may be, "How do I choose the right insurance policy?"
How to find the right fit insurance policy?
Your goal should be to find an insurance policy that includes all the benefits you need at a competitive price. Follow these two steps to find the best insurance for you:
Determine the level of insurance coverage you need. To assess your insurance needs, ask yourself "why do I need this kind of insurance?" Although it seems like an obvious question, knowing why you need insurance helps you to understand your objectives when shopping for an insurance policy. For example, if you're buying insurance to drive legally, then stick to TPL insurance. Whereas, if you want to protect your own car from loss and damage, then opt for comprehensive insurance.
Compare multiple insurance quotes. It's important to shop around to get the best deal; because prices for the same kind of insurance can vary greatly. This happens because each insurance company in Saudi has its own formula for measuring the policyholder's risk for filing claims. For example, one company gives more weight to age. Other companies may give more weight to the type of car you drive and how expensive it would be to repair following an accident. So, make sure to request quotes from multiple insurance companies to find the policy that works best for you and your budget.
All information about insurance is available on SAMA website, and on the General Secretariat of the Committees for Resolution of Insurance Disputes and Violations website.