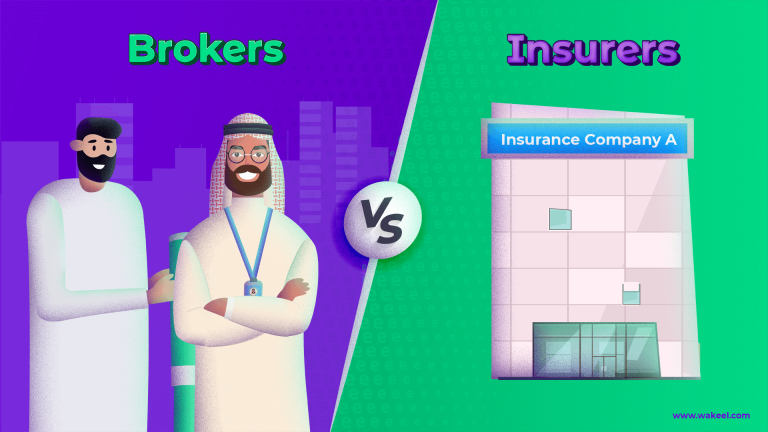 What's the Difference Between Insurers and Brokers
Buying insurance doesn't merely end with choosing whether TPL or Comprehensive insurance is best for you! While buying an insurance plan, you face two choices: either deal with insurers directly or deal with brokers to do the job. Most people prefer to request quotes directly from insurance companies and then compare prices independently. Alternatively, if that sounds like a hassle, consider working with insurance brokers — or an e-broker i.e price comparison website — to help you find the best insurance deals effortlessly.
How you buy insurance is a personal choice. So, let's explain how you can buy car insurance in Saudi, how each buying option may or may not suit your needs, and if it is actually cheaper to buy insurance directly or through an agent.
How to get insurance in Saudi
If you need to buy any type of insurance in Saudi, you have two options:
Buy directly from an insurance company.
Use an insurance broker, who acts on your behalf to arrange and assist with your insurance.
Let's clear up the difference between insurers and brokers by exploring exactly what they do.
What do insurance brokers do?
SAMA defines a broker as "a juristic entity that for compensation negotiates with the insurance company in order to conduct insurance services for policyholders."
In simple words, a broker is a professional — or a company — who acts as an intermediary between a consumer and an insurance company. You share with them your personal details and requirements, and they come back with a list of options that meet your needs. Armed with both your background and their insurance know-how, they can find an insurance policy that best suits your needs for a good price.
Of course, licensed insurance brokers' services do come at a cost! Brokers make a commission on the sale of a policy from the insurance company, usually as a percentage of your premium.
What's the difference between a broker and an insurance agent?
Unlike an insurance broker, an agent will only offer and sell only insurance from a particular insurance company. Actually, think of agents more like sales representatives for a certain insurance company. Therefore, they will only find you deals and offer assistance for that one particular company; which significantly reduces your chances of getting the best deal.
On the other hand, brokers work independently and they actually work for you: they represent you.
Now, let's compare your options to help you decide which option is ideal for you.
Buying directly from an insurance company
Statistically speaking, the majority of policyholders in Saudi prefer to buy their insurance directly from insurers. Typically, policyholders won't require any assistance to buy travel, health, or car insurance in Saudi; Because it's fairly easy and people know what kind of coverage they need. For example, almost everyone knows that they need TPL insurance to legally drive, whereas they need to buy comprehensive insurance if they want to protect their cars.
How to buy insurance directly
Visiting a nearby branch in person was once the customary way to buy insurance. But, thanks to modern technology and digital transformation, buying an insurance policy is easier than ever! You can simply buy your insurance online or over the phone.
Whichever method you prefer, the process boils down to these 4 steps:
Fill out your insurance application.
Determine your needs.
Review your quote summary.
Buy your new policy.
When you pay for your insurance policy, the company will send you proof of insurance via email or SMS. Some insurers in Saudi have a mobile app that downloads your proof of insurance.
Overall, it's a good choice if you have the:

Time. If you can spare time for all that comparison shopping and extensive research, then you can buy your insurance directly from the company. Getting quotes, comparing coverages, and doing the calculations could be a time-consuming process sometimes!
Technical know-how: Most insurance policy documents have a lot of technical jargon and legal terms which are beyond comprehension. If you are going to buy an insurance policy on your own, you should be able to understand details such as coverage, exclusions, and how to file a claim.
Buying from an insurance broker
SAMA statistics indicate that 40.6% of policyholders in Saudi Arabia prefer to buy insurance policies through brokers rather than dealing directly with insurers. In general, policyholders opt for brokers because have a wealth of professional knowledge and access to a wide choice of products without being tied to a particular insurance company. Plus, they offer convenience and a hassle-free experience.
In Saudi, insurance brokers are strictly governed by SAMA regulations which require them to act in your best interests and disclose any conflicts of interest they may have. A licensed broker has a number of duties and responsibilities to follow:
Advising you on the policy that suits your circumstances.
Doing all the legwork for you in comparing policies and prices.
Explaining the details such as coverage, premiums, limitations, and exclusions.
Reviewing insurance policies with you annually and offering advice on the latest products and add-ons available.
Assisting with any claims by representing you in dealings with the insurance company.
Waring you against any insurance traps, pitfalls, and legal requirements.
Who needs an insurance broker?
Usually, insurance brokers are best for people who have complicated insurance needs, like business owners. But you should also consider buying your insurance policy through an insurance broker if you:
A business owner, because brokers can provide you with advice on the insurance your business really needs to survive and thrive
Own more than one car or more than one property, and you want to get a competitive price without spending much time or effort negotiating to get the best insurance company offers.
You don't quite know what you need and want someone to guide you through your options.
You want someone to help you manage multiple policies.
Need a tailored insurance policy to fit your needs
Now, for the most important question
Is insurance cheaper if you buy it directly or through brokers?
Many people argue that using an insurance broker's services may cost more than buying directly. Because the broker charges a commission for providing his services and selling insurance policies, and the commission is 15% of the value of accident and liability insurance policies. While the maximum commission allowed for the broker in compulsory motor insurance is only 2% of the value of the policy.
However, working with a broker is one way to potentially save money on your car insurance. In fact, brokers can provide better deals and better rates. Remember that what sets a broker apart from any other person is their ability to locate the best insurance deal and negotiate the insurance price on your behalf!
Just make sure that you only deal with a licensed broker. No one will be qualified to give you sound advice or answer your questions accurately, which may expose you to damage later on by obtaining an insurance policy that doesn't cover your expectations or needs.
Bottom line
Oftentimes, insurance can be confusing or time-consuming. If you feel like you can't determine what kind of insurance you need, use an insurance broker. But if you are confident on your own, you can still shop around yourself. Using an insurance comparison tool can help you find the cheapest price by looking at rates from multiple companies.