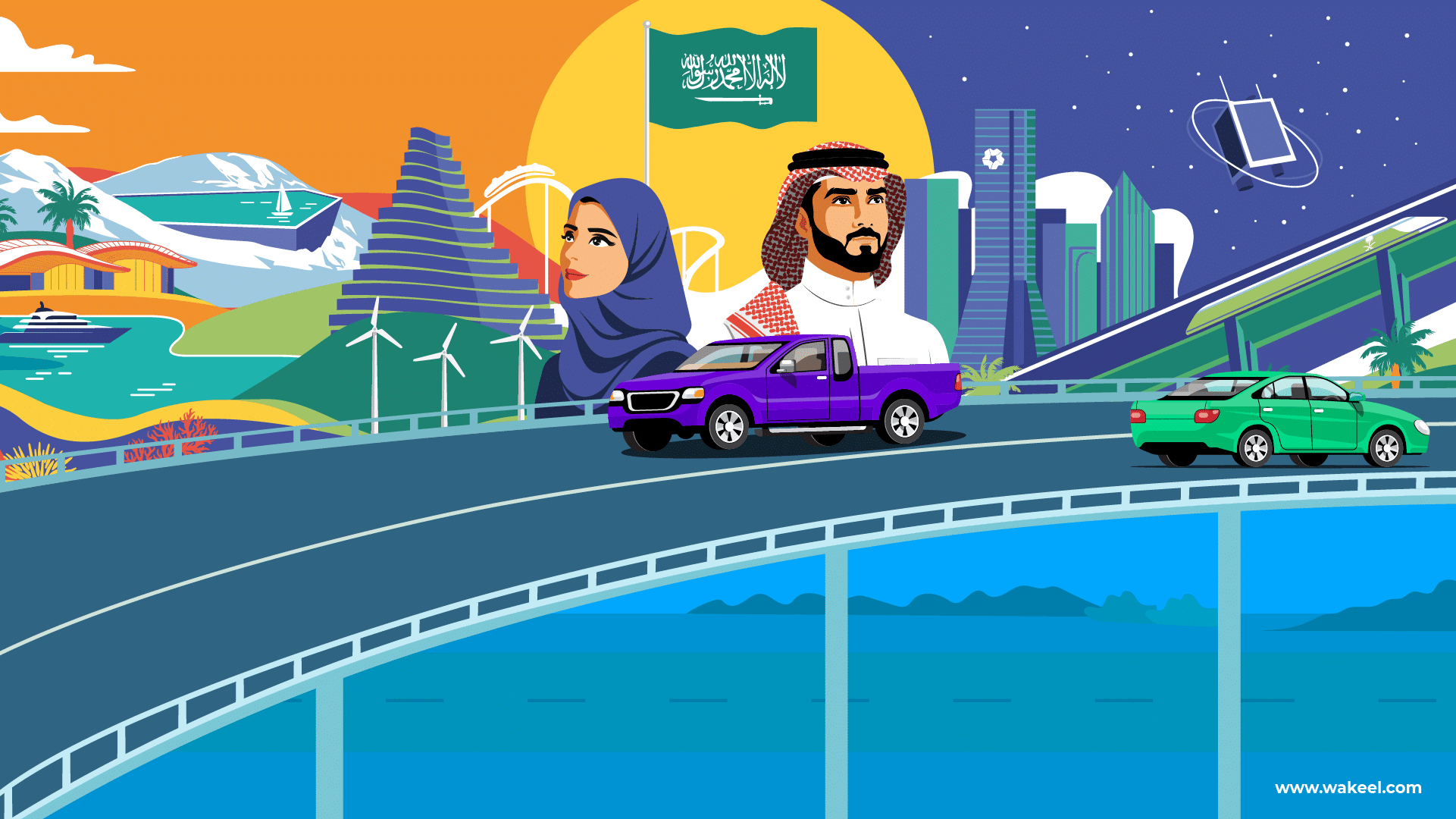 Saudi National Day: Stay Safe and Celebrate!
Saudi Arabia celebrates its National Day on September 23, the date that marks the unification of the Kingdom. Each year, Saudi holds grand celebrations across the country to mark the event. From lining the streets with Saudi flags, lighting buildings up in green, to rousing airshows, dazzling fireworks, and many events. And let's not forget about National Day special discount and unmissable deals too! So, turn your notification on and keep an eye on comprehensive insurance offers and discounts.
Being a public holiday, many people will dress up in Saudi national flag colours and decorate their cars to celebrate the day. If you're planning to join the celebrations, here's a quick guide on where to go and how to decorate your car with a patriotic flair, without breaking any rules or your insurance.
Mark your calendar for these unmissable events
National Day Fireworks: If you are in Riyadh, head to Al Thaghr Plaza to celebrate Saudi's glorious achievements over 92 years with fireworks!
Saudi National day Airshow: Get ready for a majestic military show to commemorate this historic day in Al Qayrawan neighborhood; Prince Turki bin Abdulaziz Al-Awwal Road.
National Day Festivals: Make your way to Grassy Park, this festival will include amazing roaming performances, craft booths, and food kiosks.
Celebrate in Bahrain: Cross the causeway and join the Saudi National Day celebration in Bahrain! The neighboring island hosts a series of events to mark the occasion— but make sure to get your geographical extension cover from your insurer first.
During Saudi National Day Celebrations, avoid the following:
Not wearing your seatbelt always.
Blocking or disrupting the road.
Going over the speed limits, even worse racing! R
Running red lights.
Parking your car in non-designated spaces; your car could get scratched, bumped, or impound.
Sticking your body out of the car window or car roof.
Performing any type of car stunt, such as drifting.
Exceeding passenger limit or overloading the car.
Leaving your car unattended with the engine running
Nothing excuse reckless behavior on the roads! Every year, Saudi Traffic Department urges motorists to adhere to traffic regulations during National Day to avoid any kind of inconvenience and ensure everyone's safety.
And in case you needed another incentive to be on your best driving behavior during National Day celebrations. Remember that serious violations like racing will increase your insurance rate. Besides, keep in mind that insurance companies have the right to recover payouts if the accident was a result of a traffic violation. Thus, the at-fault driver will be responsible for paying back the insurance company the money the company paid to compensate for the damage.
As for car decoration, the Traffic Department confirmed that there are some rules to keep in mind for people wishing to decorate their cars to join Saudi National Day celebrations.
Rules for Saudi National Day car decorations
According to Article 25 of the Saudi Traffic Law,
No vehicle may be altered by changing its color, features, standard equipment, capacity, or dimensions without obtaining prior permission from the competent authority

Saudi Traffic Law, Article 25
This includes:
Changing the colour of the car even temporarily.
Covering or slightly concealing the license plate – front and back!
Tinting or darkening the windshield and rear window.
Putting stickers on the car body*
Modifying the car engine to cause noise, or make unauthorized additions to your car.
Placing Saudi national flags on the car's body*
** The Ministry of Commerce bans individuals and businesses from using the flag in commercial promotions including publications, goods and products, brochures, and special gifts. The ministry said, "The national flag contains the name of Allah, and the official state emblem of two swords and a palm tree. Furthermore, the ban covers pictures and names of Saudi leaders and officials."
Enjoy National Day without flouting traffic rules, or invalidating your insurance!
All in all, everyone has their own way of celebrating the national day and expressing their love for Saudi; but, the best way is to adhere to traffic regulations. Otherwise, motorists can face hefty fines, if they don't follow the rules. Also, it is worth mentioning that car insurance companies pay close attention to car modifications too. In fact, they are not overly fond of most of them!
As a general rule, a car insurance company may refuse your car insurance claim, if the car is in any way different; you will need to inform your insurer before you modify your car.
At first glance, you might think that something like putting a sticker on your windshield is not a big deal. However, a sticker that exceeds the legal limit could obstruct the driver's vision. As such, this leads to an increase in the likelihood or magnitude of risk.
Bottom line, you have to read the terms and conditions carefully to avoid surpsring bills! You'll be surprised to know many insurers don't include certain accidents in their insurance policies. Speaking of which, start comparing car insurance policies online and find out all the perks you can get.