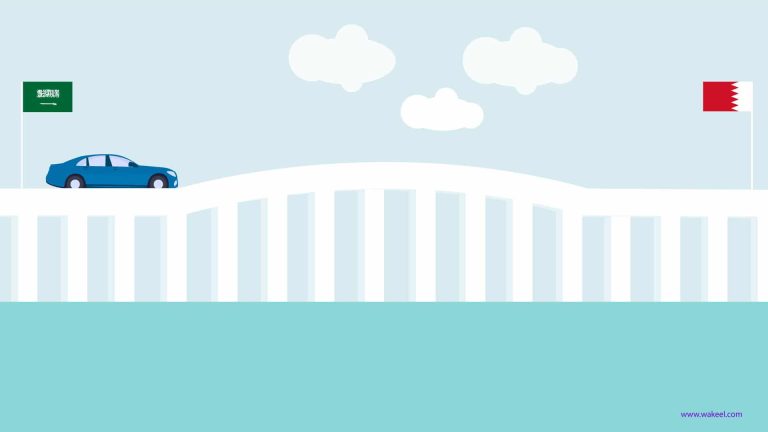 Expand Car Insurance to Bahrain with Geographical Extension
As Saudi lifts travel suspension and reopens land and airports starting May 17, a surge of Saudi visitors is gearing up to cross the King Fahd Causeway. Saudi and Bahraini residents are used to shuttling between the two countries via the causeway. However, as the travel artery reopens, the Saudi government has issued new travel guidelines and requirements due to Covid-19. Remember, too, crossing the border requires having valid car insurance. Generally, some may not know that their Saudi car insurance is doesn't cover driving abroad. Thus, visitors must buy a temporary insurance policy for driving in Bahrain or invest in adding a geographical extension to their car insurance coverage.
Whether you are planning to visit neighboring Bahrain or planning a GCC road trip, here is all you need to know about geographical extension and how car insurance works whilst driving outside Saudi.
Do I Need Car Insurance to Drive Outside of Saudi?
Actually, the unified compulsory motor insurance policy doesn't cover your car outside Saudi Arabia. If you are involved in an accident – God forbid – anywhere outside Saudi lands, you won't be able to use your car insurance to cover damage and losses arising from accidents. Consequently, you may have legal liability abroad.
For your peace of mind, make sure you have the right cover. This way nothing can go wrong during your stay or vacation abroad. Especially when it's possible to extend car insurance coverage outside Saudi easily. Besides, add-ons are comparatively more economical than purchasing temporary policies every time you cross the border.
How Can My Car Insurance Cover Driving Abroad?
Just like in Saudi Arabia, having car insurance is compulsory in most countries around the world. When you get into a car accident in Bahrain, each party involved needs to show proof of having valid car insurance.
If you are planning a road trip outside Saudi, you may want to check your car insurance coverage. A comprehensive car insurance policy covers liability towards third parties' car damage & losses in the event of accidents in Saudi. Also, this type can cover your car according to the policy's terms and conditions.
Moreover, you can extend comprehensive insurance coverage to cover your insured car in Saudi's neighboring countries, like Bahrain. All you have to do is purchase a Geographical Extension add-on to expand your policy.
Add-ons can save you a ton of money, geographical extension option cover your insured car against loss or damage resulting from accidents outside the Kingdom of Saudi Arabia, such as the following covers:
Bahrain only.
GCC countries including Bahrain.
Geographical Extension to other countries like Egypt, Jordan, and Lebanon.
Thankfully, you don't have to comb through licensed Saudi insurance companies anymore. Now, you can compare car insurance rates online, and getting the right car insurance is only a click away. The Geographical Extension add-on is an ideal choice for people who frequently shuttle between Saudi and Bahrain, or other neighboring countries. Alternatively, visitors can also purchase a temporary insurance policy on King Fahad Causeway, but it is a more costly option if they are planning to stay long.
What Does Geographical Extension Cover?
In addition to comprehensive insurance benefits, this add-on cover protects insured Saudi cars and pays expenses resulting from accidents that occur outside Saudi Arabia.

Damage or loss to the insured car: The insurance company will compensate for the damage or loss to the insured car resulting from accidents or any risk mentioned in the policy. Comprehensive car insurance will pay for your car repairs, or pay the cash value of the car when necessary.
Personal accidents: This means that car insurance companies bear full medical expenses for personal injury treatment. Plus, it can pay for passengers' immediate injuries resulting from accidents.
But, please be advised that this coverage only applies to your own car! Meaning that this add-on doesn't cover injuries or damages to other drivers and their property if you're at fault in the accident; So you'll still need to buy temporary third-party car insurance for your trip on the border.
Cross the border safely
All in all, expanding your Saudi comprehensive car insurance to cover Bahrain through geographical extension is a clever way to make sure you're protected wherever you go. It's always reassuring to know that your insurance extends to GCC countries. If you're into this idea or just exploring car insurance options, here's a tip: try out those price comparison websites.
Start by checking out price comparison websites today to lock in the right insurance, both here in Saudi Arabia and wherever your journey takes you.