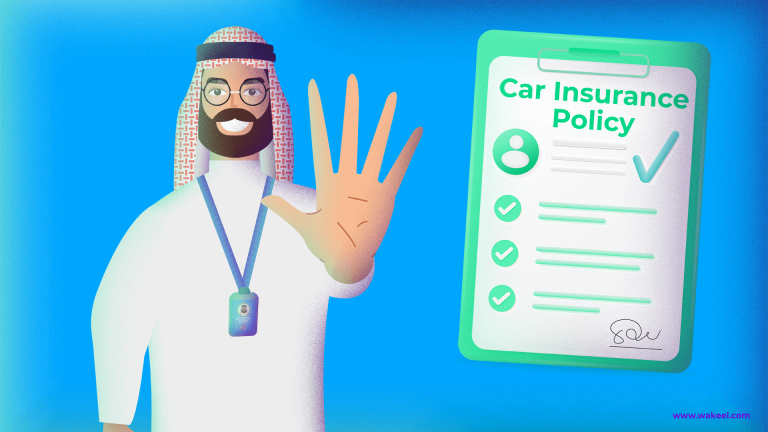 5 Things to Declare on Your Car Insurance
When you're getting TPL or comprehensive insurance, insurers will ask for details about your car and drivers. Now, here's the deal: as a responsible policyholder, it's your job to give them complete and honest information. Why? Well, car insurance companies rely on the information you declare to accurately assess the chances of potential claims and calculate the costs accordingly. But here's the catch: if you intentionally give false or incomplete information, it's called non-disclosure, and it can seriously backfire on you! We're talking about rejected claims and even policy cancellations. That's why it's absolutely crucial to be open and honest, providing all the information that the insurance company asks for. By doing so, when you submit an accurate and complete application, you fulfill your legal and ethical duties as a car insurance policyholder in Saudi.
We understand that when it comes to car insurance, you want to get it right. So, we've put together this blog to cover the often-forgotten details, so you can feel confident in your car insurance policy.
What do you need to declare for your car insurance company?
When applying for car insurance, there are several important details that you need to declare to your insurance company. These include:
Mounting a cargo carrier
When insuring a car, it's important to declare any modifications that have been made to your car beyond the manufacturer's design or the accessories provided by the dealership. These "car modifications" go beyond just cosmetic changes or improvements in engine performance; they also include aftermarket attachments like a cargo carrier or basket.
SASO conducted a whole study about why it's not a good idea to mount a cargo carrier on cars. The findings revealed that rear baskets can impact cars' balance and stability by shifting their center of gravity, resulting in a higher risk of accidents. That's why it's important to inform your insurance company about any modifications or changes have made to your car. By doing so, you can avoid unexpected surprises such as a potential rejection of your car insurance claims.
Car usage
Using cars for ride-share and delivery services has been found to raise the chances of accidents, according to claims data. Moreover, going beyond the permitted passenger capacity, overloading the vehicle, or subjecting it to excessive strain can significantly escalate both the harm to the car and the safety of its occupants. Due to these concerns, insurance companies mandate that drivers notify them about any usage of their cars beyond personal use, even if changes to usage happen after the insurance policy is issued.
It is important to note that, all personal car insurance policies in Saudi Arabia disclaim coverage if someone is engaged in "driving for hire" — in other words, driving for apps like Uber or Marsool.
Sharing your car with others
If you own a car, likely, you won't be the only one driving it! Many families in Saudi share driving cars among themselves. While many people may assume that car insurance automatically provides coverage for any driver with a valid license, the reality is different! In Saudi Arabia, it is necessary to declare the information of each driver who will be using the car to your car insurance company.
Some people may prefer to conceal this information to prevent insurance costs from going up, especially when there are drivers under the age of 25. But here's the thing: if it is discovered that an accident occurred while an undisclosed driver was behind the wheel, things can take a negative turn very quickly! The insurance company has the right to reject your claim for violating the terms of the insurance policy. They may even go as far as filing a lawsuit to recover the costs they paid to compensate for the losses, even if several years have passed since the incident occurred.
Where you live (or drive)
According to experts at "Argaam," insurance companies in Saudi Arabia price their policies differently across different regions. They base their rates on reports about accident rates and loss ratios in each city. For instance, insurance prices tend to be higher in heavily congested cities like Riyadh, while they are lower in cities with less traffic.
If you're thinking about changing your address to save on car insurance, it's important to understand the risks involved. By going down that path, you'd essentially be hiding information and potentially getting involved in fraudulent activity. While it may go unnoticed for a while, insurance companies have reliable systems in place to verify the information you provide. So, if there's an investigation after an accident or when you file a claim, any inconsistencies in your address change are likely to come to light. And let us tell you, the consequences can be quite serious! Your claim could be denied, and there might even be legal consequences to deal with. Ultimately, you could end up shouldering all the expenses on your own. It's something to think about before considering such a move.
Instead, there are many other legit ways to lower insurance costs. One of the easiest ways is to maintain a claim-free history, which can help you qualify for insurance discounts.
Previous accidents & traffic violations
Last but not least, there's nothing worse than being dishonest about your driving history with insurance companies! Many drivers try to downplay the number of accidents and traffic violations they've had to appear safer and reduce their insurance prices. However, this deceptive approach comes with its own set of risks—getting caught.
Insurance companies have access to the "Najm" company's database, which enables them to electronically verify the accuracy of every driver's history. If a driver's attempts to manipulate their record are uncovered, the insurance company has the right to cancel their policy. As a result, this attempt may cost the driver much more than they intended to save. Don't "guesstimate," use Absher or Najm to check your driving history.
Can an insurance company ask me to pay back if I didn't declare certain information?
Insurance companies have the authority, as stated in the Unified Motor Insurance Policy, to exercise the "right of recourse." This allows them to take legal action and claim compensation if the policyholder fails to declare crucial information, provides misleading or incorrect details, or leaves out essential information. Thus, The Saudi Central Bank (SAMA) stresses the importance of giving complete and accurate information when filling out forms for insurance companies.
Bottom line, honesty is the best policy!
Being honest and transparent with insurance companies is not just a good practice, it's a crucial responsibility. By providing accurate and up-to-date information, you protect yourself from unnecessary complications down the line. Remember, inaccurate or incomplete information can lead to claim rejections, policy cancellations, or even legal consequences.
So, don't waste time and effort resorting to questionable tactics. Try car insurance comparison websites and unlock a world of convenience and savings! With these user-friendly platforms, you can effortlessly compare prices from various insurance companies. No more hidden fees or surprises—everything is transparent and tailored to your needs. Take control of your insurance decisions and make an informed choice that suits your budget and coverage requirements.