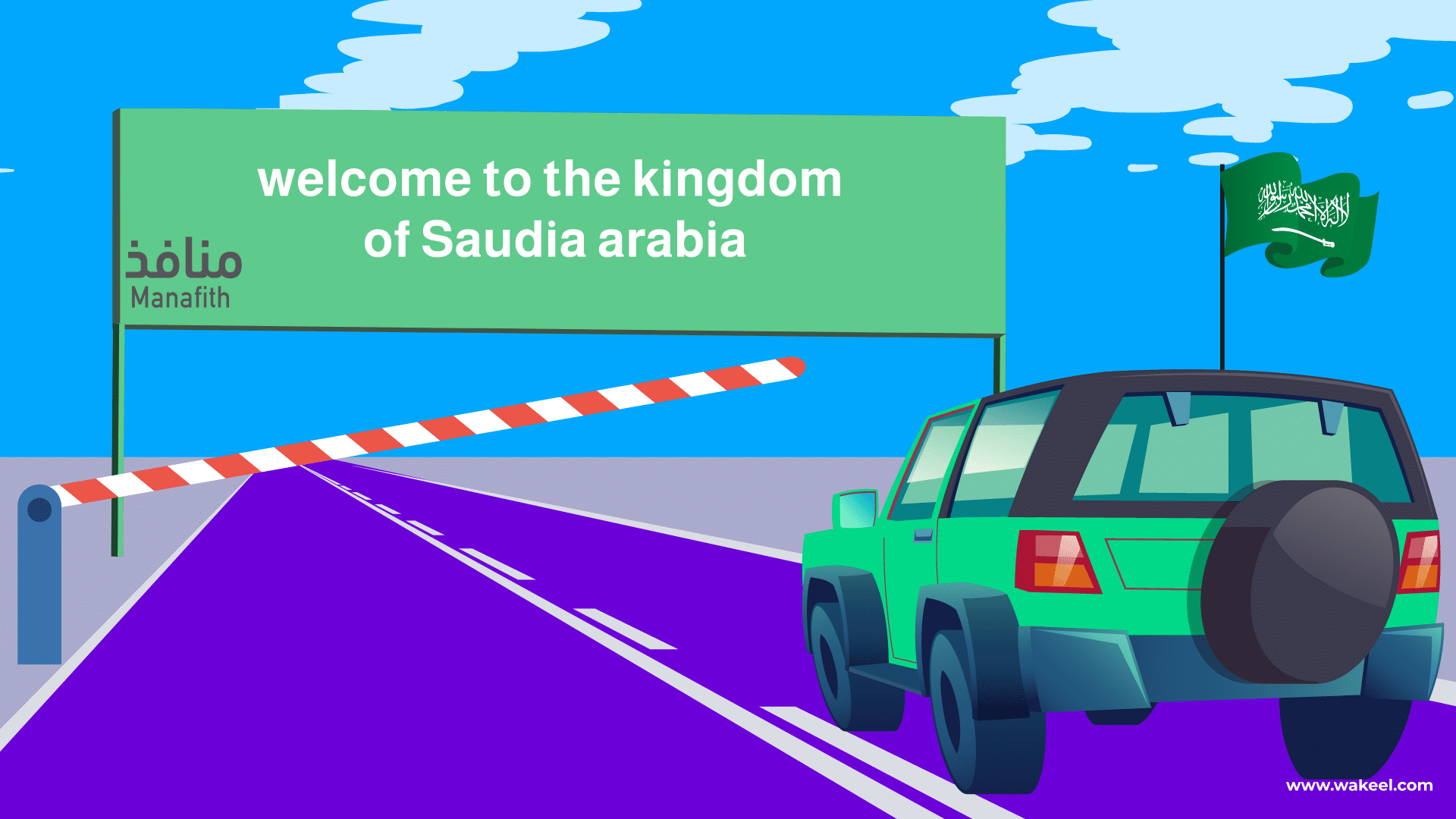 Manafith: Car insurance in your host country
Owning a car opens up endless possibilities, such as being able to work in a neighboring country. or going on brilliant journeys around the region – from Jordan to Oman and Riyadh to AlUla.
Fancy a road trip in Saudi? These road trip itineraries have inspiring ideas for driving in Saudi Arabia! First things first, before your trip to Saudi – it's important to go through our driving in Saudi checklist.
We know that not many people are aware of what documents or insurance do they need to drive in Saudi. So, we created this quick guide with everything you need to know about Manafith car insurance, so you can travel safe & smart!
Preparing to cross the Saudi border
Before you set off, you'll want to make sure that you have got everything covered.
Get familiar with Saudi points of entry
Saudi borders Bahrain, Jordan, Kuwait, Oman, Qatar, United Arab Emirates, and Yemen. Via many land entry points, these countries' citizens and residents can shuttle easily to and fro using their own cars. Each country border crossing is listed below:
Bahrain to Saudi: King Fahad Causeway port
Kuwait to Saudi: Al Khafji or Raq'i port
Qatar to Saudi: Salwa port
Oman to Saudi: Rub Al Khali port
UAE to Saudi: Al Batha port
Jordan to Saudi: Al Haditha port
Yemen to Saudi: Al Wadiah port
Tip: You can check Saudi ports' peak times for any of the locations online.
COVID-19 Travel Requirements in Saudi
To meet COVID-19 entry requirements, all visitors to Saudi Arabia must:
Provide evidence to a negative PCR test.
Confirm their COVID-19 vaccination documentation. Before traveling, check the list of approved vaccines to enter Saudi Arabia.
Download the Tawakkalna app, which shows the state of health.
Checklist for driving into Saudi
If you are entering or transiting through the Kingdon's land, you need to carry:
Your travel documents
A valid GCC license, or IDP
A valid vehicle registration
And Manafith car insurance
What is Manafith insurance?
In Saudi, Najm offers fixed-priced short-term insurance that tailors to your travel plans known as Manafith. Manafith allows you to pay only for the time you need – a week, a month, or a year. If you're popping over to Al Khobar for a business trip Manafith is a solid choice. And if you end up extending your stay to discover what Riyadh Season has to offer, you can just take out a new cover, since it takes no time to buy car insurance online.

Najm has developed an innovative e-platform to sell Manafith insurance online. It takes just minutes to buy a policy on Manafith. Firstly, you only have to pick your cover. Then, enter some basic information about your car. Next, you can pay for your insurance using a secure payment system, and your insurance policy will be ready within 3 hours. With this platform, buying car insurance to drive Saudi has never been easier!
What does Manafith insurance cover?
Manafith provides third-party liability coverage against any legal liability arising out of injuries and damages to other drivers and their cars if you're at fault in the accident. Much like a TPL insurance policy, there are certain things that aren't included in a Manafith temporary insurance policy, such as:
The cost of repairs to your own car.
Personal accident cover.
Who underwrites Manafith insurance policies?
Basically, a total of 23 Saudi-listed insurance companies signed an agreement to participate in Manafith, an insurance pool, under the management of Najm. Najm operates Manafith and sells TPL insurance for Non-Saudi vehicles. But, the participating insurers underwrite Manafith car insurance policies.

When you buy insurance on Manafith, the insurance company name will be shown on the insurance policy. Usually, when the risk is too high for a specific endeavor; a group of insurance companies will form an insurance pool to ensure the distribution of risk evenly. Thus, Manafith insurance policies are underwritten with premiums, losses, and expenses shared in agreed ratios.
What happens if i get into a car accident in Saudi?
If the unexpected happens when you're in Saudi, don't worry. Najm will be there to help you throughout the entire claims process.
Simply report Najm, and remain at the scene until the authorities arrive. Once the accident report is ready, get in touch with the insurance company shown on your policy schedule to file a claim.
Planning a move to Saudi?
Like many countries around the world, Saudi requires you to have a minimum level of car insurance to drive. If you're planning to relocate to Saudi – or happen to be a cross-border worker, here is how to do it.

Anytime you are shopping for car insurance, it's important to know your options. With wakeel, you can compare car insurance prices in Saudi online from the comfort of your home, without having to queue in a line or call multiple car insurance brokers.
It's a good idea to buy comprehensive car insurance in Saudi to make sure you're covered for all scenarios, including accidents, car theft, or striking a stray camel. Additionally, you can extend your comprehensive insurance to cover your car in a neighboring country with geographical expansion cover.
Get ready, get packing, get insured!