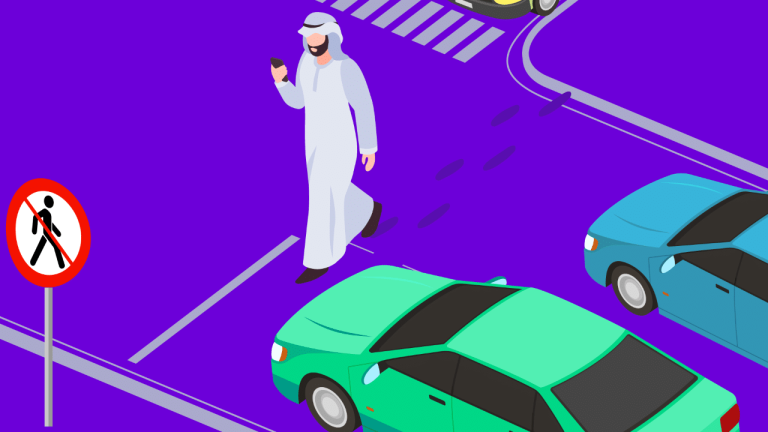 Jaywalking in Saudi Arabia: Watch Your Step!
Let's clear things out, who's to blame in pedestrian car accidents? Surprisingly, the person behind the wheel may not be the only person to blame. In fact, just like drivers are obliged to be responsible, pedestrians too have a duty of care towards other road users as well. The term jaywalking refers to when a pedestrian decides to jeopardize their own safety and others, neglecting their duty while crossing the road without regard to approaching traffic. In that case, are pedestrians eligible to claim TPL insurance compensation? Here is everything you need to learn about pedestrians accidents in Saudi.
Jaywalking in Saudi Arabia
In many different Saudi cities, pedestrians may risk their lives dashing across busy highways or crossing roads unbothered by nearby cars! This is what we call jaywalking. We often believe that pedestrians have the right of way always. However, just like drivers, pedestrians must also follow certain traffic rules while using the road.
In Saudi, jaywalking is a violation of traffic rules and regulations. Therefore, the traffic department tickets jaywalkers for crossing the highways, with a fine of up to 200 SAR. Additionally, jaywalkers can be liable for accidents either partially or entirely. Obviously, there's little a driver can do when a pedestrian runs out in front of traffic here.
What if my car accident involved a pedestrian?
A large number of people are injured on the road because they are deliberately ignoring safety messages, jaywalking, and avoiding using pedestrian bridges in Saudi.
As a driver, it's important to know what to do immediately after a car accident in Saudi Arabia. If a pedestrian was injured in a car accident, you should:
Call the police and an ambulance to show up.
Then, your best next step will be reporting the incident to Najm.
During this time, you should stay on the scene until help arrives. Leaving the scene before that could have serious legal consequences, and you might be charged for a hit-and-run accident or even vehicular manslaughter.
Does car insurance cover pedestrians accidents?
As Saudi law requires, all drivers must carry at least the minimum amount of coverage. Essentially, all car insurance plans must cover third-party damages and losses. Thus, compulsory and comprehensive car insurance includes pedestrians hit by a car; compensating road traffic injuries and deaths. However, liability for a car-versus-pedestrian accident isn't always clear.
For example, if a pedestrian fails to obey the traffic rules – say if this person was jaywalking – He or she can be found at least partially at fault for the accident for putting other road users in danger. Therefore, the driver's insurance company may not offer compensation. In other cases, pedestrians may still be eligible for financial compensation up to certain limits.
How do we determine fault?
Generally, it's common to assume that the car driver is always at fault for the accident. Nevertheless, road safety is everyone's responsibility meaning everyone has to follow the rules. Therefore, a pedestrian can be at fault when:
Interrupting and distracting the flow of traffic on the highway.
Crossing in the middle of the street; failing to use the crosswalk.
Ignoring traffic signals, walking when there is a red "do not cross" command.
Crossing the road safely in Saudi
The National Transport and Logistics Strategy is committed to keeping the roads safe and aiming to reach sixth place globally in road quality Accordingly, MOT Saudi implemented a number of safety initiatives and invested in road infrastructure namely pavements, crosswalks, and footbridges.
Avoiding pedestrian accidents
As children go back to school, you have more reasons to drive extra carefully. Avoiding pedestrian accidents is quite easy. Just follow the rules, keep speed reduced, and cellphones out of reach.
All in all, pedestrian accidents are preventable but are a common occurrence. So, it's always best to be safe and insured. If you are looking to expand your coverage, wakeel can help you find the optimum protection. Additionally, wakeel can land you the best car insurance offers available and help you compare multiple insurance quotes.