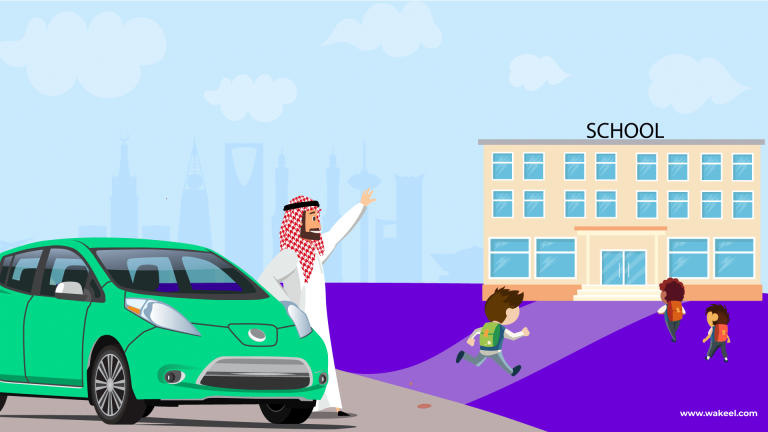 Back to School Means Sharing the Road
Back to school season is upon us, and this means something else entirely for drivers! In Saudi, you now 7 have million more reasons to drive safely! This week, the Kingdom prepares to welcome 7 million students back to schools and restart in-person learning. Truth be told, adjusting to back-to-school routines after the pandemic can be a challenge to everyone. But school-run traffic has always been a menace for parents and general road users alike. The school run does not only have an impact on traffic levels, but it can also heighten potential hazards on the road. With this in mind, it is never more important that we turn our minds to ensuring children's safety, as parents and motor vehicle drivers.
Sharing is caring
It's important to share the road and drive safely all year long, but it's even more important to be extra responsible and cautious with more children traveling by car, bus, or by foot.
According to Safe Kids Worldwide approximately 25,000 children are injured in school zone accidents each year. Locally, The National Family Safety Program released a survey that found traffic accidents are the leading safety issue facing children across Saudi.
So, here are a few things to remember to make the morning and after-noon commute safer for everyone
The school run rules
After MOE announced the return of "elementary" & "kindergarten" students in attendance. Many parents prefer to drive their children to or from school. If you are planning to drive your kid, remember:
Make sure to leave early to avoid running late.
Buckle up children in the back seat – the front seat fine ranges from SR300 to 500
It's the safest to keep your child in a car seat – safety seats reduce the risk for injury in crashes
Don't double-park, it blocks visibility and creates more congestion
Teach your child to use the curbside to exit and get into the car
Encourage your child to use the crosswalk exclusively
If you've been out on the roads, you know that not everyone drives well. And no matter how careful you are, some accidents are unavoidable. Therefore, consider back-to-school season the best time to rethink your car insurance coverage. It certainly pays off if your car insurance covers expenses like medical bills after an accident.
Comprehensive car insurance add-ons can:
Help cover medical expenses for you and your injured passengers. And it doesn't matter who is at a fault for the accident.
Save you the cost of replacing a damaged child car seat after an accident.
Bear in mind that comprehensive car insurance policies are not standardized, meaning that each policy has a different set of features and benefits. This is why you should never skip comparing car insurance offers online!
Back to school means more buses on the road
There are thousands of students who rely on school buses to get them to and from school safely. In point of fact, SASO sets safety requirements for school buses in Saudi. Plus, buses are inherently designed and standardized with safety as a top priority. Above all, remember that a bus's blind spot is larger than the average and takes more time to stop. To improve road safety for everyone:
Never tailgate a school bus, leave enough distance.
Stay out of the blind spots on a bus.
Be alert, if the yellow or red lights are flashing and the stop arm is extended, you must stop.
Never pass a bus from behind if it is stopped to load or unload children, the fine ranges from SR 3000 – 6000.
Be alert; children are energetic, and they tend to run, push or shove.
It also means more pedestrians
We often like to say that safety is a two-way street: it's the job of responsible pedestrians and attentive drivers to ensure everyone's safety. However, most children are still developing situational awareness. The best thing you can do is slow down, and pick up a few defensive driving tips:
Reduce your speed near school zones, parks, and neighbourhoods.
Don't honk or rev your engine to scare a pedestrian even if you have the right of way.
Eyes on the road, not on the phone – always!
Be extra alert, children are impulsive and have little or no sense of danger.
And it could mean being a first-time driver!
More university freshers are itching to start driving soon and to be in charge of their own commute. Conventional wisdom says we should make our youngest drivers borrow an old family car until they have gained sufficient experience. However, parents usually overlook one area of preparation: making their children insured drivers. Remember to classify your new drivers as additional drivers on your car insurance. By doing this, parents don't have to worry about breaking the bank buying a new car or new car insurance.
Also, be ready to discuss the following:
If you're lucky enough to begin driving in your very own car, that car will need its very own insurance too! In general, younger drivers tend to pay more for car insurance. Start with figuring out which car is cheaper to insure. Then, compare car insurance quotes from multiple insurance providers to help you get the best car insurance rates and coverage. The more insurers you compare, the better – compare car insurance rates online in Saudi.