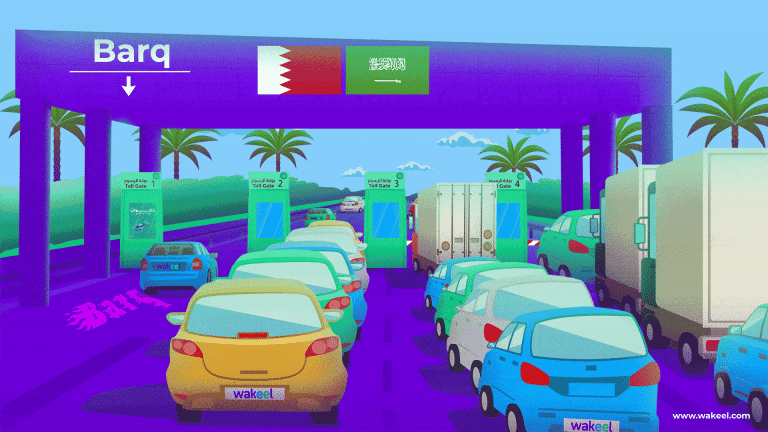 Experience the New King Fahd Causeway Crossing
King Fahd Causeway, linking Saudi Arabia with Bahrain, attracts huge numbers of travellers every year! In 2022, The King Fahd Causeway Authority revealed that more than 23 million people crossed the Causeway. The rate of vehicle crossings per hour was about 1,400; which makes it the fifth-busiest land crossing in the entire world! During regular traffic conditions, you can drive from Al Khobar to Manama center in as little as 20 minutes and vice versa. However, during peak travel times, particularly public holidays and weekends, the journey can log wait times around 3-5 hours depending on traffic. Here's the good news, long queues and delays may soon be a thing of the past. KFCA has officially launched e-payment services for tolls and car insurance to ease travel between Saudi and Bahrain.
Discover King Fahd's new application, Jesr, and experience an easier, shorter, and more seamless journey across the bridge.
Useful e-services for King Fahd Causeway travellers
The King Fahd Causeway offers a range of e-services to enhance the overall experience for travelers, providing them with efficient and time-saving solutions. One such service is "Absher Travel," which allows individuals to book appointments in advance, before reaching the land ports. Also, travelers can conveniently buy the required car insurance online for cars crossing the King Fahd Causeway.
Additioanlly, KFCA announced four e-payment services linked to their "Jesr" app to ease crossing time on both sides.
4 new e-payment services to speed up the procedures
These four new services will enable travellers to pay and cross the toll gates on the two sides easily and smoothly without the need to stop for cash payments.
Number plate recognition, aka, Barq. Barq technology in cameras and sensors will detect cars' number plates to identify registered vehicles and deduct toll fee accordingly
Radio Frequency Identification, aka, Tasheel. A Tasheel radio chip placed in a vehicle's front windshield will trigger an alert when passing through e-gates and deduct payment from an e-wallet
QR code. Frequent travellers can also scan a QR code at the King Fahd Causeway to effortlessly make a payment from a registered e-wallet with pre-loaded funds
App payment, aka, Yusur. Using the Yusur service on the KFCA app allows travellers to pay a single ticket for a one-time transit fee when moving between Saudi Arabia and Bahrain
King Fahd Causeway App, Jesr, top features
Before your trip, download KFCA's offical mobile application. Jesr is a free and easy-to-use app that provides a number of interactive services to travellers crossing the King Fahd Causeway between Saudi Arabia and Bahrain. These services include:
Live 24/7 broadcast for both the Saudi and Bahraini sides of the causeway.
Real-time traffic updates. Use this information to plan your trip and avoid traffic congestion!
General news and updates.
Buy entry car insurance online.
Contact information for roadside assistance, for when your car breaks down!
Students and frequent travellers discount cards.
And most importantly, cashless payment services, such as the "Barq" technology, which automatically authorises toll gate payments for a seamless crossing experience.
How to activate "Barq" technology on Jesr app
Barq techonology enable motorists to pay and cross the toll gates on King Fahd Causeway two sides easily and smoothly without the need to stop for cash payments. To activate Barq, follow these steps:
Download Jesr mobile application. Make sure you have the latest version of the King Fahd Causeway mobile app installed on your device. Check your device's app store for any available updates and install them if necessary!
Next, you need to create your own account (or log in with your account if you have one.)
Once you're logged in, click on (My Vehicles) to register your vehicle(s).
Finally, top up your digital wallet via credit card, debit card or Apple Pay.
Now, your car is all set up and ready to go!
Plan a hassle-free crossing
A little prepareation can really be hlpful if you want to skip the queues on King Fahd Causeway – or if you just want a super smooth journey across the causeway.
Requirements for Saudi-Bahrain border crossing
To cross King Fahd Causeway, Saudi citizens are required to have a valid ID/ for at least three months, as well as proof of vaccination. As for domestic help, employer or their family member must accompany them and provide a valid iqama, passport, exit and return visa, and health insurance.
On the other hand, Saudi or Bahrain residents must hold a valid residence permit and a passport for at least 6 months. And they need to issue an exit and return visa electronically.
King Fahd Causeway car entry requirements
To cross King Fahd causeway by car, motorist must have a valid driving license, vehicle ownership license (Istimara), or an external veichle authorization proof, and entry car insurance.
What is the best times to cross Bahrain causeway?
For a fast and smooth ride, follow these tips:
During peak seasons, the best times to drive are usually early in the morning. To significantly cut down wait times and reduce traffic, it's best to leave between 2:00 am to 5:00 am. By 8:00 am the traffic will be piling up. Otherwise, a late start means the crossing time will be at least four hours!
For a faster trip and an unmatched experience, follow these tips:
Before your trip, ensure all the documents required for the journey are valid.
Buy your car insurance online before heading to King Fahd Causeway.
Don't forget to check your car's maintenance before you trip — An easily-avoidable breakdown would only make the traffic jam worse!
Use Jesr e-payment services. If you have already activated Barq or Tasheel service, you won't have to stop to roll down your window to speak, scan, tap or pay anymore!
But, don't rush! The speed limit on the King Fahd Causeway is 100 km per hour. Getting a traffic ticket or accident will certainly ruin the fun (and may even increase your car insurance next year).
Discover the importance of expanding your comprehensive insurance coverage to Bahrain
It's important to know that causeway entry insurance provides coverage for third-party liability, which means it protects you against any damages or losses you might cause to someone else.
To protects your own car against accidents or damages during your journey, it's best to get a comprehensive insurance geographical coverage extension. Typically, a regular comprehensive insurance won't cover accidents outiside Saudi, unless you specifically ask your insurance company to extend the your coverage. Therefore, it's best to carefully read the terms of your policy before your trip to Bahrain. It's also best to compare rates for comprehensive insurance with coverage that extends to Bahrain. In Saudi, there are several licensed websites and platforms in that allow you to compare insurance rates from different companies. All you have to do is provide some basic information about your car and insurance needs, and you'll receive the best available insurance offers for your budget.