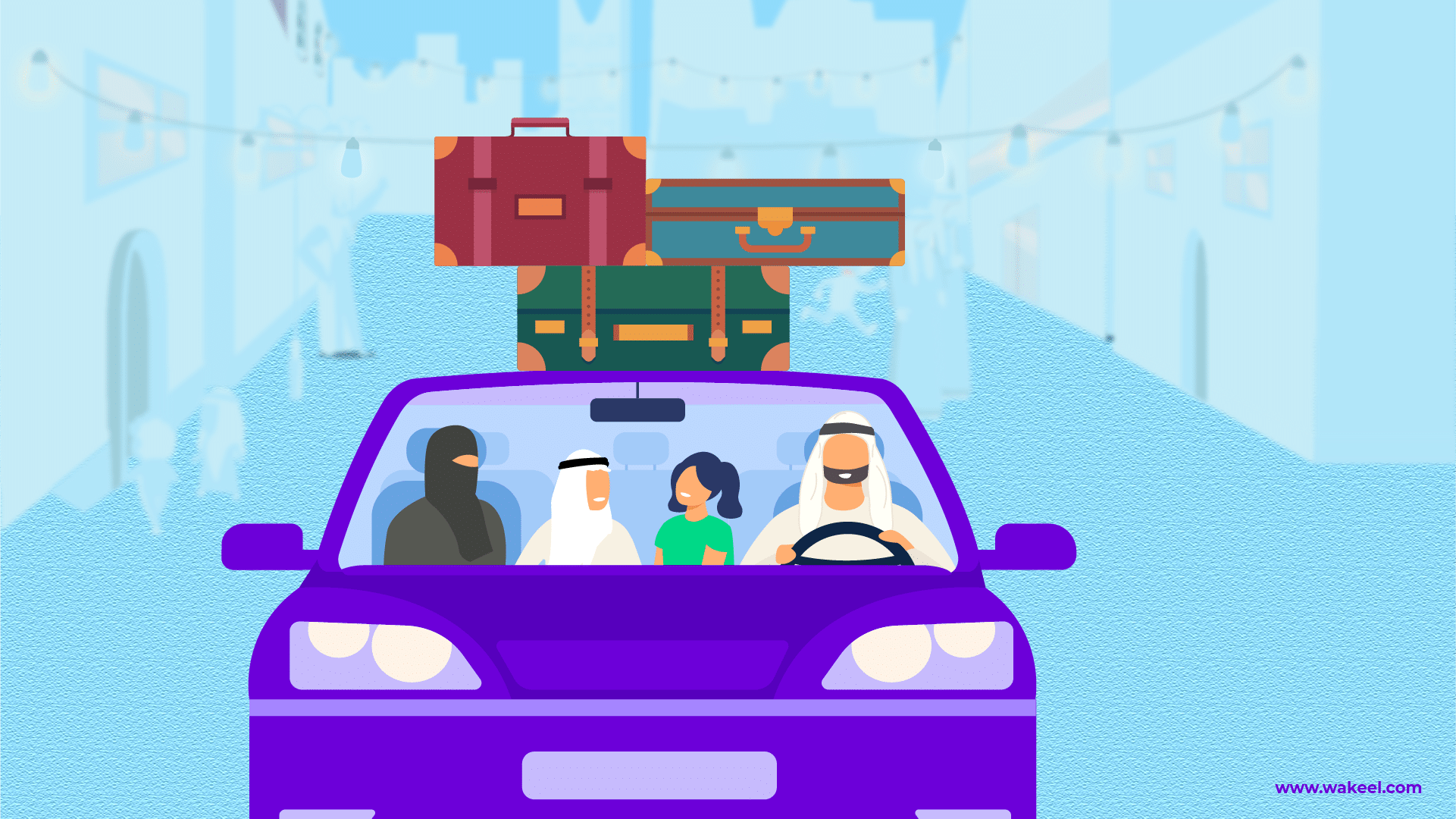 Traffic Violations to Watch Out for in Eid
With the Eid days approaching in full swing, you and your family might be spending a lot of time on the road. Think about all the Eid shopping, last-minute preparations, and traveling to celebrate with family. This time of the year can be a lot of fun, but it can also be stressful. When you are under pressure, you might not always make the smartest choices on the road. This can lead to unfortunate circumstances such as accidents or traffic violations. Ultimately, those accidents or violations can impact your car insurance rates negatively in the future.
So, don't let these traffic violations steal your Eid (or your Eidya money!)
Watch out for these traffic violations
Eid days are typically regarded as the happiest time of the year. However, statistics show that traffic violations and car accidents spike during Eid, as crowds of people take to the road to celebrate with their loved ones across the country. In fact, the Roads General Authority announced that car accident rate in Saudi increases during the holidays by 15% compared to other days of the year.
Thus, it's important for all drivers to be aware that certain driving habits can make Eid a risky time to be on the road. This Eid, use your best judgment to continue driving safely and avoid a run-in with the law.
Distracted driving
This one should be obvious: don't get distracted on the road! By their very nature, accidents happen abruptly, out of the blue, catching most people off guard. We all know that talking on a cell phone hampers our focus on your driving ability. But, did you know that it takes 40 milliseconds to shift your attention from using your mobile back to the road phone? Although 40 milliseconds sound like a very, very short time, it creates a lag in the mind and doubles a driver's reaction time.
During all the Eid hustle and bustle, avoid any kind of distractions. And think twice before you pick up your phone to send a quick text or snap a shot! Besides, using a handheld mobile phone while driving could earn you a SAR 500 – 900 fine + 2 points in Saudi.
Littering from vehicles
Stocking food for any road trip is a must; Since will probably be sitting in traffic for a while it might even be a necessity for 2 reasons. First, it keeps everyone sane during the long journey — we all know how crazy it can get on road trips! Two, it will surely cut stopping time at every station. But before anything else, fit a sturdy car trash can or a plastic bag to toss out any wrappers, or bottles instead of littering. This should be common decency, and aside from that, Saudi traffic has warned motorists against throwing litter on the streets. The fine for littering in Saudi ranges from SAR 300 to 500.
During Eid, remember what Islamic teachings stipulate "Removing harmful things from the road is an act of charity." 
Child passenger safety
If you're traveling with family, remember that all children under the age of 10 must buckle up in the backseat for safety. The traffic violation fine for children sitting in the front seat ranges from SAR 300 to 500. Also, if the children are not wearing their safety belts, there is another fine of SAR 150 to 300. With the amount of time you will be spending on the road this Eid — shopping, running errands, or traveling to see family — consider investing in a safety car seat. Using a child car seat provides proven life-saving and injury-reducing benefits for child passengers. Also, did you know that some comprehensive car insurance policies cover the cost of a replacement child car seat? Don't skip insurance comparison; Find out about all the perks you can get!
Illegal Parking
We've all complained about drivers who don't park between the lines, but maybe you've been one of those drivers yourself! As a responsible driver, you also need to be courteous and thoughtful of others whenever you park your car. Obviously, illegal parking includes parking in disability or emergency parking spots without a permit. But also, you don't want to park your car in a way that blocks traffic near mosques, Eid prayer spaces, or a restricted zone. Besides, it's probably in your best interest not to park your car at these particular spots, because parking in a busy place, leaves your own car vulnerable and can rack up a SAR 900 fine too!
Running a red light
Congested roads during Eid and other Eid-related stressors can result in road rage, speeding cars, and horrific consequences. Red-light runners can cause tens of deaths, and hundreds of injuries, and leave many, many totaled cars behind. Running a red light is not taken lightly in Saudi; red-light runners are risking their lives + a fine of SAR 3000 + 12 points. And as for repeated violators, the Traffic police will double the fine and confiscate vehicles.
Driving without headlights at night
The biggest difference between driving at night and during the day is the difference in visibility. This Eid, you might have to travel long distances during the night to arrive at your destination on time. Remember that the lights on a car serve two purposes – they help you see at night, and they help other road users see you. To avoid any traffic violations fine, turn your headlights on as soon as it gets dark. Moreover, you must always keep your headlights on in a tunnel; Otherwise, you may be required to pay a fine between SAR 500 to 900.
Driving uninsured car violation
Before making any Eid plans, make sure to check your car insurance validity first! Driving without car insurance is illegal in Saudi, and it's a serious problem that could result in a fine ranging from SAR150 to 300. Financially speaking, driving without insurance can be costly; you could wind up paying far more than what you save if you happen to be in an accident.
With so many demands and fuss during Eid, renewing car insurance could be the last thing on your mind, so why not do it fully online and in a few minutes? You can find many budget-friendly, easily purchased & managed online car insurance policies. Instead of paying SAR 300 in fines, use this amount to extend the coverage of your insurance if you're spending the Eid break in Bahrain or Dubai. Use wakeel to compare affordable car insurance prices in Saudi!
Get rewarded for being a responsible driver
By imposing traffic violations, Saudi Traffic seeks to reduce the rate of accidents and injuries on the roads. Essentially, implementing traffic violation fines aim to deter reckless drivers and enhance road safety. We also believe that responsible drivers should be rewarded for their commitment. In Saudi Arabia, car insurance companies offer a no-claim discount (NCD) to drivers if they haven't filed a claim for a year or more. NCD reduces the cost of your car insurance; this is your insurer's way of recognizing and rewarding you for having been a careful driver.