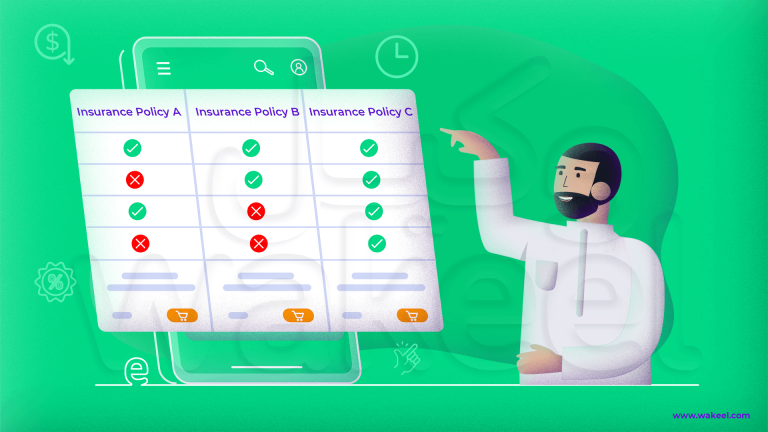 Top Benefits Of Comparing Car Insurance Online
Price comparison sites are a real game-changer, especially when it comes to buying car insurance in Saudi Arabia. Picture this: you're in the market for a new comprehensive car insurance policy and the first question that pops into your mind is, "Can I get the same coverage for a lower price with another company?" Sound familiar? Well, you're not alone! Many people embark on a quest to explore different insurance rates, compare offers, and make a well-informed decision. It's like being your own insurance detective! A study found that 81% of people have developed the habit of comparing prices online and gathering information before making a purchase. And with a population of over 35 million in Saudi Arabia, where a whopping 24 million people are active internet users, it's no surprise that price comparison sites have become all the rage.
Discover the awesome perks that make comparison websites a must-have tool for anyone searching for pocket-friendly car insurance rates in Saudi.
What is a price comparison website?
A price comparison website is like a specialized search engine for car insurance. It gathers the latest product and pricing information from licensed insurance companies in Saudi Arabia into one convenient platform. No more endless website hopping or calling different companies – it's all right there at your fingertips! The primary goal of a price comparison website is to empower consumers by providing them with transparent and unbiased information. These platforms help users make informed decisions based on their specific needs and budget. Users can easily identify the best insurance options that offer the desired coverage at competitive prices.
5 Reasons to start comparing car insurance online
Save big with personalized quotes
One of the biggest and most obvious advantages of buying car insurance via an insurance comparison website is that you're more likely to get access to better deals. It's pretty straightforward: these sites match your needs with the right insurance products, and that means you pay less. When you use a comparison site, you'll provide some info about your car and what you're looking for. Then, clever algorithms kick in and recommend personalized car insurance options that won't break the bank. This way, you get to choose the perfect car insurance coverage without shelling out extra cash for stuff you don't need!
Discover more insurance options
Let's face it, researching all 28 licensed car insurance companies in Saudi Arabia individually is a time-consuming task most of us simply don't have the bandwidth for. We often end up sticking with the big names or relying on the first few search results, missing out on hidden gems in the process. But fear not, because comparison sites are here to save the day! They give you unparalleled access to a wide range of reliable insurance companies, both big and small, all licensed by the Central Bank of Saudi Arabia. This means you can uncover amazing deals, competitive prices, and unique insurance benefits that might have slipped under your radar. Talk about a money-saving jackpot!
Effortless insurance shopping made easy
We've all been there—racing against the clock to find the best car insurance before our current policy expires. This is where car insurance comparison platforms truly shine! Instead of spending countless hours researching and contacting multiple insurance providers one by one, a comparison website makes the process a breeze. Comparing car insurance options online takes just minutes. All you have to do is enter your details once, and voila! You'll receive a comprehensive list of offers in a flash. And the best part? You can complete the payment right then and there, without the hassle of navigating through multiple websites or waiting for callbacks. Acting as the middleman, the comparison site connects you directly with the insurance company and even provides an electronic copy of your new policy that you can easily print out. It's the epitome of convenience and peace of mind, all in one place!
 (FYI the best time to renew your car insurance is before your current policy ends keep your no-claims discount intact)
Making Informed Choices with Ease
Comparing insurance options can be a real headache. It's not just about the price, but also coverage limits, deductibles, add-ons, etc. Trying to do it all by yourself can be time-consuming and confusing. That's where price comparison sites shine! They simplify the process by displaying clear details and pricing for each insurance product. With the handy "side-by-side comparison" feature, you can easily evaluate different offers from multiple angles, identifying the similarities and differences with ease. This empowers you to make informed decisions and ensures you get the best value for your money when it comes to car insurance.
Get the best deals and exclusive offers
Insurance companies in Saudi are well aware that customers using comparison platforms are on the hunt for better prices. To stand out from the competition, they often roll out the red carpet with exclusive deals and discounts, specifically tailored for comparison website users. These perks can include lower rates or extra coverage to attract more customers. Additionally, price comparison sites also throw in some enticing benefits, such as promotional discounts and the flexibility to pay for car insurance in convenient installments. So, not only can you save big on car insurance, but you can also enjoy additional rewards for being a savvy shopper.
Unlock savings & convenience: embrace the power of comparing car insurance online!
 When it comes to buying car insurance, comparison sites are the savvy consumer's best friend. They offer a one-stop shop to save money, compare a wide range of providers, and get a clear picture of prices. With just a few clicks, you can access multiple quotes, customize your coverage, and make an informed decision that suits your needs and budget. So, why waste time and energy navigating through countless websites or making endless phone calls? Embrace the convenience, efficiency, and money-saving power of comparing car insurance online. Your wallet will thank you, and you'll have peace of mind knowing you made a smart choice for your car insurance. Happy comparing!