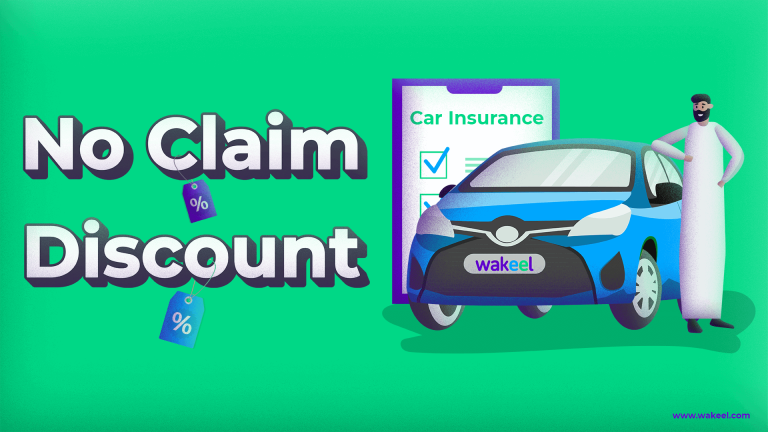 Najm's NCD Eligibility Conditions 
Najm Insurance Services Company, in cooperation with SAMA, has recently updated No-Claim Discount (NCD) service eligibility conditions. This update aims to enable the largest number of drivers in Saudi to benefit from NCD; allowing them to receive a discount on TPL or comprehensive insurance premiums at renewal for every claim-free year of driving.
In fact, the more you drive without claiming, the more discount you earn! In Saudi, you can accrue up to a 60% discount, saving you a fortune when it's time to renew. The idea behind it is to reward consistently safe driving and promote car insurance renewal.
To help, wakeel will reveal the need-to-know about your car insurance no-claims discount – from what is it exactly to its eligibility conditions.
What is NCD exactly?
As the name suggests, a no-claims discount – also called Najm discount – is a percentage discount you earn if you don't file a claim for an entire year.
Put simply, NCD is your insurance company's way of saying thank you for being a safe driver! See, if you hold car insurance for one year without making a claim, then your insurer is not required to pay out anything. By default, this implies you are a low-risk driver and therefore cheaper to insure.
As per SAMA's instructions, all insurance companies in Saudi have to offer no-claim discounts on TPL and comprehensive car insurance for policyholders. The more consecutive years policyholder don't make a claim on their insurance policy, the bigger their NCD will be.
For example, your insurance company will offer a discount of 15% on your insurance renewal if you can prove you've been claim free for a year. But, your discount could rise to a maximum of 60% if you've been claim free for five or more years. To get a rough idea of how Najm calculates your discount, visit our NCD blog.
NCD eligibility requirements
All drivers in Saudi will be eligible to benefit from No Claim Discount (NCD) under 3 conditions:
First, maintain a clean record of traffic accident claims.
Secondly, keep your car insurance coverage always in effect, without a gap of more than 30 days.— including cars you no longer drive; Otherwise, you should drop out any out-of-use cars!
Thirdly, and most importantly, avoid car insurance lapse. A car insurance lapse is a period of time when you don't have car insurance coverage after your previous insurance expires.
How can I find out how many years' no-claims discount I have?
Once the conditions are met, you can get a rough idea of how much NCD you've accumulated:
You should see how much no-claims discount you have when your car insurance is up for renewal. Typically, insurance providers will outline all your car insurance discounts in the final quote you receive.
Alternatively, you can use "Eligibility" service on Najm's app or website to inquire about your NCD percentage.
Najm NCD eligibility service
Launched in 2018, Najm's NCD service is one of the Saudi Central Bank (SAMA) initiatives that require insurance companies to apply discount rates on the prices of third-party mandatory insurance policies and comprehensive motor insurance.
As a driver, this service will help you figure out the percentage currently reached of the no-claims discount, as well as the number of years of entitlement. Besides, you will be able to review the entire insurance record of all the cars you own.
If your NCD calculations are not up-to-date, you can get in touch with a customer service representative at Najm Company.
NCD quick facts
Saves you money. After just one year of claim-free driving, you can earn a discount of up to 15 percent on next year's car insurance costs.
Builds up over time. The longer you drive without claiming, the more your discount will be. In Saudi Arabia, you can get up to a 60% discount on your insurance costs after 5 claims-free years.
Fast-growing. Even if you cancel your car insurance, you will be eligible for the next level NCD provided you complete a period of 10.5 months.
Some claims won't affect it. If your accident liability is less than 50, your claims won't impact your ncd eligibility.
You can use it on multiple cars. It's possible to use your no-claims discount on multiple cars you own; because the NCD is linked to the driver's insurance record and not a single vehicle!
You can keep it with you wherever you go. You can transfer your no-claim discount with you when you buy a new car or switch insurance companies.
Recent NCD eligibility updates
Recently, Najm upgraded its NCD service. The upgraded service aims to ease the conditions related to car insurance lapse and the claim-free record as follows:
You can reinstate your no-claim discount when you insure a car again if the lapse in insurance coverage is less than 30 days after the expiration of the policy.
If the lapse is between 30-180 days after the expiration of the policy, you will temporarily lose your discount for one year for the uninsured car. Noting that you have the right to retain it once the car is reinsured the next year.
After 180 days from the date of insurance expiry, you lose your NCD (0%) for all registered cars.
If you file a claim for an accident where your liability exceeds 50%, it will affect your NCD eligibility on all registered cars. In this case, Najms will reduce your discount to a previous level (2 years).
Make the most of your discount by comparing prices!
All in all, maintaining a no-claims discount is the best means of keeping the cost of car insurance premiums as low as possible. Plus, it's quite simple! All you have to do is renew your insurance before the expiration date and avoid being involved in a car accident to maintain a claim-free record.
Finally, to save more on your car insurance, be sure to compare insurance companies' rates and offers first! Although a no-claims discount of 5 years or more could give 60% off on the insurance policy price. But the level of discount can vary a lot between insurers. Comparing car insurance quotes takes minutes and enables you to see if your renewal offer really is the best available.