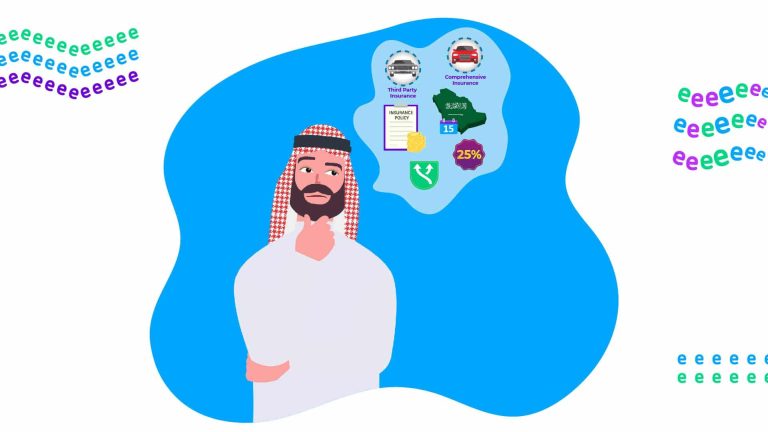 The basic car insurance terms
Let's be honest. Car insurance terms aren't always easy to understand. Whether you're thinking of submitting a claim for damage, trying to understand SAMA's regulations, or comparing car insurance policies; sometimes the terms used can have you scrambling for a dictionary. The truth is when choosing car insurance, the confusion by common and unfamiliar insurance terms can stop you from getting the best car insurance and from getting the best value for money when choosing the right car insurance policy.
When shopping for the best insurance policy in the market, you should always first go online and compare car insurance policies.
First things first, who is who?
Put simply, insurance is a financial contract or agreement between an insurance company and individuals. In an insurance contract, you will come across these three terms.
The First Party refers to the person who enters into an insurance contract with the insurance company. In plain words, the policyholder! But, the policyholder can be the person who buys the insurance or whose name is stated in the policy schedule. The policyholder must be 18 years old at least, has a driver's license, and be authorized to use the car.
The second party is the insurance company. The company must be legally licensed to sell car insurance policies in Saudi.
The third party is another individual, who suffers bodily injury or property damage, arising out of the insured car accident. Therefore, a third-party insurance claim is made by someone who is not the policyholder or the insurance company.
All the basic car insurance terms a driver should know:
Third-party car insurance: is compulsory insurance that intends to protect the insured person from financial liabilities incurred due to losses caused by the third party. The damage caused to a third party can be covered by insurance even if the insured car is stationary or being used on the road of KSA.
Comprehensive car insurance: can cover damages caused to the insured car as well as the other driver's car in the accident.
Discounts: No claims discount (NCD) can reduce the premium costs by up to 40%; but don't forget to compare and find car insurance discounts online for different insurance policies.
Authorized driver: is any person who can legally drive in Saudi Arabia and who has been authorized to drive a car; It could be a spouse, a sibling, or another first-degree relative.
Material fact: Any information which may affect car insurance rates, the terms of the policy, or claims approval. For example, car modifications and national address.
Add-on covers Additional coverage for several damages or trials in addition to car damage and third-party liability. Check out our guide to comprehensive insurance cover and add-ons.
Coverage period: The coverage period is the period in which you can claim for insurance costs in the case of a car accident. It is always advisable to keep checking on your insurance expiry date.
Coverage benefits: This is the amount that a car is covered for by the insurance company in case an accident led to full car cancelation.
Deductibles: Amount to be paid by the policyholder while you claim the insurance amount. It's wise to choose an insurance policy that requests a smaller deductible fee.
The right of recourse: means insurance companies has the right to recover payments from the policyholder, for damages or claims not covered in the policy.
Overall, understanding the jargon and being aware of the basic terms used in insurance will help you:
Avoid car insurance fraud
find the right car insurance
and help you save on your car insurance quote.
wakeel is always in your corner
We believe insurance doesn't need to be so complicated. That's why we equip you with a helpful glossary of words you may come across in your insurance experience and have broken them down into less insurance-y terms. That way, when it comes time to compare car insurance rates online, you'll feel confident about your choices.

Saudi price comparison platform, wakeel, offers you a safe and efficient way of buying the right insurance policy for your car. Get detailed quotes, and compare car insurance prices online from multiple insurance providers in Saudi. Compare your options independently, easily, and effortlessly!