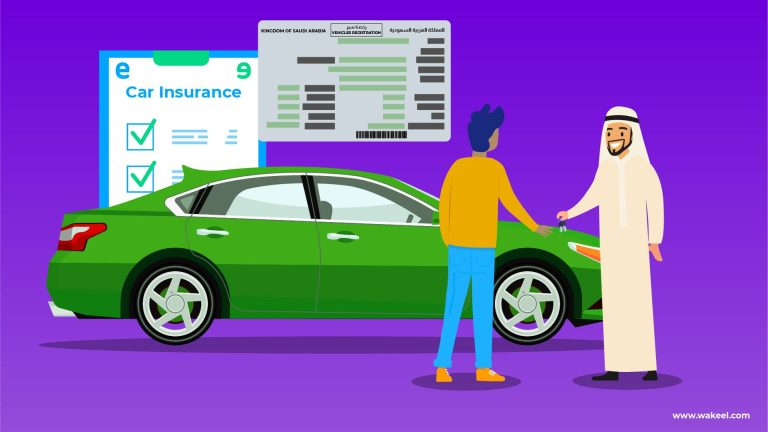 Your guide to transfer car ownership in Saudi
If you've ever bought or sold a car, you know that the journey doesn't end with a simple handshake and the exchange of keys! For some people, car ownership transfer may sound like a complicated process involving many steps. But it's a fairly simple process that you can do online, which is both time-saving and convenient. When you're buying a used car in Saudi Arabia, it's crucial to make sure that you transfer ownership correctly, and that you've got the right car insurance in your name. This ensures you can hit the road hassle-free and the previous owner won't run into any legal issues!
Let's walk you through how to officially transfer car ownership in Saudi!
Before you sell or buy, know the requirements
Before you start the ownership transfer process on the "Absher" platform, there are a few things you should check:
Prepare your documents. First, make sure all your required documents are up-to-date. This includes your driver's license, your national ID, the car's registration, and the inspection certificate.
Clear any outstanding traffic fines. As a buyer you need to pay any outstanding traffic fine before you can buy the car. If you're the seller, don't worry. They won't stop you from transferring ownership, but you should definitely clear them up.
Buy a new car insurance policy. Also, you can't just transfer the existing car insurance to the new buyer. The new owner needs to get a new insurance document before starting the process on "Absher." If you find yourself in need of cheap car insurance in Saudi. Then, use an online insurance comparison platform, which can secure you another great deal. wakeel will be more than happy to guide you to the best car insurance offers in Saudi, give it a try!
Now, for "Absher" to help you transfer ownership, your car should meet these conditions:
Your car's price should be between 5,000 and 150,000 Saudi Riyals.
The car should be in good working order.
You can't transfer ownership if the car is suspended, lost, wanted by the authorities, or seized.
How to transfer car ownership and insurance in Saudi Arabia
First, the seller logs into "Absher," selects "Sell a Vehicle," and fills in the sale details.
Then, the buyer logs in and decides whether to accept or decline the sale request.
If the buyer accepts, they need to transfer the sale amount to the service's bank account using standard banking channels.
Both parties will get a text message from "Absher" with a specific timeframe for finishing the ownership transfer and payment process.
When you get that message, the seller can follow the instructions to complete the transfer. That means the vehicle now belongs to the buyer, and the sale amount goes to the seller's account.
Absher's car ownership transfer service fees
The fee for transferring car ownership, it's 150 Saudi Riyals for a private or special vehicle. If you're transferring ownership within the same family, like to a first-degree relative, you won't have to pay any fees.
Looking for affordable car insurance?
In conclusion, transferring car ownership in Saudi Arabia involves a few essential steps, but one crucial aspect often overlooked is securing new car insurance. Remember, insurance policies aren't transferable between owners, so the new buyer must purchase their insurance. To make this process smoother, consider using a price comparison website. These websites not only make buying insurance more accessible but also help in finding the best coverage at competitive prices. With the help of a price comparison website, you can ensure a seamless transfer of ownership while safeguarding yourself with the right insurance coverage for your new car.