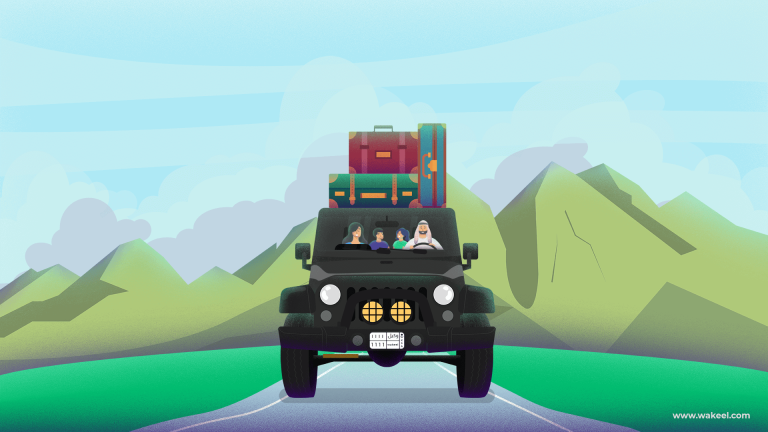 Driving Abroad, Outside of Saudi
If you have got a car, there are plenty of benefits. One of them is the possibility to travel with it; Not only does it offer ease and flexibility, but it also comes with great views and lower costs! Many car owners like Saudis in particular, prefer driving their own cars when traveling outside of Saudi. Of course, As with any aspect of traveling, preparation is the key to being safe, legal, and relaxed! If you are planning to drive outside the Kingdom, make sure you have the right documents, car insurance, and other road essentials for your road trip.
In this guide, we've rounded up the need to know to save you money and hassle – get it wrong, and you can run into necessary problems or even face hefty fines.
Prepare the necessary documents
If you plan on taking your own car abroad, you should have the following with you when driving outside of Saudi Arabia:
Travel document: National ID/Iqama or Passport
Saudi Exit/Re-Entry Visa for residents
Vehicle registration license (Istimara)
Driver's license, possibly an international driver's license, check the rules for using a Saudi driver's license abroad!
External driving authorization for vehicles – can be obtained via Absher.
Car insurance policy for a temporary visit – more on this below.
Most importantly, make sure all documents are still valid. Thanks to Absher e-services, you can renew almost all expired or about-to-expire documents online.
Would it be possible to travel with no car insurance?
According to Customs Authority, travellers don't have to provide proof of valid car insurance at the Saudi border; since you'll need to purchase a temporary-visit car insurance policy for your trip.
But remember, better safe than sorry! In most cases, accidents are unpredictable, and car repairs can sometimes cost a fortune. Thankfully, renewing or buying car insurance online is a breeze. You can compare car insurance rates before you buy your policy online. And the whole process only takes a few minutes!
One last tip: If you are looking for the best coverage while travelling, make sure you have comprehensive insurance that covers multiple drivers and extends to cover accidents outside Saudi Arabia. As well as, roadside assistance.
Consider buying your insurance online
To drive legally abroad, all cars traveling from Saudi through land ports must purchase a short-term car insurance policy. Not only is car insurance for Saudi cars abroad required, but it's also extremely important to have if you get into a car accident there. Typically, this insurance covers car owners against third-party liabilities while driving abroad.
In fact, you can even buy your short-term car insurance from the comfort of your home. Some insurance companies in neighboring countries such as Bahrain and Qatar can issue insurance policies for Saudi before you arrive at the border. To avoid crowds and save your time, check if you can buy car insurance online.
What does Foreign Vehicles insurance usually cover?

Generally, it is a mandatory insurance policy that offers basic coverage. Namely, if you're found at fault for a car accident, third-party liability coverage helps pay for the other party's medical expenses or property damage. Normally, this kind of insurance doesn't provide any coverage for your own car.
On the other hand, extending the "geographical coverage" for your comprehensive insurance can actually cover your own car. So, if you have comprehensive insurance, you should contact insurers before traveling, to ask them to extend your coverage to the country you're traveling to.
This way, your insurance will cover accidents that occur while driving in Bahrain, Kuwait, UAE, Qatar, Oman, or Jordan. But, keep in mind that your comprehensive insurance will not be responsible for third-party liabilities from accidents that happen outside Saudi.
Check the rules for the country you're travelling to
Of course, you shouldn't assume that the traffic rules of another country are the same as you're used to — assume not to assume!
Each country has its own set of rules and regulations. For example, in UAE all cars are subject to a toll when they pass through the toll gates in Dubai. Thus, car owners must buy Salik tags which are available online and at gas stations.
Another example is the "blinking" traffic lights in Bahrain. Traffic lights in Bahrain will start to blink several times before changing their colour from green to red; to notify the drivers that they have to stop soon.
Also, the procedures for handling and reporting car accidents can be completely different from what you are used to in Saudi. So, you need to read about this and keep a list of emergency numbers. Surely, this list can go on and on, but in a nutshell, it is very important to get clued up on the rules and follow them when driving overseas. Otherwise, You may be breaking the law and get a fine if you do not.
Check your car health before driving outside of Saudi
Finally, before you set off on your trip it's worth checking the battery, brakes, lights, and engine are in good working order. Plus, check your oil and tire pressure (not forgetting the spare). Also, a well-stocked first-aid kit in the car can help you respond effectively to common injuries and emergencies. And it's also worth considering: spare keys, jump cables, and a battery charger. Having a well-serviced car before travelling could mean the difference between a shortstop, and a derailed day.