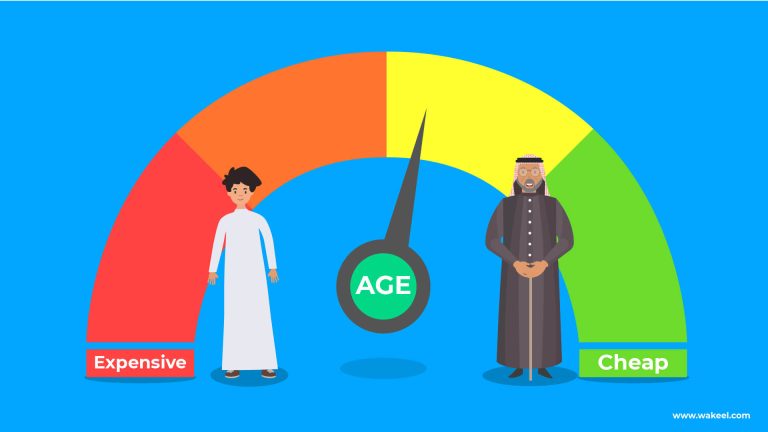 Can age determine car insurance rates?
You are young, recently got your driving license, and perhaps just got a new car that needs to be insured. It is legally mandatory in Saudi Arabia to get car insurance and it can be overwhelming with the different types of insurance and coverages available, especially when it is your first time as a driver and an insurance buyer. A lot of young drivers are not aware that insurance companies consider a drivers' age as one of the biggest factors that affect the price of an insurance policy.
What should young drivers be aware of when buying car insurance?
Insurance companies usually ask for a driver's age before putting the driver into an age-appropriate insurance category. The age category is then matched to the driver for insurance coverage for the car in the event of an accident or a natural disaster. Previously insurance companies in Saudi Arabia will only provide comprehensive insurance to drivers young drivers( 21 -25 years old). Recently, the Central Bank of Saudi Arabia (SAMA) has updated its policy which now allows for insurance companies to give the option to insure cars owned by young drivers with third-party liability insurance (TPL). SAMA has also lowered the insurance coverage age to 18, provided that the applicant has a valid driver's license. The change in policy has given the freedom of choice to young drivers on the type of insurance policy they feel suits them the most.
Why does age determine car insurance rates in Saudi?
Insurance rates are directly related to a drivers age, the reason behind this is:
Knowledge: Older drivers have a better experience on the roads of Saudi Arabia. Basically, they have done more hours driving on the road. Furthermore, older drivers might be better acquainted with roads and Saudi traffic regulations compared to young drivers.
Insurance company records: Most car insurance companies in Saudi keep a record of all their customers' details and claims which help in determining the renewal rates and percentage discounts, with new drivers no records are available. Thus, this could affect your car insurance rates.
Finding affordable insurance at a young age
The main principle of getting an insurance policy is to protect yourself as a driver from any roadside risks. Also, insurance reduces the financial burden and legal liability of the driver towards the third party in the event of accidents. In general, finding cheap car insurance quotes for young drivers isn't always easy, but it's still possible! In truth, getting better rates is not about getting older, but being wiser. Check out 6 costly car insurance mistakes to avoid!
Don't be too concerned, as a young driver with the high rates for an insurance policy, insurance companies in the kingdom of Saudi Arabia do provide discounts in the form of a No-Claims Discount(NCD), to policyholders who have not had any claims for a year or more, regardless of the age category. Drivers can get a discount percentage between 10% to 50% on their next car insurance rate. Best of all, young drivers can get a No-Claims-Discount on comprehensive insurance and third-party insurance. On the condition that no claims on accidents have been claimed after a year of driving.
Quote and Save!
Another guaranteed way to ensure you get low car insurance prices in Saudi is to use a car insurance price comparison online. The key to securing car insurance best offers in Saudi is to run a search and quotes and offers from different car insurance providers. An online car insurance platform can help you find a car insurance policy customized to your own needs and fits your budget.