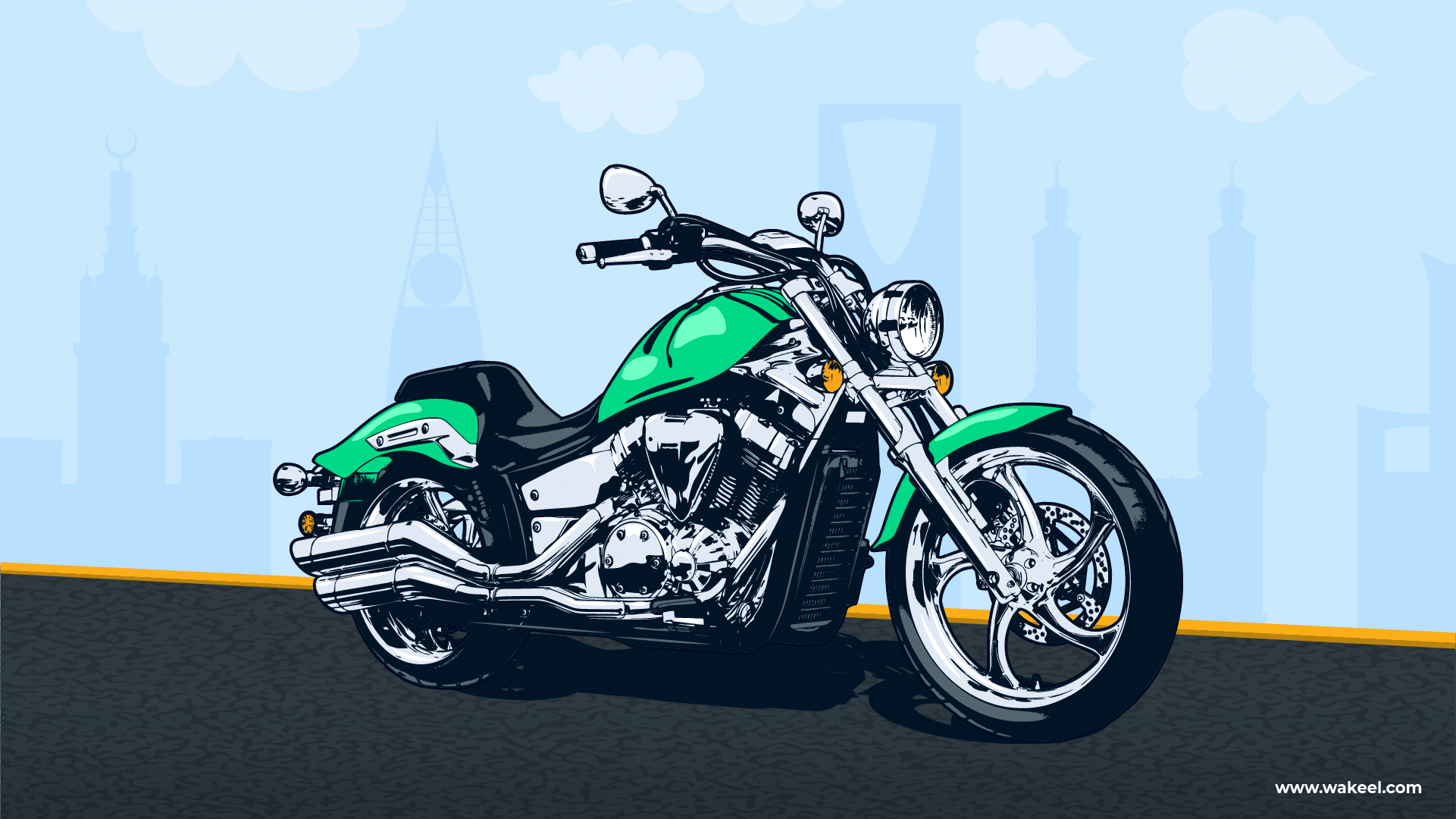 Buying Insurance for Your Motorcycle in Suadi
For a lot of people, summer is the time of the year when all your weekend activities start to lose their edge. So, perhaps, it's finally the time to take the plunge, shirk, and get into biking! Riding a motorcycle will definitely bring the fresh excitement you're looking for; The thrill of total freedom, hurtling down the open road, the wind on your face – there's nothing quite like it. All it takes is a dream, two wheels on a motor, a driving license, motorcycle insurance, and miles and miles of outlaw-style freedom
Not sure where to start? Here's everything you need to know on how to get your first motorcycle ready for a great – and safe – riding experience in Saudi.
Everything You Need to Know Before Buying a Motorcycle
As a beginner, buying your first motorcycle isn't a decision you should make lightly. Don't be hasty and make your first motorcycle an impulse buy; The best buyer is an informed one.
Ideally, you should make an effort to know everything about the motorcycle you choose – inside and out – making sure you do your research on the brand and model, where and how you can do maintenance, and buy spare parts. After all, this is no small purchase and you don't want your first ride to be a guilt trip!
So, get to know your potential motorcycle before you start throwing money at it.
Types of Motorcycles
There are many types of motorcycles available in the Saudi market. Taking a stroll through multiple showrooms will make it quite apparent that the size, shape, style, and use of each motorcycle vary drastically.
With so many options to choose from, looking at your needs can help narrow down the option that's right for you.
Cruiser Motorcycle: A cruiser, also known as a chopper, is made for cruising, hence the name! Generally, cruiser motorcycles are a great option for beginners because of their relaxed seating position and low seat height. However, they usually come with a little added luggage. Still, a cruiser can make a good option for a weekend rider.
Touring Motorcycle: Touring bikes are best suited for long-haul riding with more storage space than other types of bikes. Also, this bike offers a high degree of weather and wind protection, large-capacity fuel tanks for long ranges between fill-ups, and a more relaxed, upright seating position. An excellent choice for great for weekend getaways!
Adventure motorcycle: touring and adventure bikes are siblings that are directly related. That means they could look so much alike, both bikes can handle long distances and offer the highest levels of comfort. However, they excel in different areas. An adventure motorcycle can hop off the road and onto the dirt at a moment's notice. So, if you think that you'll be going off-road more than sticking to the streets and paved roads, you'll want to gravitate toward an adventure bike.
Your finances may be all squared away for buying your first motorcycle, but not so fast! If anything, buying a motorcycle is much different than buying a car in Saudi. That is to say, there are a few legal obligations you are going to need to get sorted out. Particularly, you should first obtain a driving license and take out motorcycle insurance before you can actually buy one!
Getting a Motorcycle License in Saudi
To get a new motorcycle driving license, you need to visit Dallah Driving School to get a learning permit first. Getting knee-deep in safety measures and cautionary practices is good for new and experienced riders alike. Dallah's motorcycle course consists of classroom instruction and practical riding time to prepare you for your motorcycle license. Overall, the course teaches basic motorcycle knowledge, the physics of a motorcycle crash, and passenger safety.
In order to get your license, it's important you meet the following requirements, as well as provide the necessary documents mentioned below.
Motorcycle License Requirements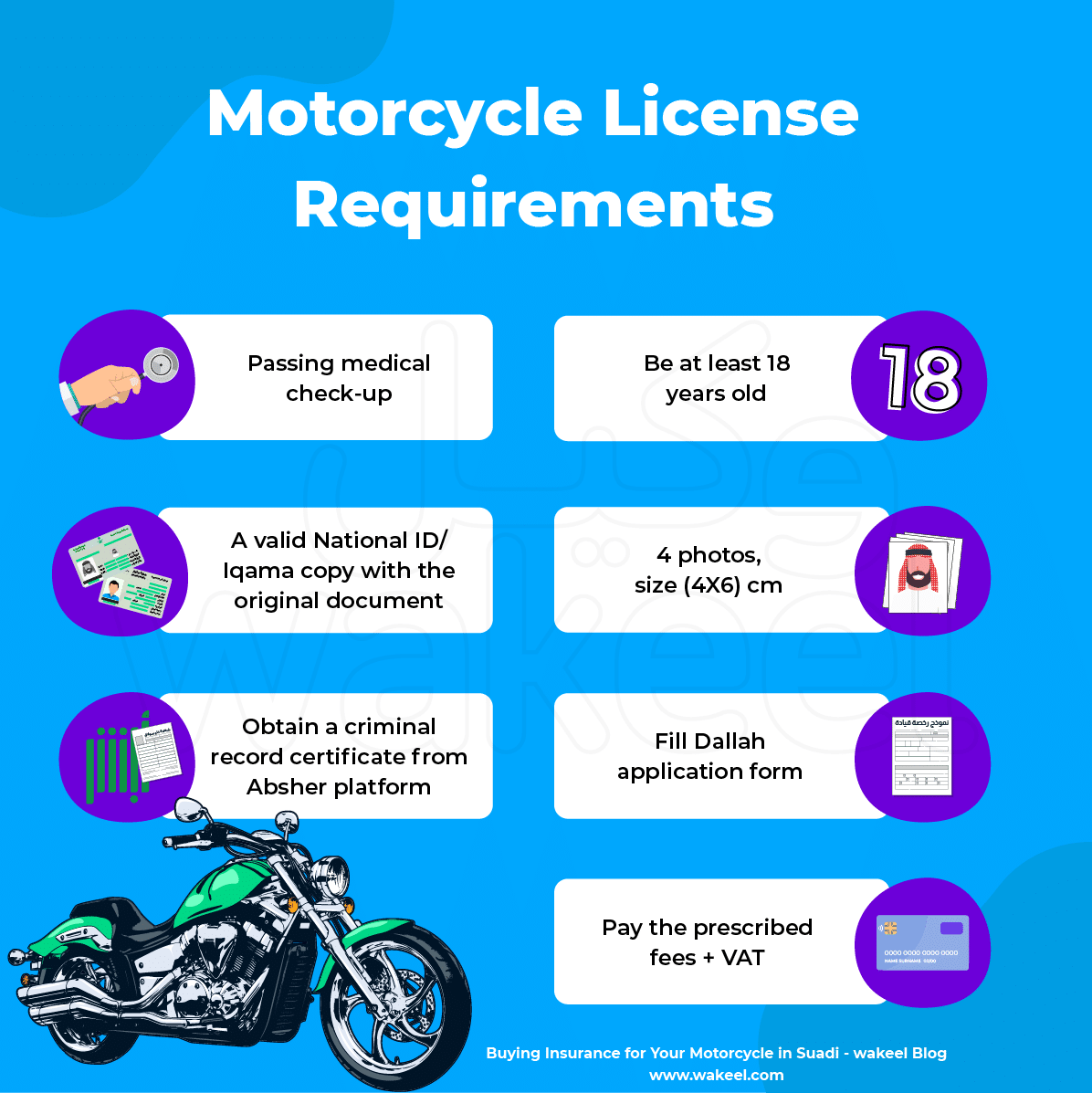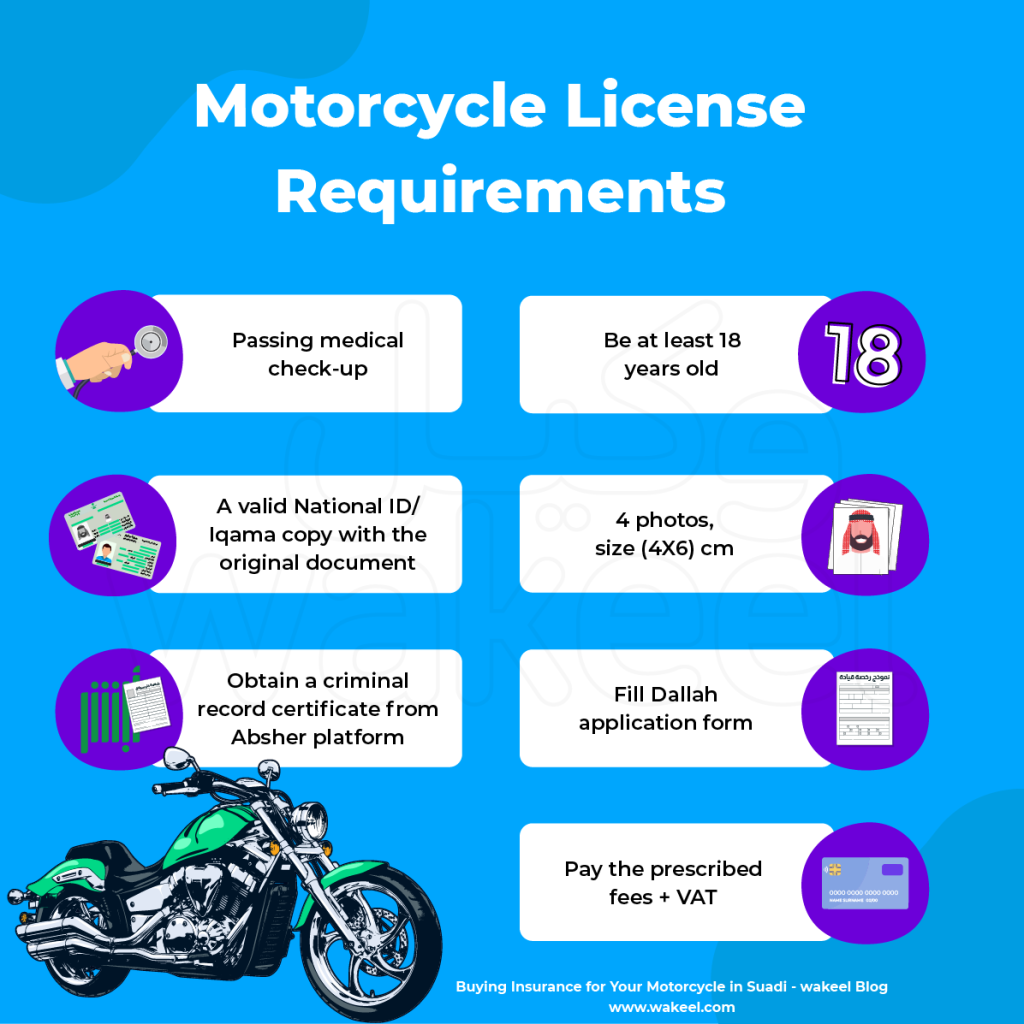 Applicant must be over 18 years old.
Applicant must pass the medical test to obtain a medical fitness certificate.
A valid National ID/ Iqama copy with the original copy
4 photographs, size 6*4.
Obtain a criminal record certificate from Absher platform.
Fill Dallah application form, and pay the prescribed fees + VAT.
In total, issuing a motorcycle license in Saudi should cost SAR 670.
| | |
| --- | --- |
| Dallah School fees | SAR 470 |
| Motorcycle driving license fees | SAR 200 |
| License Renewal | SAR 20 |
Motorcycle License cost in Saudi
You also need to think about insurance as part of the overall motorcycle cost. Just like cars, General Traffic Department will require valid vehicle insurance to register your motorcycle and receive a license plate — After all, the term "vehicle" includes cars, motorcycles, and construction and farming equipment!
Worry not, you can easily find and compare insurance quotes on wakeel — it's so easy that you can even buy motorcycle insurance online while waiting at Dallah School!
Motorcycle Insurance in Saudi
Generally, traffic laws and requirements are the same for motorists and cyclists in Saudi; Both have the same rights, same responsibilities, and the same rules when it comes to using the road. As you would with a car, you'll need TPL insurance in case you hit something or someone gets hurt. Typically, motorcycle crashes are much more likely to cause severe injuries and extensive medical costs than car accidents. Besides, the repair bills can quickly rack up to quite an amount, straining you financially.
As such, you might want to make sure that you and your motorcycle are covered and protected in case something were to happen on the road.
Motorcycle Comprehensive Insurance
A comprehensive insurance policy is always a smart investment. Besides covering third-party liability, it can also cover the costs on your side, regardless of fault. Into the bargain, comprehensive insurance add-ons can offer even more protection, such as
Roadside assistance – This 24/7 service offers assistance with towing, breakdown repair, fuel delivery, and flat tire replacement.
Agency repair -This means accidental repairs will be done at the official dealership of your motorcycle's brand.
Accessories cover – You can include additional equipment such as saddle bags, dashcams, GPS, radio, etc.
Geographical Extension – If you wish to travel across the GCC, you should opt for this cover before you hit the open road.
All in all, comprehensive insurance offers protection for others, your motorcycle, and you. Make sure to find what fits you best, do your research, and compare insurance.
Hit The Road
Here's the part you've been waiting to hear. Congratulations! Now that the nitty-gritty is out of the way, you can really start planning your long-awaited ride. Remember the best way to stay safe is to ride as safely as possible. Ride defensively, don't get distracted, and give yourself plenty of room to make turns and change lanes.
Happy riding!