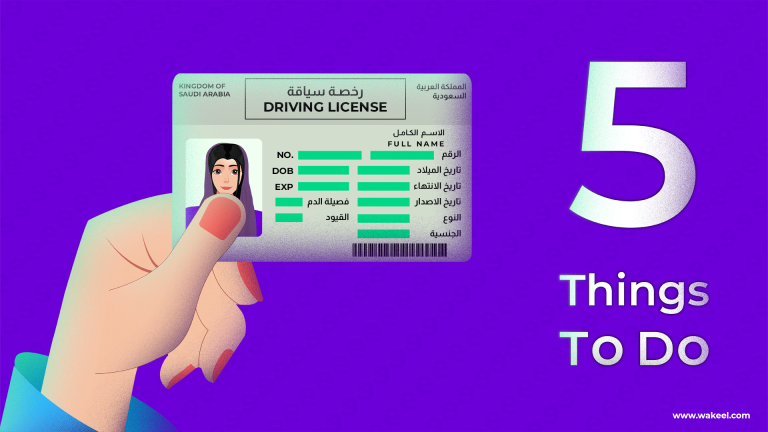 5 Things to Know After Getting Your Saudi Driver's License
We can all agree that there's a world of difference between what you learn in school and what you learn after school! This same goes for what you learn in driving school and what you learn on the road. It's easy to think that as soon as you get your driver's license in Saudi your learning ends, but in reality, drivers learn every day. There are some things won't learn in driving school – whether it's how to be a courteous driver, check tire pressure, or learn the difference between third-party and comprehensive insurance.
To help you out, here are a few things you must know before heading out on your first solo driving adventure.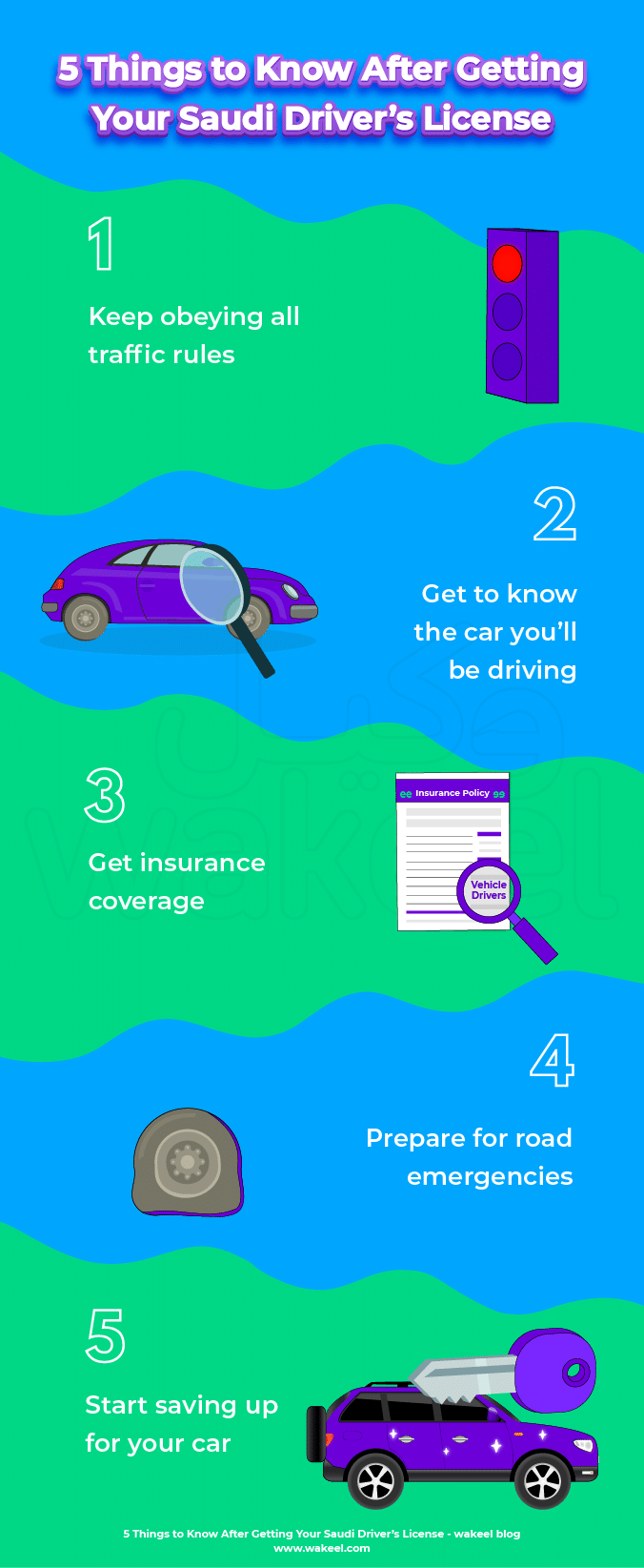 Keep obeying all traffic rules after getting your license
First things first, stick to everything you learned! Once you've got your driver's license in hand, don't assume it's over. The reality is that, now that you're a qualified driver, the reality is that, you're even more responsible for your safety and the safety of others.
As time passes, many drivers get more comfortable on the road, and those rules that seemed so important at the time start to fade into the background. And when that happens, accidents happen.
As a matter of fact, approximately 65% of accidents in Saudi occur because of drivers disobeying traffic rules. This includes:
Distractions to drivers, specifically using mobile phones while driving.
Tailgating.
Yielding.
Red light jumping.
Overtaking in the wrong manner.
So, always remember to obey all traffic regulations to avoid accidents.
Besides accidents, committing a traffic violation can also mean having to pay fines, and accumulating points on your license. In turn, this could eventually lead to suspending your driver's license, and even higher insurance rates.
Check for restrictions on your driver's license
Once you get your driver's license, check the back for any restrictions. A restriction on your driver's license limits when you can drive or requires that you meet specific conditions when you drive. But let's make things clear here, these restrictions are not meant to 'restrict' you, but to make you a better driver! In general, a restriction is placed on the driver's license of a person with a medical condition
For instance, the most common restriction on Saudi driver's licenses is the "corrective lenses" restriction. This restriction requires the driver to wear eyeglasses or contact lenses when driving. Other restrictions that may be placed on a driver's license include:
Automatic transmission
Prosthetic device
Corrective vision lenses
Daytime driving only
Hearing aid
Driving inside the Saudi only
A private car for people with special needs
Private use of the vehicle only.
If you wish to remove the restriction code from your license, you must contact the General Directorate of Traffic (Muroor) in Saudi.
Get to know the car you'll be driving
You don't have to be a car expert, but you should be very familiar with the car you will drive! As a first-time driver, it's very likely that the only experience you had behind the wheel was in your instructor's car. Thus, you'll need some time to adjust to driving a completely different car model and get to know other important details about the car.
In particular, try to get to know your car:
Make and model
Vehicle Identification Number, aka, VIN
Fuel type
Blind spots
Controls
Dashboard warning lights & symbols
Plus, knowing your car also means, keeping track of maintenance schedules, vehicle inspection, and insurance policy details.
Make sure the car insurance covers you
Here's another reminder, getting your license is just the first item you need to drive a car! In order to legally drive a car in Saudi, you still have to get insurance coverage.
As a new driver, chances are you will be driving the family car for some time before you can buy your own. Commonly, people mistakenly assume that any driver will be automatically covered if the car is insured. This used to come as standard on many TPL and comprehensive insurance policies, but insurance will no longer cover unnamed drivers according to new Saudi insurance rules. So, make sure you have the proper coverage before driving someone else's car.
Usually, car insurance rates for new drivers are higher than rates for experienced drivers. .f you are struggling to find affordable car insurance for new drivers, going without just isn't an option! So, here's what you can do.
Try to search for comparison websites; because rates vary greatly between car insurance companies for the same coverage. These sites help you compare insurance rates and ensure you get the best deal.
Add an additional driver to the insurance policy, But make sure to allow only drivers with a clean driving record!
Opt for a higher deductible; paying more can help lower your insurance rate. But at the same time, make sure that you will be comfortable paying this amount out of your own pocket if you file a claim.
Be prepared for road emergencies
Sooner or later, you're likely to find yourself in the midst of an unexpected on-the-road emergency, often with little time to think before you respond. While driving school can't possibly prepare for every worst-case scenario, you should build up your experience in different traffic, weather, lighting, and road conditions.
Mainly, prepare yourself for possible mechanical breakdowns. So we recommend that you keep an emergency kit in your car to ensure that you're prepared for any possibility. Don't worry if you lack mechanical skills, car insurance companies offer roadside assistance to help you with emergency breakdowns!
Another type of emergency is accidents. Accidents can be unavoidable sometimes, but being ready for some common problems will save you in a pinch. Be sure to read our What to do after a car accident in Saudi to claim Insurance?
Learn more about:
Start saving up to buy your own car!
Finally, now that everything is sorted, you are ready to drive! The next step on your agenda should be buying a new car. Finding an answer to "what car is right for me?" may not be easy, but there are certain things to look out for. Check the availability of spare parts in the market, listen to car owners' complaints, and review recalls reports. You'll also need to take insurance into consideration. Experts recommend estimating the cost of car insurance before you buy a car; because the key to a successful buy is to first determine how much you can afford.