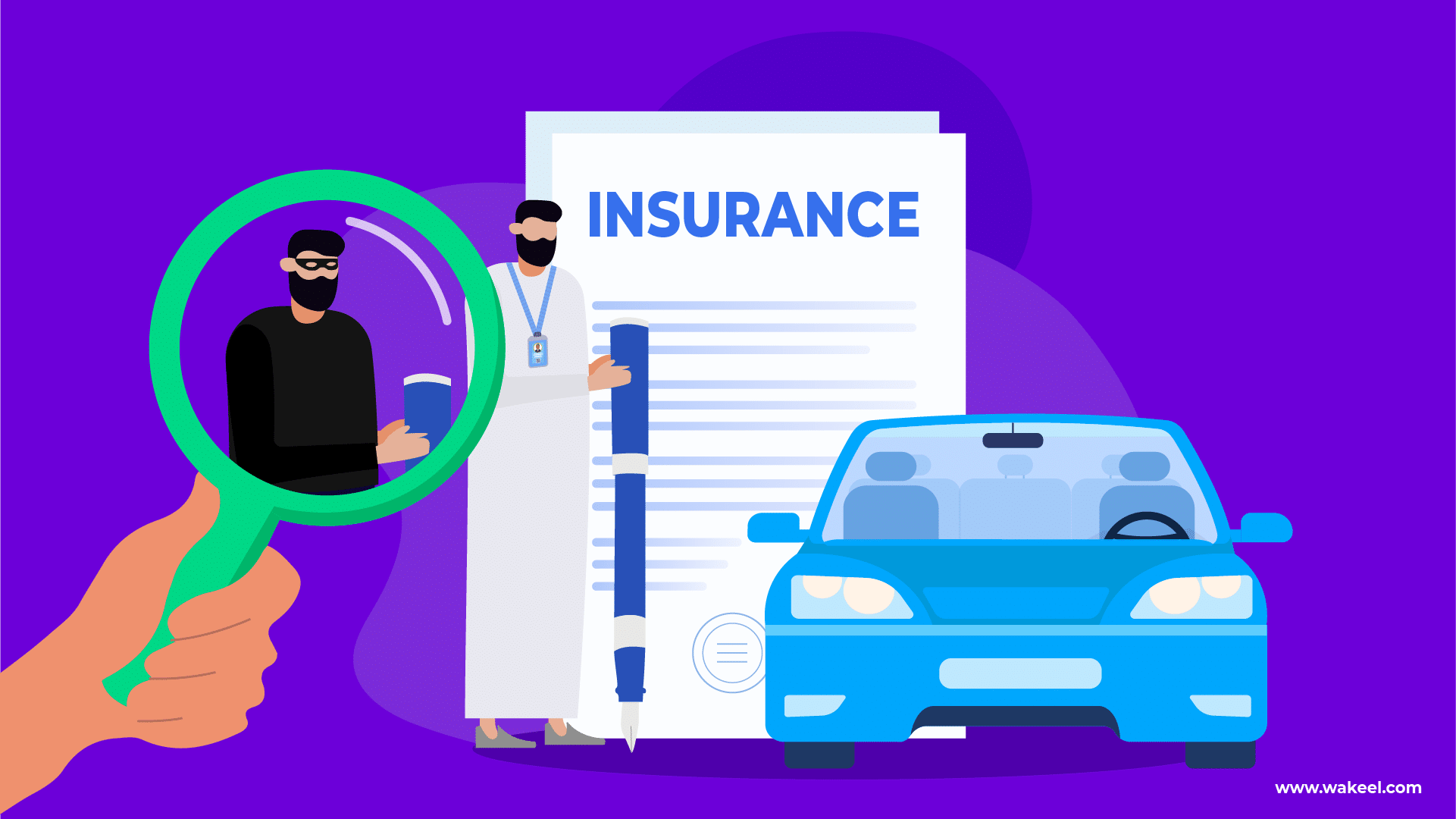 What Do You Know About Ghost Brokers
Over the past few years, fraud has become a widespread criminal activity worldwide. Not only did the acceleration of the digital transformation result in a surge in online transactions, and greater adoption of digital payment, but also increased fraud incidents. As it made it easier for perpetrators to target larger numbers of victims for illegal financial gain. Statically, around 62% of Saudis were exposed to attempts of financial fraud. To increase transparency and alert policyholders to the risks of buying car insurance from ghost brokers and other non-licensed parties, the Media and Insurance Awareness Committee in Saudi Arabia has partnered with local insurers to launch a fraud-awareness campaign.
Learn how to protect yourself from ghost brokers and their fraudulent schemes
Financial Fraud Awareness: Ghost Brokers
Many of us believe we can spot a scam a mile away; because we're simply too smart, logical, or informed. And yet, many victims thought they were immune to scams and shams too. Actually, anyone could fall victim to these scams. In fact, financial fraud outrank any crime; as it affects so many people from almost all ages, backgrounds, and geographical locations as financial fraud does.
Scammers are professionals, and they are endlessly creative and adaptive. They will always re finding new ways to take advantage of the unsuspecting. Sometimes the fraudster will pretend to be a trustworthy organization, government agency, or bank staffer for illegal financial gain. Other times, they can also offer to help cut the cost of recruiting domestic workers, or cut the cost of your car insurance!
What does an insurance broker do?
With car insurance prices on the rise, it's no surprise that people are constantly looking for ways to save on car insurance. To find the best coverage and cheapest rates, some prefer to get the help of an insurance broker. An insurance broker is a professional who works closely with their clients to research the client's needs. Basically, their job includes a comparison of coverage and prices offered by insurance companies and facilitating the purchase of policies.
In a nutshell, think of an insurance broker as a personal shopper; who can offer you impartial advice on a range of products and insurers.
Now, what are ghost brokers?
In hopes of finding discounts and cheaper rates, people might unknowingly get taken for a ride. Watch out; because scammers are creative and opportunistic, and they will try anything and everything to rip off your hard-earned money. A "Ghost Broker" is a term used to describe a fraudster who pretends to be a licensed broker. They lure in drivers with promises of discounts and cheap car insurance. But in reality, they sell forged or invalid car insurance. Unfortunately, most victims don't realize they have fallen into a scam by a ghost broker until they receive a driving without insurance fine. Even worse, many other drivers might only realize when they need to file an insurance claim.
How ghost broking scam works
Usually, ghost brokers will advertise their services on social media and forums. But you can also find some of them around used car markets claiming to be able to secure cheap car insurance. Generally, there are 3 main ways in which ghost brokers operate their con:
Lie about your details: To determine prices, insurance companies use factors to measure the risk. In some cases, a ghost broker will provide false information to underwrite car insurance; especially age to get a better price.
Create doctored documents: With advances in technology, fraudsters can produce realistic-looking but fake insurance documents. They will create a replica that looks as if it was issued by a well-known insurance company along with its logo and details.
Cancel your insurance: The broker will buy you a real insurance policy, but as soon as you pay they will cancel your insurance and pocket the refund.
What could happen if you bought your insurance from a ghost broker?
Buying car insurance from an insurance broker/or company that is not licensed or supervised by the Saudi Central Bank could lead to:
Accusing you of car insurance fraud, and eventually coverage termination.
Rejecting your car insurance claim for providing false data. Thus, you could be liable to cover the costs of any injuries or damage caused if you cause a collision while driving without insurance.
Your insurance quotes might also increase later
In worst case scenario, the ghost broker may be able to access your funds directly because they have your bank account details and personal information.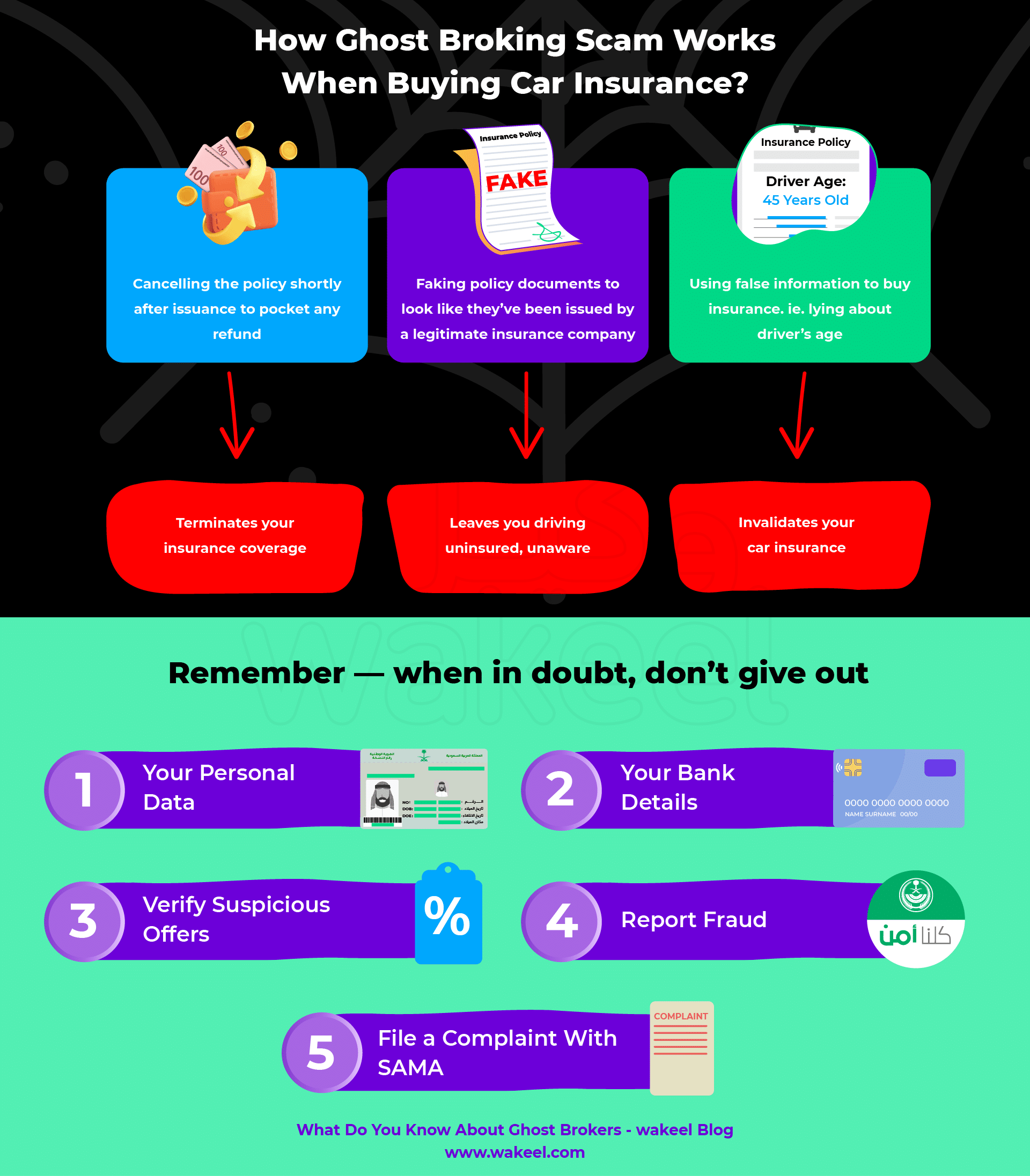 Remember — when in doubt, don't give out
Do not share your personal data: Never disclose any personal details, such as bank details, and address, to any party.
Be secretive with your bank details: As a general rule, do not share your account bank details, PIN, OTP, and CCV codes with anyone else.
Report Fraud: If you suspect any fraudulent activity, use the Kollona Amn app or visit the nearest police station.
File a complaint: You can also submit a complaint to the Customer Protection Department through the (Sama Cares) portal on the Internet or by calling the toll-free number 8001256666.
Buy car insurance online safely
Use these tips to avoid fraud when buying car insurance online
Reject offers and insurance services that you receive from unlicensed brokers, or unverified accounts on social media.
If buying through a broker, check they've registered on SAMA's website first.
Use reliable and secure payment gates to pay for your insurance and avoid cash payments.
Check the privacy and personal data protection policy on the insurance e-brokerage websites to check who you are dealing with.
Whenever you buy a new insurance policy, you must have to check the vehicle insurance and expiry date in Najm to make sure whether it is uploaded on Najm systems.

Steer clear of ghost brokers selling fake car insurance, buy your car insurance from a SAMA-licensed broker. Get affordable car insurance rates by doing a quick price comparison. With wakeel, you get better prices and better car insurance coverage. A win-win!