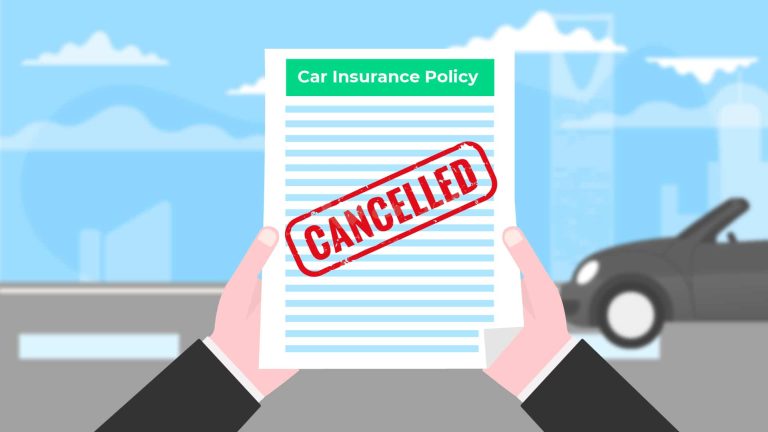 Cancelling Your Car Insurance-Everything You Need to Know
Getting the right car insurance policy in Saudi Arabia can be confusing. On the other hand, trying to secure a refund from an insurance company in Saudi Arabia can be a lot more confusing. There are several reasons why you might need to cancel your current car insurance policy. For example, you could be moving to another country. Or maybe you no longer own the car in question. Or simply because you want to switch to Comprehensive insurance, or even just for the sake to switch to another insurance company in Saudi. Whatever your reason, the process should be relatively straightforward. So, wakeel team has broken cancellation procedures down for you.
Key Takeaways
You can cancel your auto insurance policy whenever you want. If you're keeping your car, you should arrange for other insurance first to avoid a lapse in coverage. Virtually every state requires drivers to have at least a minimum amount of insurance coverage.
Saudi requires all drivers to have at least a minimum amount of insurance coverage, TPL insurance.

Car insurance policies offer protection for you and your car in the wake of a car accident. Car insurance in Saudi Arabia can help take the financial burden off your shoulders in exchange for premiums paid annually to benefit from; Third Person Liability (TPL) car insurance or comprehensive car insurance to cover the costs of expensive claims when an accident occurs.

You can cancel your auto insurance policy whenever you want.
If you're keeping your car, you should buy another insurance policy first to avoid driving an uninsured car; hence breaking the rules.
If you are looking to save more money. Or perhaps, still weighing the options, the advantages, and disadvantages, and comparing car insurance prices. We understand that finding the right car insurance policy in Saudi Arabia can be confusing. The key is to use a Saudi car insurance price comparison platform that allows you to locate the best car insurance deal; by checking hundreds of detailed quotations from different car insurance providers in Saudi Arabia. Wakeel might take you by surprise and offer you a tailor-fit car insurance policy you wish to buy at a much lower price, saving you money!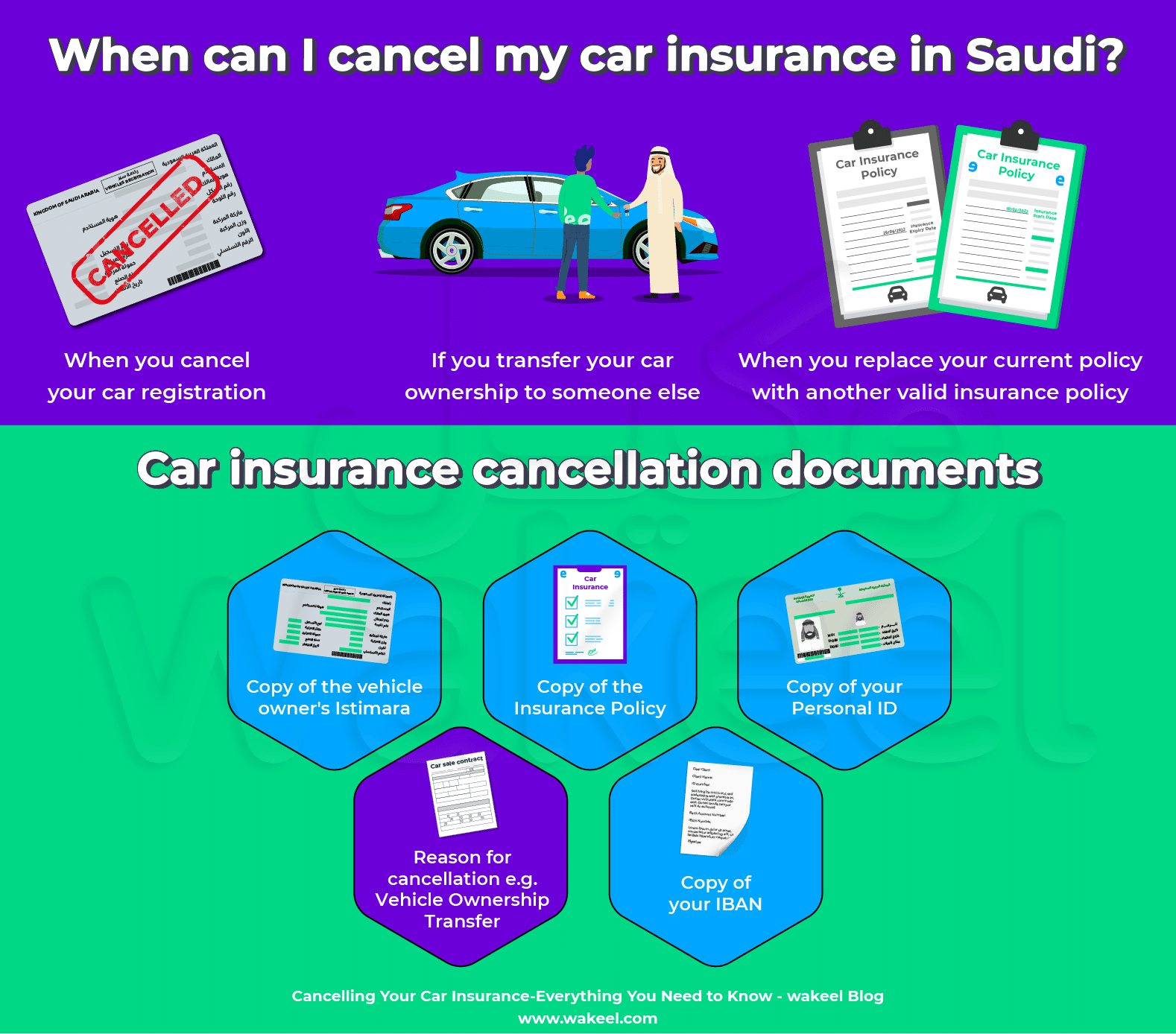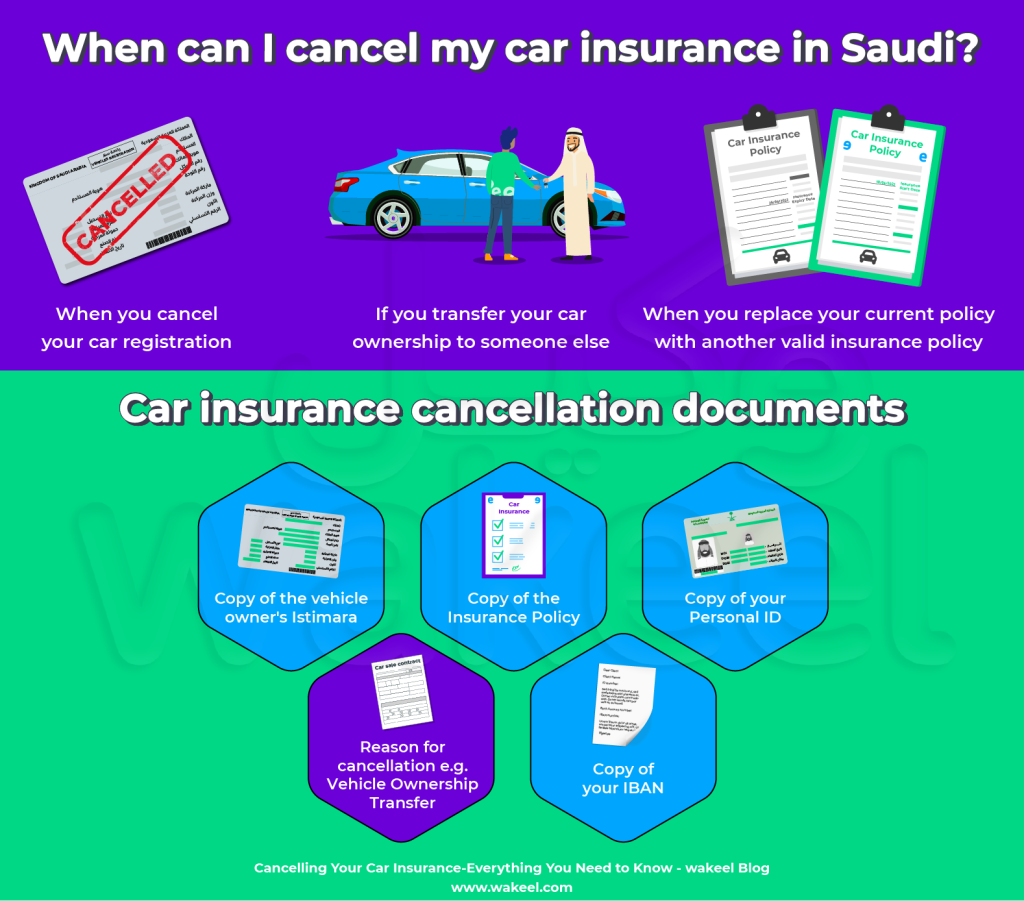 When can I cancel my car insurance in Saudi?
Based on the compulsory insurance policy issued by The Saudi Arabian Monetary Agency (SAMA) regarding the cancellation clause, you can cancel your Saudi car insurance and get a refund in the following scenarios:
When you cancel your car registration.
If you transfer your car ownership to someone else, e.g the car is sold or transported overseas.
Or, if you no longer drive.
When you replace your current policy with another valid Saudi car insurance policy.
Contrary to common belief, you don't have to wait 30 days to re-shop for a new car insurance policy. You can change your car insurance company or policy, and send a cancellation request to the car insurance company. Next, when the company approves your request, they will start calculating your refund amount. Finally, you will receive your refund directly into the International Bank Account Number (IBAN).
What is the cost to cancel car insurance?
You shouldn't have to pay a fee for car insurance cancellation in Saudi. You do, however, have to pay for the days you've been insured.
In fact, you can ask your insurance company to cancel your policy, and get a refund by:
Directly calling the insurance company's customer call center.
Online through the insurance website
Visit your closest insurance branch.
How much do you get refunded if you cancel car insurance?
Saudi Central Bank (SAMA) instructs all Saudi car insurance to refund the remaining balance amount. Accordingly, insurance companies calculate the refund by "subtracting the elapsed days from the total policy term (in days) and then dividing the result by the total policy term. Then, multiply the result by the insurance premium, minus administrative fees (a maximum of SAR 25)
In other words, or rather simplified formulas: (365 − elapsed days) /365 × insurance premium less administrative fees (a maximum of SAR 25) = return premium"
As a result, car insurance companies will deposit the refund amount payable for the uncovered period directly to your bank account in Saudi Arabia.
Coverage provided by the third-party insurance policy
During the validity period of the insurance policy, and if any of your claims are still pending with the insurance company. Saudi car insurance companies will still compensate the third party for any losses or damage including the expenses that are required to repair the damage arising from traffic accidents caused by the insured car.
Car insurance cancellation documents:
Typically, car insurance cancellation requires no documents. However, insurance companies may ask for the following details when filing a cancellation request:
Copy of the Insurance Policy
Copy of your Personal ID.
Policy Number.
Mobile Number
IBAN
Reason for cancellation e.g. Copy of the Vehicle Ownership Transfer.
Don't forget to stay covered
Remember, carrying car insurance is mandatory in Saudi Arabia. If you are caught driving without insurance, you can get into trouble and face fines. So, be sure to find an insurance policy as soon as you cancel your car insurance policy in Saudi.
It's quick and easy to compare car insurance and find cheaper cover for your car! wakeel is a price comparison platform that connects you directly with Saudi car insurance companies, making your search easier by comparing car insurance rates and helping you find exactly what you're looking for.