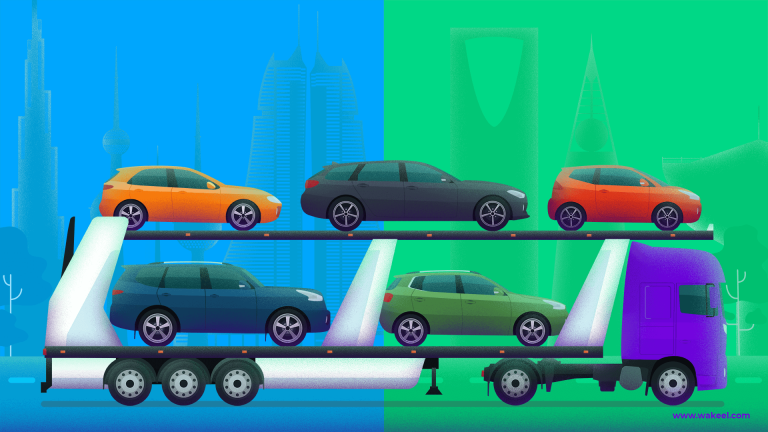 Importing Cars from the GCC Into Saudi Arabia
Between the wait lists and the price markups, importing cars from GCC markets into Saudi is gaining popularity. In neighboring GCC countries, like UAE, Bahrain, and Kuwait new cars can be up to a third cheaper! So, for many people, the best way to buy a new car right now is to buy a car from a neighboring country and then ship it to Saudi Arabia. Plus, you can even maximize your savings if you know where to find the best Ramadan car deal! Aside from saving money, people actually import their cars if they want additional features or options that are not available in the local market. Not to mention that a large portion of residents find it more economical to bring their own cars to Saudi than buy a new one.
Importing within the GCC countries can definitely be worthwhile. However, importing cars into Saudi Arabia requires some preparation and attention to detail. Read on for an easy guide to the car import process, car registration, and comprehensive car insurance and its potential costs.
Requirements for importing cars to Saudi Arabia
If you're considering buying an imported car, chances are you already have a clear idea of which car and model you want to buy! But, before going into details, you should be aware of ZATCA's conditions for buying and bringing cars from abroad
The first thing you need to know is if you're a Saudi or Gulf citizen, you can import 2 cars per year. On the other hand, residents can only import one car every 3 years. Now, let's look at the criteria.
Age restrictions. As a general rule, you can only import cars within 5 years from manufacturing.

e.g: Currently (in 2023), you are allowed to import models of the year 2022, 2021, 2020, 2019, and 2018 only.

Compliance with GCC specs. All imported cars should conform to GCC specifications. GCC specification cars aren't just a name tag but the car manufacturers actually modify their cars to suit the environmental condition of each region to make the body and engine more robust and efficient.
Fuel efficiency. All imported cars should meet Saudi's average fuel economy standards. This aims to only import fuel-efficient cars that emit less pollution over the same amount of distance traveled.

To review your future car fuel efficiency, visit the Saudi Label and Standard website.
Saudi Arabia rules on importing cars: what car can you import?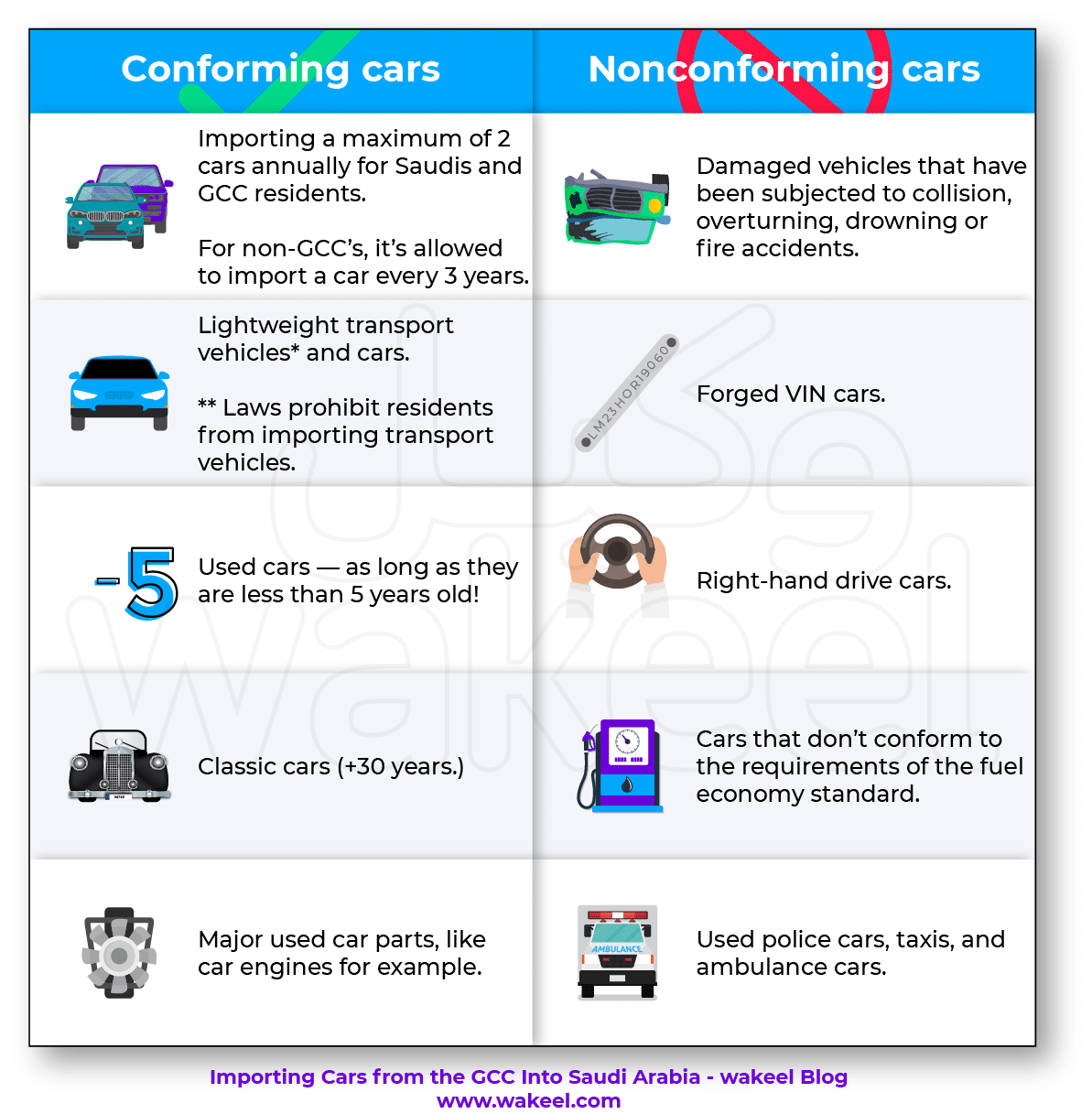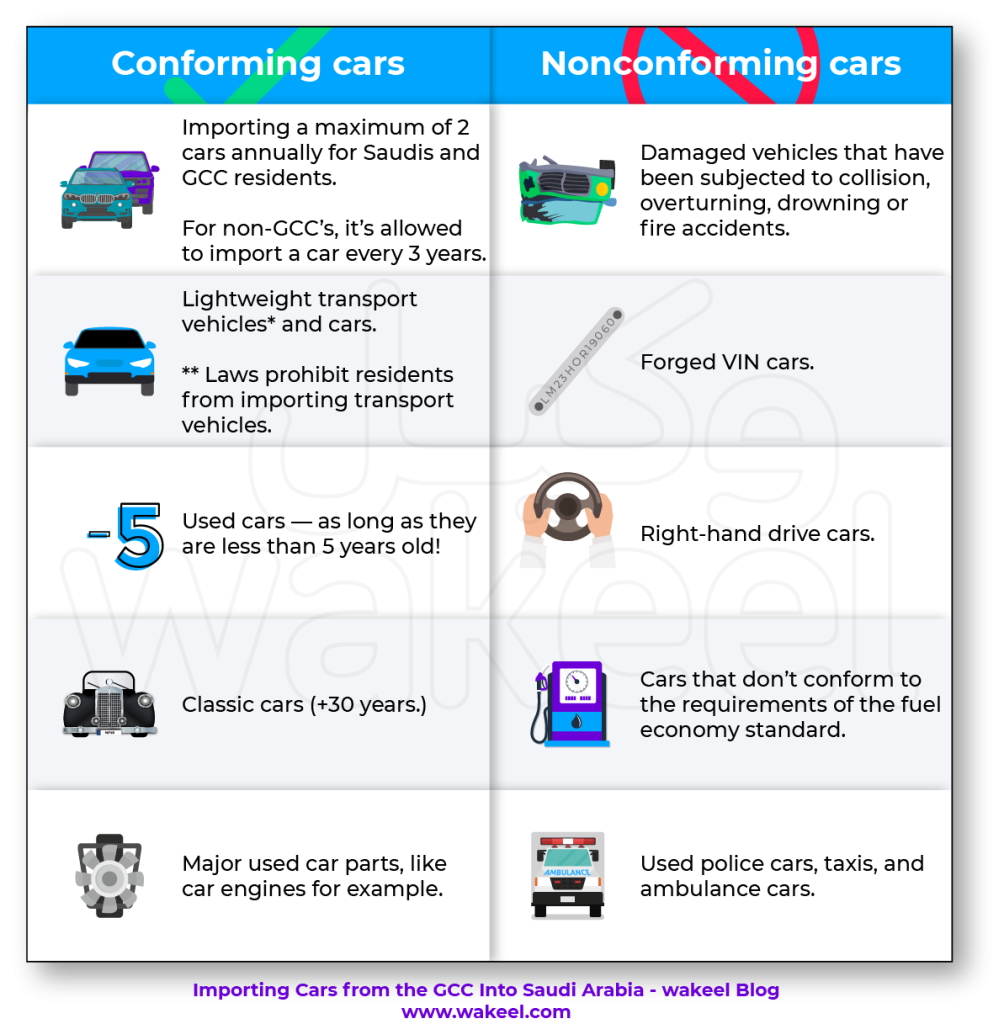 Conforming cars
Nonconforming cars
Lightweight transport vehicles* and lightweight cars
** Laws prohibit residents from importing transport vehicles
Salvage title cars ie. a car that has been badly damaged in a wreck, fire, or flood.
Used cars — as long as they are less than 5 years old!
Forged VIN cars.

Classic cars (+30 years.) However, it's not allowed to drive classic cars on public roads.
Right-hand drive cars.
Major used car parts, like car engines for example.
Cars that don't conform to the requirements of the fuel economy standard.
Used police cars, taxis, and ambulance cars.
Saudi Arabia rules on importing cars:
Is it cheaper to import a car?
In general, the main advantage of buying a car from GCC countries is how much money you can save. Typically, car prices in the Gulf, such as the UAE and Kuwait, are lower compared to prices in Saudi, where the difference is not less than 15 or 20 thousand. Ideally, you should be able to save that amount of money compared to what you can get locally.
Yet, there may be additional costs you are not paying attention to such as shipping, customs, registration, and car insurance. All these "hidden" soon start to mount up and your budget quickly becomes. This is why you should do thorough research and compare your options before making a decision on whether to import a car or buy one domestically.
How much does it cost to import a car to Saudi
The following table illustrates the estimated fees for importing cars into Saudi Arabia.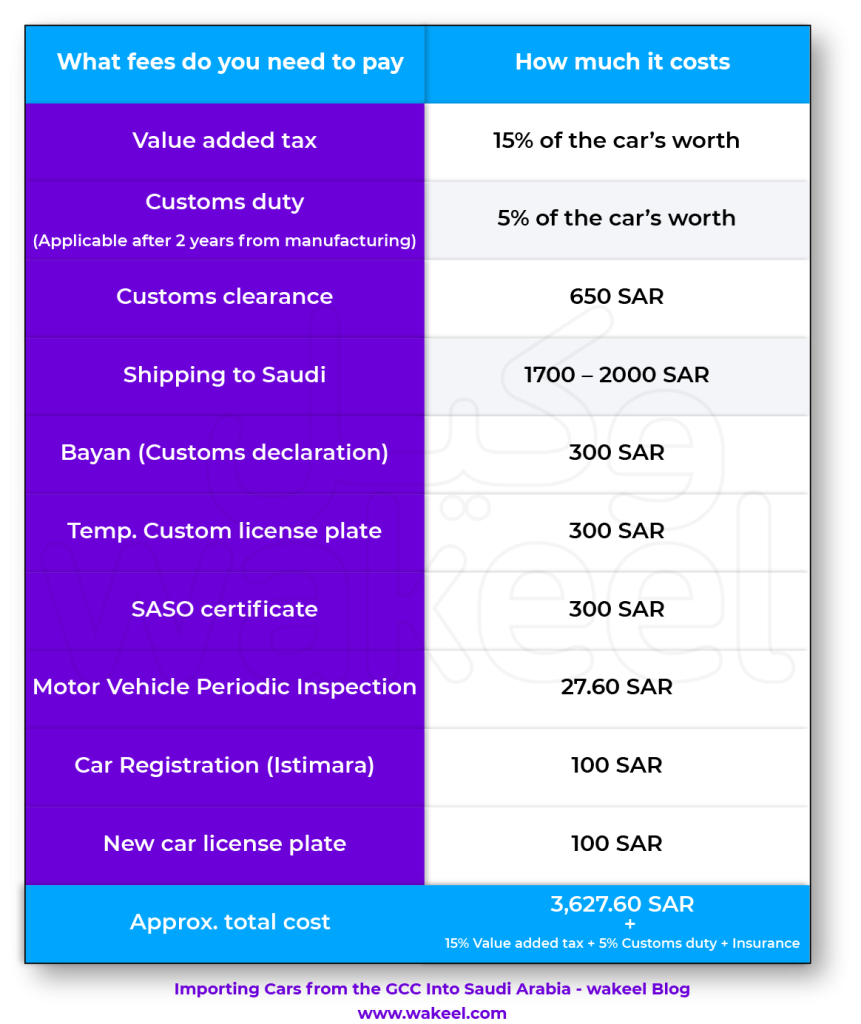 | | |
| --- | --- |
| What fees do you need to pay | How much it costs |
| Value added tax | amounts to 15% of the car's worth |
| Customs duty (Only applicable after 2 years from manufacturing) | amounts to 5% of the car's worth |
| Customs clearance | 650 SAR |
| Shipping to Saudi | 1700 – 2000 SAR |
| Bayan (Customs declaration) | 300 SAR |
| Temp. Custom license plate | 300 SAR |
| SASO (Saudi Arabia standard organization) certificate | 300 SAR |
| Motor Vehicle Periodic Inspection | 27.60 SAR |
| Car Registration (Istimara) | 100 SAR |
| New car license plate | 100 SAR |
Costs of importing cars in Saudi Arabia
Finally, don't forget to factor in the cost of car insurance! To register any new car in Saudi Arabia, you must have comprehensive or third-party insurance coverage. You should also keep in mind that the cost of your car is a major factor in the cost to insure it. Typically, insurance companies use the market value of your car to determine the payout of a potential claim. So, an expensive car could also result in higher car insurance premiums.
Fortunately, there are plenty of car insurance comparison websites in Saudi Arabia. When shopping for car insurance, rates can vary greatly between insurance companies, and comparing these rates can help you find the most affordable and comprehensive coverage for you and your vehicle. Additionally, comparison shopping can help you identify discounts and promotions that may be available to you, allowing you to save money on your car insurance.
Step 1: Buying your imported car
To begin, be sure to test drive and inspect the car first, especially if you are buying a used car.
Next, you can reserve the car and start the purchase process. Mostly, dealerships will accept a wire transfer the money from your bank.
After buying a car, you should keep the purchase invoice and the documents that prove vehicle ownership.
Then, arrange to ship your car to Saudi. Take the time to find a reliable shipping company. Accidents are rare—but in logistics, anything can happen! The best car shipping companies will offer you a good car insurance policy.
Right after that, you should visit Fasah website to authorize your customs clearance clerk to handle all the customs procedures on your behalf.
Required Documents:
National ID or Iqama.
Purchase invoice.
A title certificate is also required to show the ownership of the car. (the original form or the export certificate).
Traffic department clearance and de-registration from the country of origin.
Step 2: Collecting your imported car in Saudi
When your car arrives at the Saudi side of the port, the assigned customs officer will inspect the car and enters its data onto the system. Then, you must:
Pay the 15% added tax + 5% customs tax, if any. You can pay it through SADAD and share the receipt later with the customs clearance services you hired.
Pay 300 riyals to issue car plates with a customs card. This temporary number plate gives you 15 days to legally register your new vehicle in Saudi.
After that, the competent customs officer at the operations office will issue the vehicle customs card and exit permit, then hand over the vehicle to the owner or clearing agent after signing the receipt form.
Step 3: Imported car insurance and registration
Before the 15-day grace period ends, you have to inspect, and register your car and buy insurance! After that, it will be illegal to drive your new car in Saudi.
Start by booking an appointment for MVPI (Motor Vehicle Periodic Inspection in Saudi Arabia).
Once your car passes the inspection, you should buy car insurance. Based on your car type and insurance company, the insurance quotes may differ; so make sure to compare car insurance rates before buying one!
After getting your car insurance, you will need to issue a vehicle driving license (Istimara). Use The General Department of Traffic in Saudi Arabia provides an e-service to issue your vehicle license "Istimara" without having to visit the departments.
Finally, replace the temporary customs number plate with the permanent Saudi number plate.
That's it! These are the steps you need to follow for car import in Saudi. Enjoy your rides, keep safe, and insure your car.
So, is it better to import or buy domestically?
It's difficult to determine whether it's better to import or buy cars domestically in Saudi Arabia. Ultimately, it depends on individual circumstances and factors such as cost, availability, and personal preference. Besides, importing cars into the Kingdom of Saudi Arabia is not a simple process – there are many factors to consider during each stage buying, shipment, and insurance. But if you do it the right way, you can save yourself some thousands of riyals.