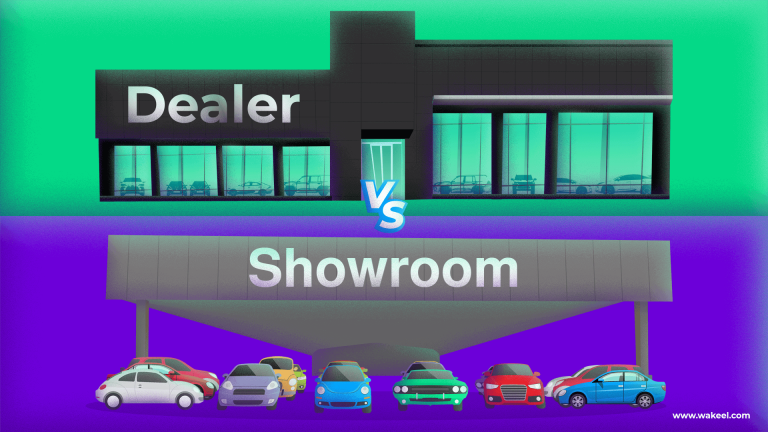 Buying a Car From a Dealer vs a Showroom
Currently, those in the market for a new car, may ask themselves, should I buy a car from a dealer or a private showroom? The truth of the matter is, both buying options come with benefits and drawbacks. Previously, many believed buying a car from a local dealer is the safest option, while others prefer to buy cars from private showrooms to save money.
In the midst of low inventory, car prices shooting up, and the long waiting list many car shoppers are starting to form new opinions on which place is best to buy a new car in Saudi. Overall, buying a car is a big financial commitment; Especially since this type of commitment entails more obligations such as buying comprehensive insurance, paying for gas, and many others. So, it pays to take your time to make sure you've made all the right choices before putting cash down.
Consider the following before deciding for yourself
What's the difference between buying a car from a dealer vs a showroom?
For many prospective buyers, choosing the best place to buy a car is just as difficult as deciding on the car itself. When in doubt, smart consumers will always compare their options.
But before we can start our comparison, we need to define the following:
Dealer: A car dealership, or car agency, is a business that sells a specific brand of cars based on a dealership contract with manufacturers. In a nutshell, dealers represent the manufacturer locally to sell their cars and provide after-sales services such as car repair, spare parts, maintenance, and recalls.
Showroom: In Saudi, car showrooms refer to a private business that buys cars and resells them for their own account.cars privately. Usually, Showrooms receive their cars from various distributors; So, if you are buying from a showroom, you'll have a much wider selection — as opposed to dealers who stick to one brand.
Now, that you know the difference between the two, let's compare the two! Here are a few considerations to bear in mind to make the whole process easier.
Car suitability
Almost all people will examine a large selection of cars and test-drive a few before making their minds up. Buying from a dealer means you can test-drive more options and find a car that's comfortable for you. Whereas, if you are buying from a showroom, your choices will be limited to whatever is available on display. In most cases, showrooms will stick to providing standard cars in basic colors to ensure their profit,
Thus, buying a car from a showroom could sometimes mean you may have to settle for a car with either more or less equipment or your second or third colour choice.
Alternatively, one of the best advantages of buying from a dealer is the ability to custom-make the right car for you. This is a great benefit for buyers who know exactly what specifications they want —provided they follow the instructions accurately, of course!
Price range
Price is the most important factor that determines where and when to shop.
In terms of price, it's often cheaper to buy a car from a showroom in Saudi; Because dealerships sell cars at a price that a manufacturer recommends a car be sold for — aka MSRP. This price is set in a way that generates profit for the manufacturer, dealer, and other intermediaries.
On top of this, a dealership needs to make a profit to cover its overhead such as rent, marketing, and staff wages. In comparison, showrooms have fewer overhead costs since they have fewer employees and smaller space. In fact, showrooms are often more motivated to close the deal, especially if they need the space for a new car.
Therefore, showrooms would normally sell cars below the MSRP to attract more consumers. But, nowadays, the opposite is true: showrooms are trying to take advantage of low inventories in dealerships to sell cars in high demand above their MSRPs.
Also, consider this: Higher car prices helped push up car insurance rates. With this in mind, it's a good idea to shop around and compare car insurance rates in Saudi before closing the deal on a new vehicle.
Car deals & incentives
Primarily, every showroom and dealership's goal is to sell cars and clear out their inventory, but car offers vary greatly between the two; Again, car offers and incentives depend largely on supply and demand as well as the time of the year.
Obviously, showrooms don't have the incentive to sell below MSRP or offer any incentives right now. After all, showrooms are retailers and they are going to charge as much as the market will bear.
Crosswise, dealerships are more likely to offer deals and incentives; given the fact that salespeople need to meet specific monthly sales goals to earn bonuses. Plus, the dealership itself need to hit its sale target. If they manage to do so, they can double their share of cars in the next year.
In general, dealerships often provide incentives during Ramadan or the end of the year. These incentives can help reduce your purchase price in a variety of ways. And they range from discounts, car insurance offers, and financing options to free services such as extended warranty, window tinting, and free maintenance.
Turn around time
Another important factor is time — how long can you wait? Back in the day, it was the norm for custom-made cars to take longer to arrive! But today, even buying a standard car could mean waiting months.
Indeed, inventory shortages mean you'll likely need to join a waitlist to buy a new car in Saudi. And that wait could last weeks or even months. According to Bloomberg, this disruption has resulted in some of the longest car delays Saudi has ever seen. For instance, the wait lists in Japanese car dealerships in Saudi can be 6 months long. As for European dealerships, the wait lists can be anywhere between 6-9 months.
For many, waiting lists of more than 6 months have completely eliminated. For many, these long waiting lists have all but completely ruled out the option of buying a car from a dealer, in favor of instead buying their cars directly from a showroom. Unlike buying from a dealer, if you buy a car from a showroom in Saudi, it takes a day or two to drive away with your new car.
Car warranty
When buying a car in Saudi, it's the consumers' right to obtain both the purchase invoice and the warranty booklet. The booklet should provide car warranty manuals and technical instructions in Arabic, preferably in an accessible language.
If you buy a car from a dealer, you don't have to worry about getting your full warranty and maintenance; because the warranty dealers provide is 'untouched' and begins on the day you drive your car off the lot. However, you need to be careful if you are buying a car from a showroom because your warranty may be limited sometime. This is because some showrooms buy their cars from dealers, and therefore; the warranty will start the moment a new car is sold the first time.
Regardless, buying from car showrooms is still a safe option. But you will have to keep the following in mind:
The car specifications must pass SASO conformity assessment.
Find out the exact warranty start date before buying the car; remember a car's warranty starts from the date of the first sale between the dealer and the showroom.
Make sure to get get the warranty booklet. This brochure provides detailed technical instructions and also indicates which local dealer shall provide your warranty.
Otherwise, you may end up buying an out-of-warranty car that you can't afford to fix!
Bottom line,
To sum it all up, buying a car today requires more careful research and a full understanding of the whole process. In normal times, buying a car from a showroom was definitely cheaper, but right now it may not be the best idea!
But, whatever you decide, be sure to do your research. There are benefits to buying your car at the dealer or at the showroom. The best way to find a good deal is to compare both and see what fits best for your needs.