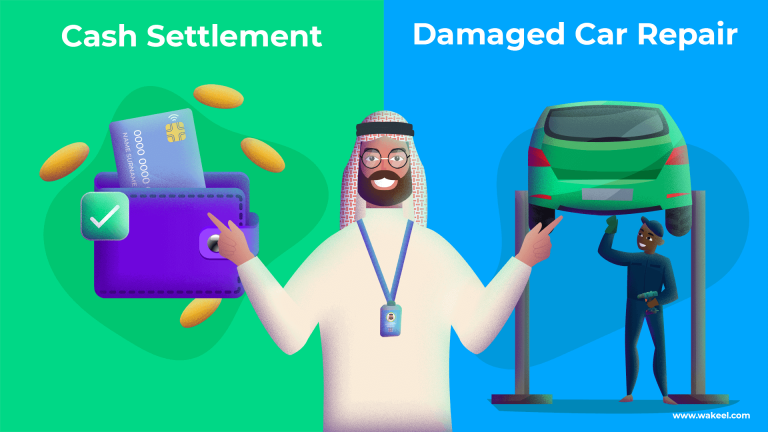 Cash Settlement vs Damaged Car Repairs
Car insurance is mandatory in Saudi for the same reason why wearing seat belts is mandatory; they both protect us from catastrophic scenarios! Namely, paying out-of-pocket costs for accident-related expenses can be costly. Both TPL and Comprehensive insurance offer financial assistance to pay for the damage you may cause to other people in an accident. Similarly, if another driver hits you, you can file a third-party claim directly with their insurer for cash compensation or repairs to your damaged car.
After a car accident, many people are left wondering how the insurance claim for the car repairs process works. In this guide, you will find answers to questions like, "Who pays for car repairs when the other driver is at fault?" and "What are insurers repair options after an accident?"Read on!
Who pays for car repairs after an accident?
When you're in a car accident that isn't your fault, the at-fault driver is on the financial hook for any resulting car damage. If they have a valid insurance policy, technically, their insurance company should pay for your car's repairs, and you have the right to file a claim with that insurer directly.
But, the first rule to know about filing insurance claims in Saudi is that you must follow accident reporting procedures first. Here's what to do, to get started.
What to do after an accident
No matter how minor the damage may seem, you should always report accidents. If you fail to do so, things can get tedious! Getting a vehicle repair permit could be impossible. but, even worse, you could be charged with hit-and-run. To make the car repair process as seamless as possible, follow these steps.
Here's what to do, to get started:
Contact Najm or Muroor immediately to report the accident.
Get a copy of the accident report.
Visit Taqdeer or any "Car Repair Cost Estimation" centers to get a car repair estimate.
Issue a vehicle repair permit via Absher platform
File a third-party claim with the at-fault driver's insurer within 2 working days from the date of the accident, along with all supporting documents.
So, what comes next? If your third-party claim is successful, the insurance company will contact you to settle your claim.
How do insurers settle car repair claims?
After the claim has been reported, the at-fault driver's insurance company will contact you regarding the settlement of your claim and payment. Commonly, insurance companies in Saudi indemnify for car repair. But recently, SAMA made amendments allowing insurance companies to offer an option of repairing the vehicle.
Thus, it will be up to you to decide between:
Getting a cash settlement
Repairing damaged vehicle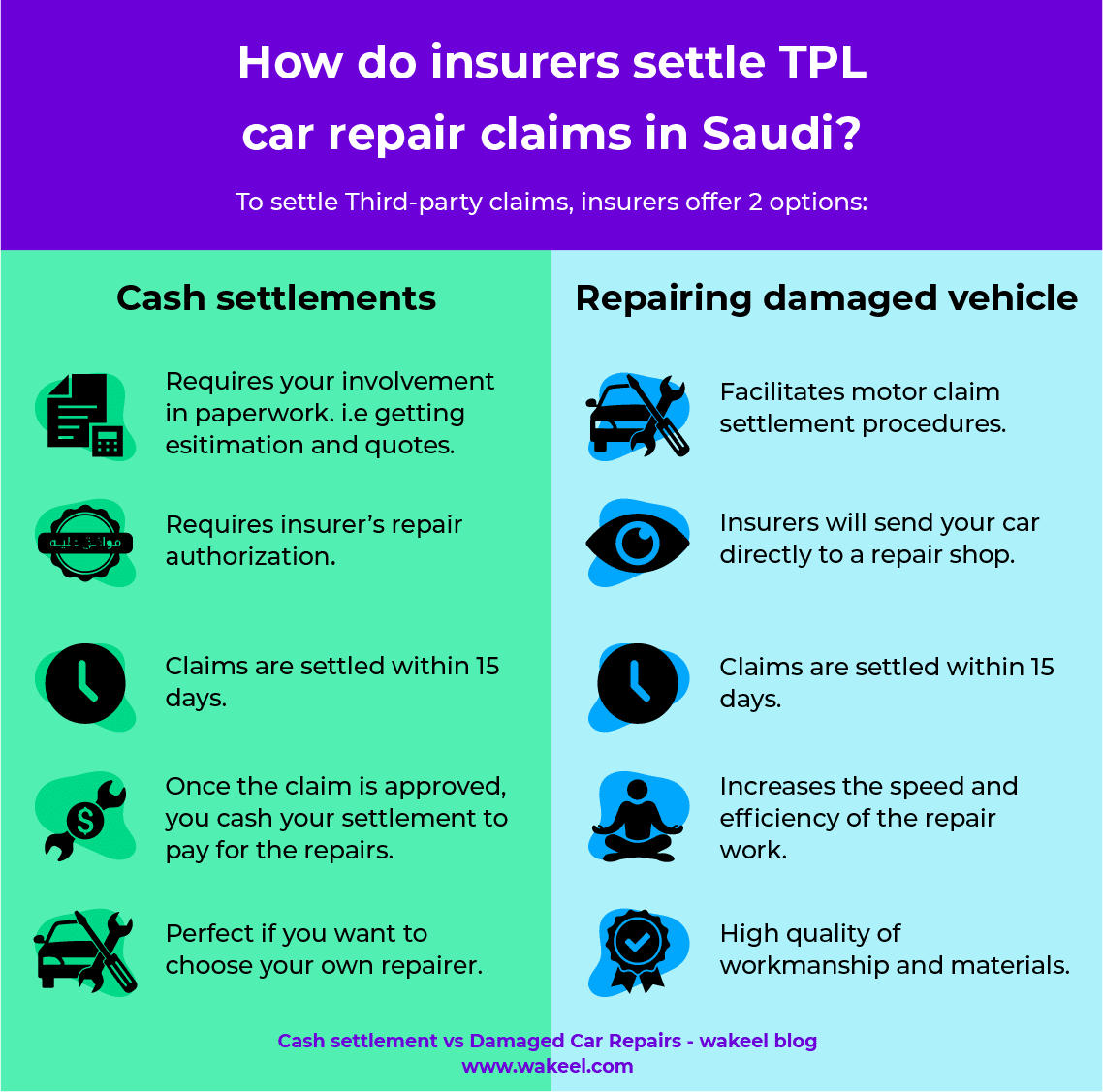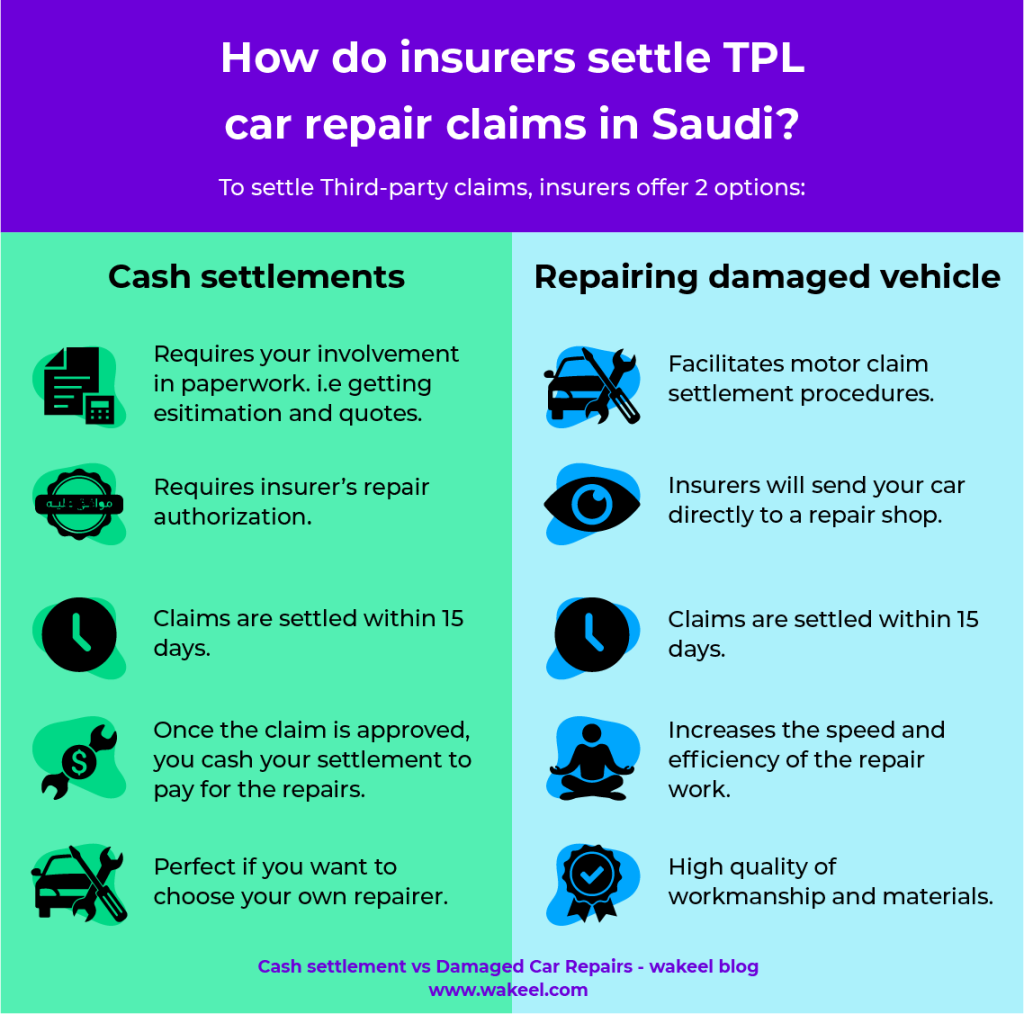 Below, we'll briefly explain what each option means and your rights.
Getting a cash settlement
In general, the most common way to settle claims in Saudi is for the insurer to send you a settlement check directly to your bank account. Once you receive the money, you can repair and pay for the necessary repairs yourself.
How long after settlement do I get my money?
All insurance companies have a legal obligation to pay you within 15 days of receiving all requested and necessary documents.
Before receiving a cash settlement for repairs, you should get your own repair quotes from Taqdeer Center or Najm accredited repair shops. Once you submit your quotes, you still have to wait for insurance repair authorization. As a result, car repairs may actually take longer time if you choose cash settlement.
How do insurance companies calculate settlements?
In respect of partial loss, insurers use the following formula to calculate settlements:
Spare parts +
the cost of repair (workshop bills) +
The fees to hire a car towing service +
minus, depreciation and liabilities (if applicable)
= total cash settlement
Cash settlements pros
Although this option means putting in some effort, it's a good option if you choose your own repair workshop rather than the insurer's. Or, if you prefer to do your car repair in a workshop specialized in your car's make and model.
Nonetheless, if any problem arises later, for example, the repairs are not done correctly or are not complete, the insurer is not obliged to fix the work. Thus, ask around and read online reviews from previous customers before choosing where to repair your car.
What are my rights if I choose cash settlement?
If you choose to accept a cash settlement, you have the right to:
File a complaint against the insurance company if it fails to pay the compensation amount within the specified period.
Object if you are not satisfied with damage estimation or spare parts quotes. If the insurance company does not respond, you can refer the complaint to Insurance Disputes Committee.
Choose where to repair your car — as long as your bill doesn't exceed the estimated costs.
Get a refund if the insurance company deducts 15% off your compensation for VAT. But remember t to keep all invoices to claim the insurance company to recover the amount due.
Repairing damaged vehicle
Instead of getting cash compensation, the latest amendments to the compulsory insurance policy introduced the option of repairing a damaged vehicle.
Put simply, this option means that the insurer will take over the repairs—handling everything from minor scratches to major body work. In other words, you won't have to go through the hassle of getting quotes and estimation, purchasing your spare parts, or being stranded without a car while waiting for your cash settlement.
How long do car repairs take after an accident?
SAMA obliges all insurance companies to repair the Third Party's vehicle, within a maximum period of 15 working days for individuals.
Yet, keep in mind that there are several factors affecting the speed of car repairs. Namely, the severity of the damage and the type of car you drive; because it determines how readily available the spare parts are. In other cases, claims may be delayed if the accident is still under investigation.
What are my rights if I let the insurer do my car repairs?
If you choose to let an insurance company repair your car, you have the right to:
File a complaint, if the insurance company doesn't settle your claim in a timely manner.
Dispute if the repairs are faulty or incomplete, or if you are unsatisfied with the quality, workmanship, and parts used.
Insurer's repairs pros
Save time. The insurance company and their appointed repair shop will take care of most of the paperwork involved —Thus, you may be able to get your car back sooner.
Guaranteed repairs. Insurance expert Walid Al-Hamid believes that companies will be obligated to repair in category (A) workshops and not in any workshops. Accordingly, this should ensure high quality of workmanship and materials.
Wide Networks. Each insurance company has a wide network of approved workshops. Suppose, an accident happens in a different city than where you live, insurance companies can easily locate different shops within your city. This can also help increase the speed of repair work!
Develop the insurance sector in Saudi. Not only does allowing this option helps the insurance company to combat insurance fraud. But it also can lead to lower insurance prices for everyone in the long run.
How to get around without your car in the meantime?
All in all, you can rest assured of two things: The at-fault driver's insurance company will cover repairs expenses. Two, you can choose where to repair your car after an accident.
Whether you prefer to get cash settlements or repair your car, the choice is entirely yours. Whatever you choose, it's important to be sure that your car will be repaired properly and efficiently.
Another thing you shouldn't worry about after a car accident is arranging alternate transportation while your car is in repairs. In situations like these, comprehensive insurance with hire car coverage can be a savior! Not only will your comprehensive car ensure getting your car and others fixed, but it will also ensure you get a replacement car while your car is being repaired. If the third-party claims process with insurance companies made you feel worse than when you got into the accident, start comparing insurance companies to get comprehensive insurance!