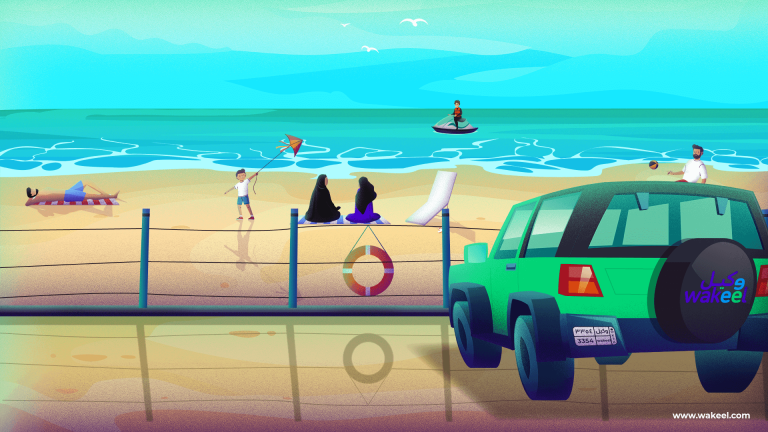 4 Destinations to Beat the Summer Heat in Saudi
As opposed to popular belief, summer is not always hot in Saudi Arabia! In a country mainly known for its endless deserts and warm climate, tourists rarely expect to find cooler temperature destinations for a summer reprieve in Saudi. The kingdom is huge, with plenty of things to see and do. For travelers who seek adventure while indulging in a bit of cooldown in Saudi, consider visiting the cloud-shrouded valleys in Taif and the inviting highlands of Aseer region.
We invite you for a Saudi summer-friendly road trip to fill up your travel-gram! Don't forget to bring your camera, and rent a car with comprehensive insurance, to go on an unforgettable road trip from Taif and Abha.
Where is it the coolest in Saudi during summer?
During the summer in Saudi Arabia, Taif along with various cities and villages in the Asir region like Abha, Al Namas, and Rijal Almaa, offer cooler temperatures compared to other parts of the country. In these places, temperatures typically range from 18 to 28 degrees Celsius.
Taif
When in Rome, do as the roman do. And when you're in Saudi during summer, do as the royals do! Back in the day, the royal family regally relaxed in Taif during the summer months
Taif, situated around 170 kilometers from Jeddah, can be easily reached by car within a two-hour drive. With pleasant weather and many attractions, it has become a popular destination among both locals and foreign tourists! When in Taif, don't miss the chance to visit the historical Souq Okaz, explore Shubra Palace Museum, and learn about Taif's roses' life cycle.
Abha
Abha is the perfect destination this summer if you miss the refreshing cool breeze. This charming city offers a delightful escape from the summer heat, with temperatures rarely exceeding 30 degrees Celsius and rainfall throughout the year.
While in Abha, make sure to take a leisurely stroll along the misty heights of the Asir National Park Trail. It's an experience you definitely don't want to miss! Plus, your visit to Abha won't be complete if you don't hop on a cable car ride, taking you to Al Souda mountain, the highest mountain peak in Saudi Arabia.
Rijal Alma
Rijal Alma village, situated just 45 kilometers away from Abha, offers a refreshing summer climate. With a history spanning hundreds of years, this village is a potential UNESCO World Heritage site. It is renowned for its unique gingerbread-style architecture, including impressive buildings that reach up to 7 floors! When you're in Rijal Alma, immerse yourself in the stunning natural scenery. Visit Qasabat Al-Owus Tower, or take a leisurely stroll through the lush green fields, and savor the delightful taste of Rijal Almaa's local honey.
Al Namas
Al Namas, locally known as the "City of Fog", is a two-hour drive from Abha. It has stunning green landscapes and a moderate climate, making it an ideal getaway from the summer heat. So, cool off and have fun through its picturesque mountains, valleys, and waterfalls. Additonally, Al Namas offers a variety of tourist attractions, including parks, palaces, and museums built on top of mountains.
How to prepare for a trip to Saudi this summer
Saudi Arabia Entry Requirements
Most visitors to the Kingdom of Saudi Arabia need to obtain an electronic visa for entry. Thankfully, negative PCR tests and vaccination are no longer required. However, all visitors are still required to have medical insurance, that covers the expenses of COVID-19 treatment during their stay.
Learn more about Saudi Arabia tourist visas and insurance on the visit Saudi website.
What's tourist visa insurance?
When you're on vacation, the last thing you want is anything that could spoil your plans. To ensure a stress-free journey and peace of mind, Saudi Arabia mandates visitors have insurance to obtain a tourist visa. Specifically, tourist visa insurance provides medical coverage for emergencies and includes treatment and hospital expenses related to COVID-19.
Use Saudi's Unified National Platform to check your visa insurance validity, and submit a request for a visa insurance extension.
Map out your Saudi summer-friendly road trip
Taif to Al Namas

Distance: Approximately 123 kilometers.
You can drive south from Taif to Al Namas via King Abdulaziz Road. Make sure to take turns between drivers to have some rest and enjoy the breathtaking views of the Sarawat Mountains and the surrounding valleys.

Al Namas to Rijal Alma

Distance: Approximately 74 kilometers.
You can travel north from Al Namas to Rijal Alma via King Fahd Road. You will enjoy the stunning mountainous landscapes and the enchanting nature along the way.

Rijal Alma to Abha

Distance: Approximately 68 kilometers.
You can drive north from Rijal Alma to Abha via King Faisal Road. Enjoy the magnificent mountain views of the Asir Mountains and the stunning valleys along the way!
The best way to get around and visit the places you want in Saudi Arabia is by using a private car. Having your own car (or renting one) gives you the freedom to get around independently and explore destinations.
What do you need for driving in Saudi?
If you're taking your own car
Driving long distances across various terrains can raise the chances of car accidents or mechanical issues. To ensure a hassle-free road trip, there are two important steps you can't skip. First of all, it's important to inspect your car before hitting the open road. Secondly, understanding the terms of your car insurance policy is also crucial. Take the time to carefully read the fine print, so you have a clear understanding of what is covered and what is not.
For instance, regular comprehensive car insurance plans don't typically cover damages that occur off-road. Nevertheless, certain insurance providers offer off-road coverage specifically for 4WD vehicles within their comprehensive policies. If you are looking for optimum protection, consider getting comprehensive car insurance with off-road coverage. You can easily compare quotes and buy your car insurance online using one of Saudi's licensed insurance comparison platforms.
Book a rental car to drive in Saudi
You can easily rent a car from reliable car rental companies at airports and in major cities. To book a rental in Saudi, you only need a valid passport, a credit card, and a valid driver's license, either international or from your home country.
When booking your rental car, a 4WD vehicle would be your best option; these cars are reliable o endure all types of roads. Plus, they are spacious, have big wheels, and the engine or the mileage to take you to miles. Additionally, be sure your to look for rental packages that include comprehensive car insurance, maintenance, and 24-hour assistance.
Additional tips for rental car insurance
Before you rent a car, t is important to read the rental car company's policy carefully to understand what is and is not covered by their insurance. For the best protection, make sure the car insurance includes the following:
Third-party Liability coverage. Third-party insurance is mandatory for all motorists in Saudi Arabia, including rental cars. It provides protection in case you cause an accident that results in injury to a person or damage to their property.
Collision Damage Waiver. This coverage protects you from paying for damage to the rental car, up to the limits of your policy. Learn more about the importance of collision damage waiver coverage.
Roadside assistance. This coverage provides roadside assistance, such as towing and flat tire repair.
With its diverse landscape and rich history, Saudi Arabia has something to offer everyone! Use VisitSaudi website to map out your route and discover hidden gems along the way. Finally, the best memories are created when you have peace of mind, so ensure you have the right car insurance in place before hitting the open road. Happy travels!