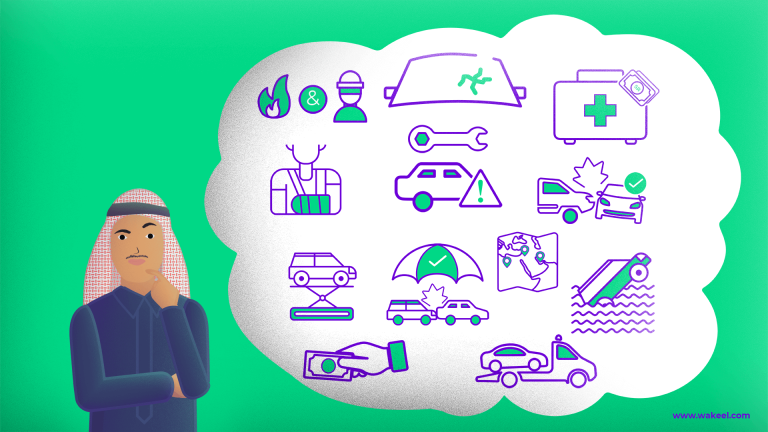 What to Look for in a Car Insurance Policy
When it comes to car ownership, having the right insurance can be just as important as having a reliable car. Usually, price is the first thing drivers look at when they compare car insurance quotes; but it's just one aspect to think about! Car insurance policies come with many features. Besides, every car insurance company offers different add-ons or extras to make their products more appealing –  and with many options on the market, it can be overwhelming to decide what should you pay attention to especially when getting a comprehensive insurance policy. Get it wrong, and you might end up overpaying for unnecessary coverage. Even worse, you might find yourself without coverage for something important!
In this article, we'll highlight what a good car insurance policy should include.
What makes car insurance policies different?
Overall, all comprehensive insurance policies serve the same purpose (to provide coverage for a wide range of risks and damages to your own car). But, to stand out more than the rest car insurance companies often include free add-ons or extras to make their products more appealing. As such, you will notice that specific policy terms, benefits, and prices can vary significantly from one insurance company to another in Saudi Arabia when you compare your options.
To help you buy the right policy, use insurance comparison websites to compare different insurers' offers in one place. Basically, a price comparison site presents you with a list of insurance quotes side by side, making it easy for you to compare the coverage, features, and costs of each policy. Now, let's discuss the features that a good policy will give
Features that a good car insurance policy will give
To benefit from the maximum possible coverage of your car insurance policy, check for the availability of the following benefits:
Coverage for a wide range of damages. Unlike liability insurance, comprehensive insurance will pay to repair your car after an accident. However, a reliable insurance policy should also offer protection against other unexpected situations that could result in damage or loss; such as theft, vandalism, or weather-related incidents
Appropriate insurance coverage limit. This refers to the maximum amount your insurer may pay out for a claim. If your comprehensive coverage limit is too low, it means that you may have to pay out-of-pocket for any expenses that exceed the limit. On the other hand, if the limit is set too high, you might be overpaying for your insurance.
Dealership repair. Car insurance companies typically provide the option to repair cars at authorized repair shops rather than exclusively at dealership workshops. Although authorized repair shops have a good reputation, going for "dealership repair" will help maintain the integrity and value of your car.
Personal accident cover. provides financial protection to named drivers in the event of accidental bodily injury, disability, or death.
Replacement car. With a replacement car, you'll have access to a substitute car while yours is being repaired, minimizing inconvenience and keeping you on the move.
Windshield Protection. Safeguard your windshield against cracks, chips, and damage caused by road debris or accidents
Off-road coverage. If you frequently travel between Saudi Arabia's cities and regions, off-road cover is a must! Opt for off-road coverage to protect your car against damages that may occur while driving off-road.
Roadside Assistance. Drive with confidence, knowing that help is just a phone call away! Having roadside assistance is worthwhile in case of emergencies such as breakdowns, flat tires, fuel delivery, or lockouts. Stay safe and get back on the road quickly.
Check out all the perks you can get
Considering Saudi's competitive insurance market, many insurance companies may also offer additional benefits and free services for the clients to stand out more than the rest.
For instance, Tawuniya comprehensive policyholders can enjoy Vehicle Pick-Up and Drop-Off Services for scheduled maintenance or annual vehicle inspection. Here's how it works:
Tawuniya picks up your car.
They bring it to the dealership for a maintenance appointment or periodic inspection.
Then again, Tawuniya will drop your car off at your home when it's done.
These services save you time and effort by offering a hassle-free solution.
On the other hand, Al Rajhi Takaful offers special add-ons for female drivers, including a child car seat cover which provides coverage for the replacement of a child's car seat if it is damaged in an accident. Additionally, when handbags belongings are stolen or damaged due to covered events like theft, vandalism, or accidents, Al Rajhi policy may provide reimbursement for their value up to the specified limits
Don't miss out on these perks! discover the best car insurance add-ons and exclusive offers by following insurance companies on social media. Stay updated, save money, and enhance your coverage.
What isn't normally covered by a car insurance policy in Saudi?
It's also important to understand what your car insurance doesn't cover. Here are some common exclusions:
Wear and tear.
Manufacturing defects — Worry not, your car warranty should take care of them!
Any pre-existing damages.
If someone else — whose name is not listed on your policy — is at fault for an accident.
Accidents that occur while the driver is under the influence of drugs or medication that impairs their ability to drive.
Accidents related to running a red light or wrong-way driving.
Commercial use of the vehicle, including occasional driving for delivery or ride-sharing services, such as Uber and Marsool.
Accidents and damages that occur outside Saudi Arabia, unless additional coverage is purchased.
Accidents caused by the driver's negligence, such as leaving the car running or unlocked.
Remember to review your policy wording carefully and understand these exclusions to ensure you have the coverage you need.
Finally,
Car insurance is more than just a legal requirement — it's an important tool for protecting yourself financially in case of unexpected events. Don't rush the process of finding the right policy — take the time to explore all the available options. Use a car insurance comparison website to save time, money, and hassle when you need to find the best insurance deals tailored to your needs.