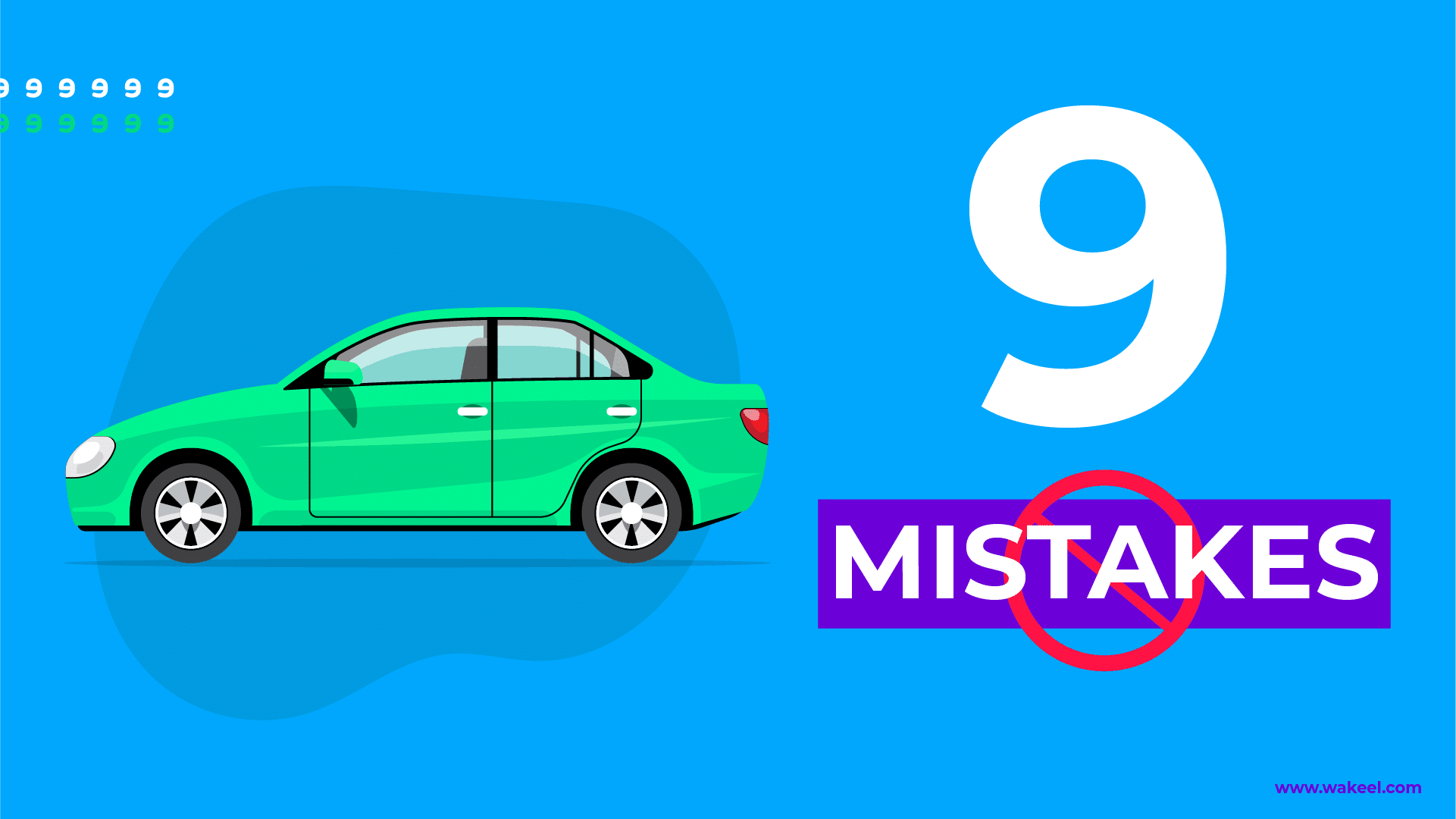 Insurance Don'ts: mistakes to avoid
Today, nearly everyone in Saudi needs to carry an insurance policy to protect their cars, property, and health. Despite this reality, most people with insurance policies are often confused or skeptical about buying insurance and what insurance can do for them. So, let's address 10 of the most common mistakes people have when it comes to dealing with insurance companies in Saudi.
By avoiding these mistakes, insurance buyers can get the protection they deserve and avoid any surprising bills that could eat into their budgets and make accomplishing other financial goals harder.
Mistakes to avoid before buying insurance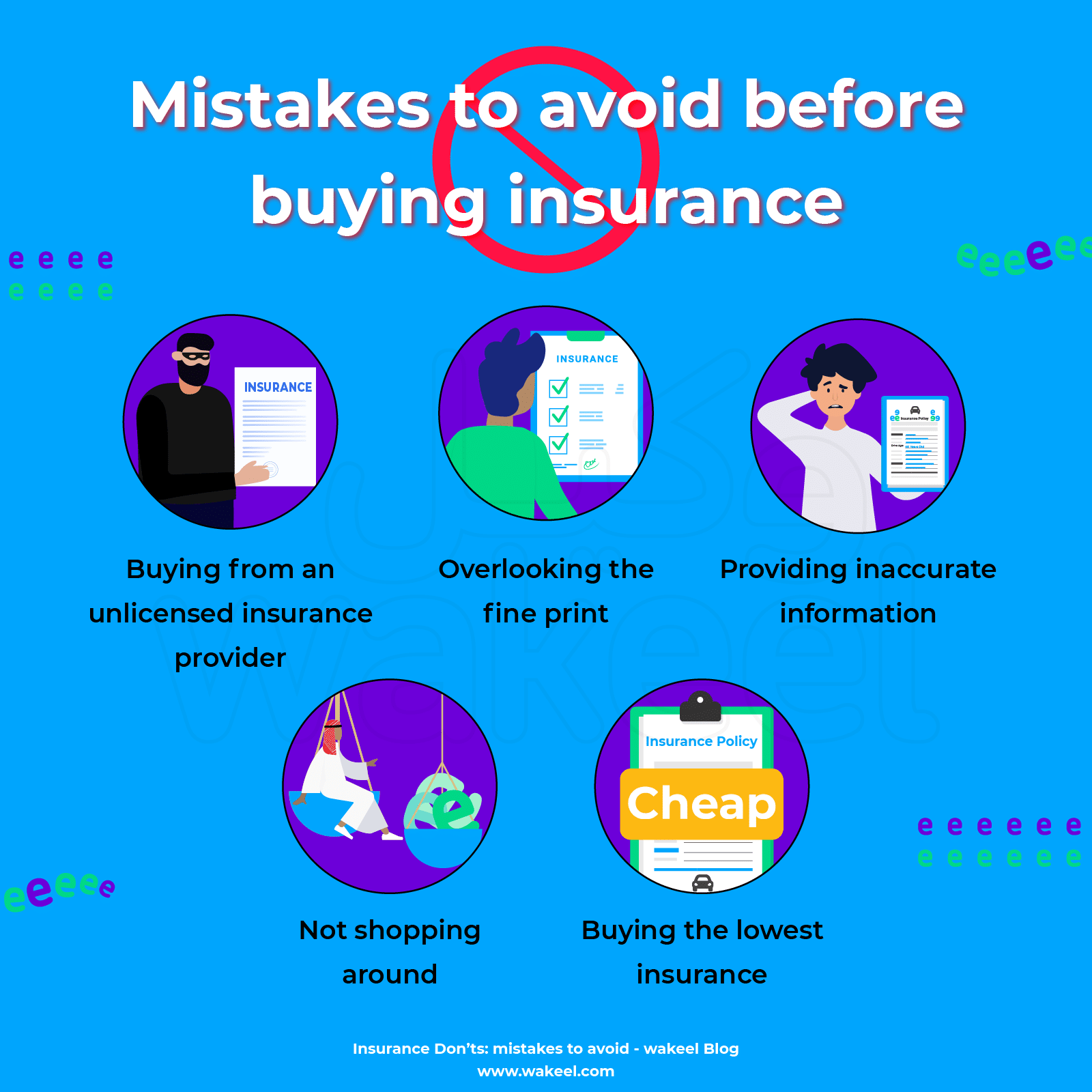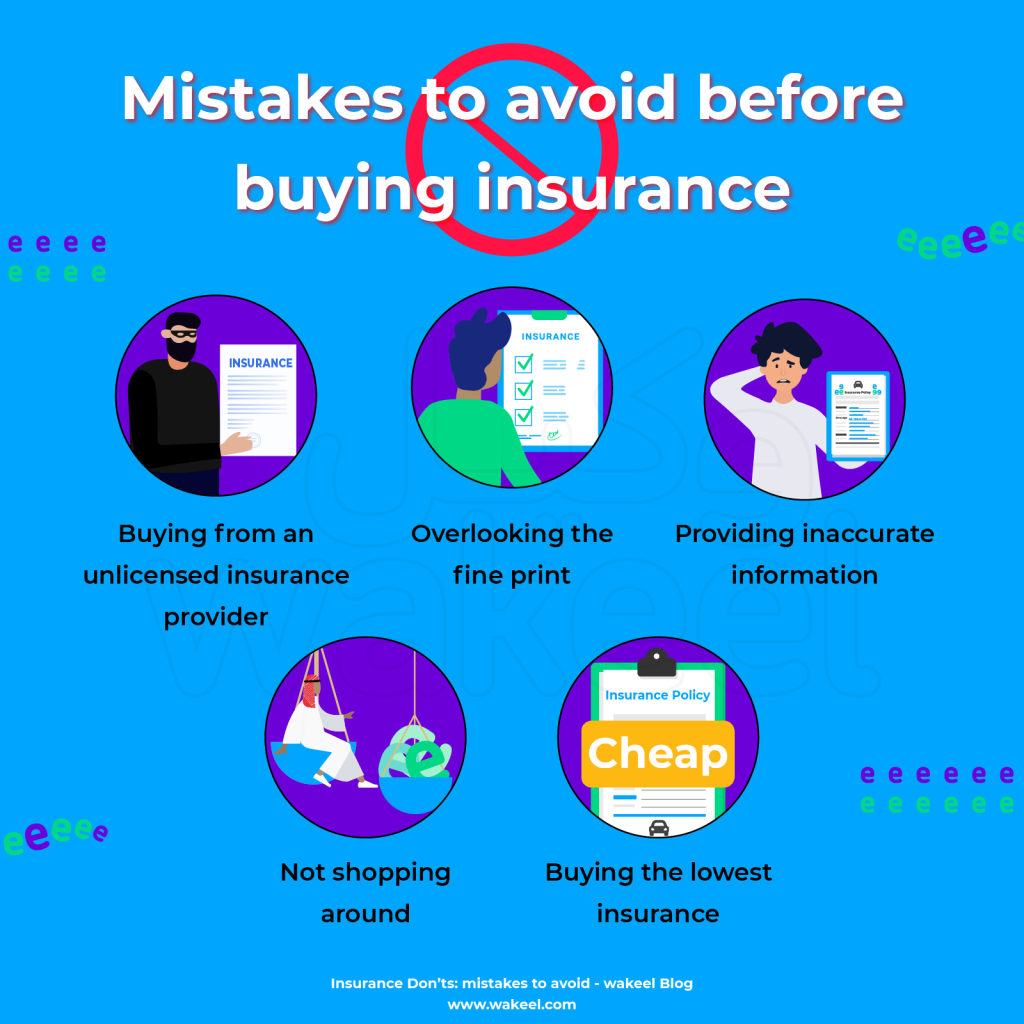 In this guide, we take a look at the top mistakes people make when getting buying car insurance.
Buying from an unlicensed insurance provider
For someone with a busy lifestyle, it's way more convenient to buy insurance online or use a broker, than to visit multiple insurers in Saudi. And, as matter of fact, this could save them time, effort, and even money. However, if you opt to buy your insurance online, don't make the mistake of buying insurance from dodgy sources!
Make sure to check if the insurer/broker is regulated and licensed by SAMA to avoid fraudulent websites and ghost brokers.
Overlooking the fine print
Oftentimes, the biggest mistake people make while buying insurance is to gloss over the papers of the contract they're about to sign. According to Forbes, fewer than one in 1,000 people take the chance to read the fine print. "Read the fine print" is good advice for a good reason; be sure to understand the ins and outs of each policy. Review the coverage and exclusions in your policy. Also, you want to pay attention to the deductible & depreciation to avoid huge misunderstandings and bills.
Finally, don't be shy to ask questions. After all, insurance companies have to help customers make informed decisions and educate them.
Providing inaccurate information
Before taking out a car insurance policy, people must answer several questions. Usually, insurers ask these questions to learn about your driving habits, the car's condition and modifications, and the value of your car. These answers will help calculate the risk and determine the cost of your insurance. Therefore, you have to provide complete, unambiguous, accurate information.
Sometimes, it may be tempting to leave certain information to get a lower insurance rate. But, it could cost you a lot more if your insurer denies your claim or cancels your coverage. Instead, find our tips for getting cheaper insurance ethically!
Also, remember to keep your insurer up to date with major changes, for example, if there are any drivers that need to be added or removed from your current policy. Often, people unknowingly fail to update their insurance when additional drivers start using the insured car. And while "leaving out information" intentionally and unintentionally is not the same; it could still invalidate your insurance.
Not shopping around
People rarely buy anything today without comparison. If you are planning to buy a phone, or flight tickets you would probably spend a great deal of time researching your options, comparing prices, etc. Would you devote the same time and effort before buying insurance?
It's a good idea to shop around, get several quotes, and compare policies; because insurance rates vary widely from one company to another. Consequently, you could end up paying much more than what you need to in order to get protection. Thankfully, shopping around for insurance can be easy.
On wakeel, all it takes is a little info, an idea of what coverages you need, and a few spare minutes to compare insurance quotes online.
Buying the lowest insurance
Saving money is a strong draw for most people; especially for those on a tight budget! Less coverage could ensure lower rates. However, that doesn't mean you should skimp on coverage just to save money.
Primarily, insurance should protect you financially and help you cover the bills. When you buy insurance based on price only; you're likely to pay more out-of-pocket later. Thus, it's important to ensure you have the right coverage at the best possible price rather than the cheapest insurance without regard to protection.
Mistakes to avoid after buying your insurance
Putting off insurance renewal
One of the reasons why you shouldn't put off your insurance renewal is accidents. Accidents happen all too often! And by their very nature, they happen when you least expect them to.
In that case, you will have to pay for all the damage out of your own pocket after an accident. Moreover, driving without insurance is illegal in Saudi; so you will also have to pay a fine. On top of everything, this could also cause you to lose your hard-earned No-Claims Discount!
claiming against an uncovered risk
Overall, if your car is damaged and you don't have enough coverage, you'll pay more of the repair cost. Bear in mind that each insurance policy offers different levels of coverage.
For example, third-party insurance policies don't cover your own damages — even if natural perils were to blame! So, when a TPL policyholder files a claim for flood damage, their claim will be rejected. Similarly, a comprehensive insurance policyholder cannot ask the insurer to hire a replacement car; unless it is covered under the insurance policy.
Delaying an insurance claim
Generally speaking, procrastination is a bad habit, but taking your sweet time to file a claim after a car accident is a big mistake! You must file your claim promptly to avoid delays in payment or rejection.
Ideally, you should start the claim process make your claim promptly or as soon as these documents are ready:
Vehicle damage report from Taqdeer
Vehicle repair permit from Muroor
The accident report from Najm
Using insurance for financial gain
Sometimes people think it's acceptable to obtain money or other benefits from their insurance policy because they paid for it. But actually, this is fraud. Basically, car insurance fraud can be anything from staging accidents to exaggerating repair bills or inflating the value of spare parts for personal gain.
All things considered, fraud is illegal in Saudi. Najm and insurance companies are particularly keen to detect and halt fraud attempts. And at the end of the day, suspected fraudsters will face serious consequences when the truth comes out.