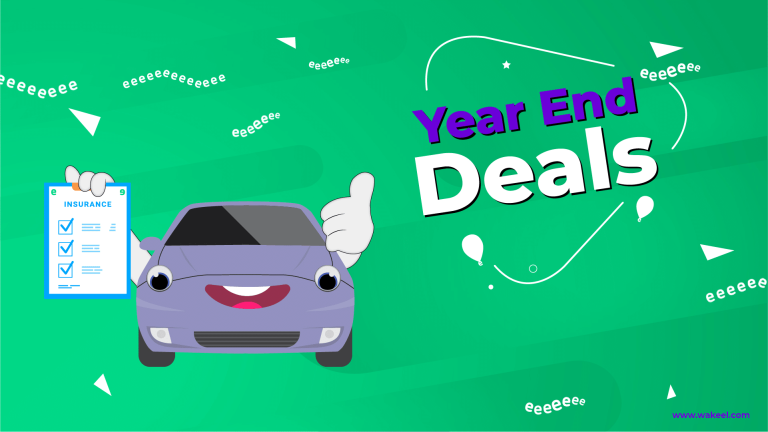 End of year car insurance deals
When it comes to shopping, online shoppers know the best time to buy everything: End of year unmissable deals.
At the end of every year, car insurance companies in Saudi Arabia go all out with attractive car insurance deals. In fact, Insurance companies usually offer special discount promotions during major public holidays an example of that would be discounted car insurance rates on Saudi National Day. It's a good practice that if you're looking for insurance discounts and offers you should always first check online and have a closer look at the promotional deals and discounts insurance companies are making available online in Saudi Arabia.
Where and how can I get the best promotional insurance deals?
You find all the promotional discount deals online on insurance comparison websites, the online platforms usually also provide you with all of the information you need for the car insurance discounts as well as seasonally offers and deals offered by insurance companies.
So, here are some pointers on how to get the best promotional insurance deals in Saudi:
How to get the best insurance deals in Saudi
Knowing the type of coverage and determining individually what are the add-ons going to be provided by the insurance company. Additional coverage options are usually agency car repair, towing services, and full coverage in other parts of the GCC countries.
Shop around and read the offer terms and conditions very carefully, make sure you're not paying more in hidden costs in the final quote.
Accurately read the policy data and offers prior to purchasing. Familiarizing yourself with competitor offers and their insurance coverages being offered will help you get the best promotion insurance deal.
Check the discount's validity date. Set a day to buy your insurance online after comparing all insurance deals online, make sure you do so before the expiry date of the discount insurance offer. The expiry dates are usually shown in the insurance terms and conditions.
When buying insurance online, make sure that all consumer rights are appropriately reserved by the insurance company.
Are there any other types of insurance discounts?
Insurance companies across Saudi Arabia are able to give percentage discounts to customers based on:
No Claims Discount(NCD): All insurance companies in Saudi Arabia provide No Claims Discounts (NCD) that range from 10% to 60 %. The percentage amount that is discounted depends on the type of insurance and how many years of no accident claims a driver has.
Loyalty Discounts: Saudi insurance companies grant loyalty discounts to their policyholders who re-insure their car with the same insurance company for over a year (having a free record of traffic claims). Accordingly, They are given a discount of 5% in the first year, and then a discount of up to 10% for the next two years upon renewal.
Multi Motors Discount: It is granted to customers insuring more than one car with the same insurance company. Specifically, 5% in the first year and then a discount of up to 10% for the next two years of renewal is provided.
Is the lowest discounted price insurance always the best?
Typically, most people tend to buy the cheapest car insurance policy to insure their cars, but that does not necessarily mean that it is the you're are the getting the best policy for you. Therefore, it is always recommended to compare insurance policies and buy the policy that suits your needs based on coverage and financial protection.
To save you the effort and money, the year-end car insurance offers are considered one of the best seasonal packages. Compare car insurance discounts online to find the best discount rate with all the basic covers and benefits needed. The results of comparing car insurance ensure you on filling the end of the year-end with harmony having purchased your car insurance on a great deal at the best price available.
Looking for better car insurance rates?
Whether you spent too much this December, or if you missed out on those best deals. wakeel can always ensure you get the best car insurance prices all year-round. Quote, compare and save on car insurance with the help of a trusted car insurance comparison platform in Saudi.
This year, the wakeel family will like to wish you a Happy New Year to the Kingdom of Saudi Arabia's citizens and residents, wishing a happy and prosperous 2021.