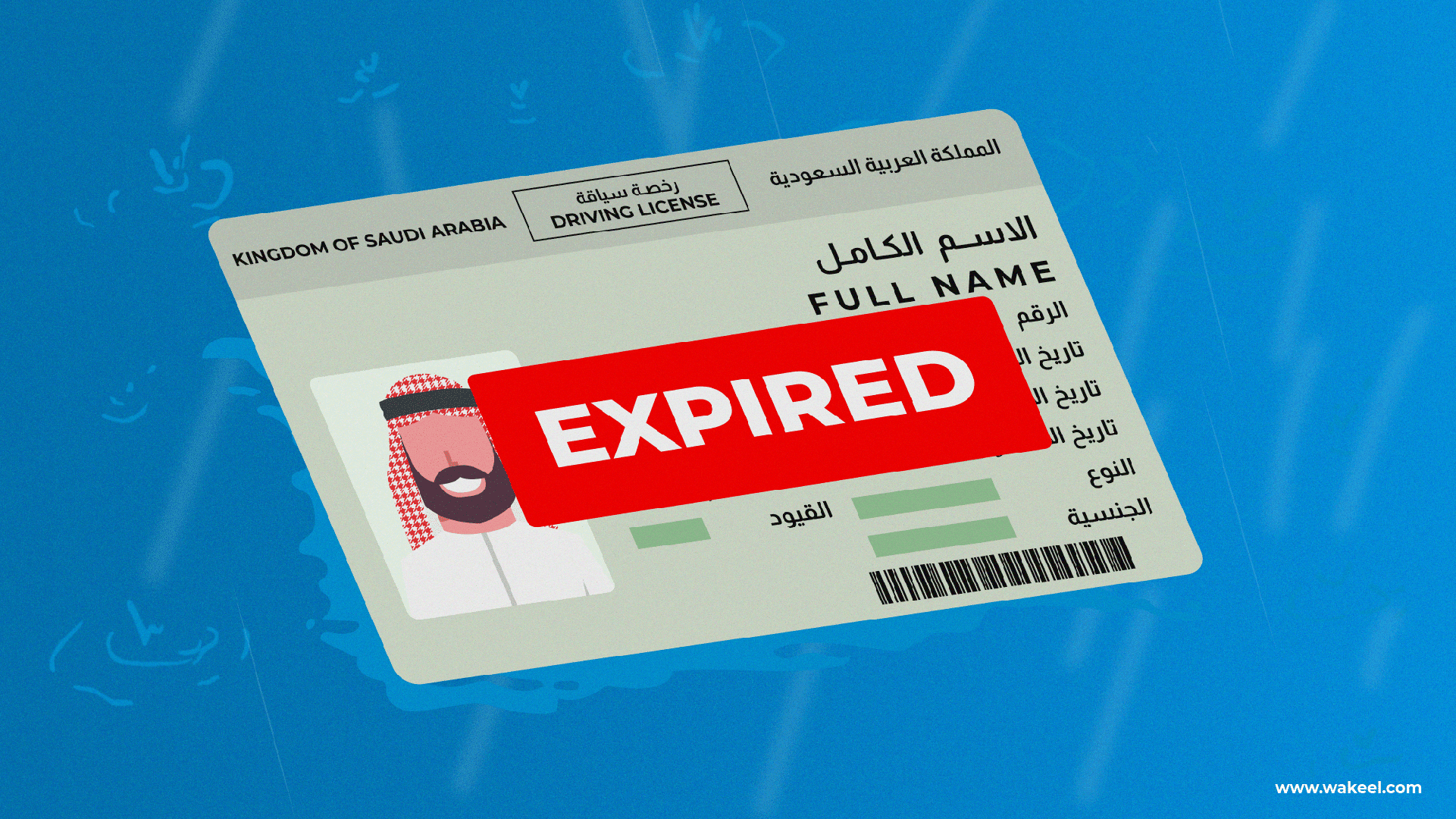 Does Insurance Cover Accidents with an Expired License
In its simplest form, Murphy's Laws state that everything that can go wrong will happen and that anything that can go wrong, will go wrong! Others say, "When it rains, it pours." Now, picture this situation – you are driving your car down the highway one day, when you suddenly lose all control, veering outside your lane and striking another car. Fortunately, no one is hurt, and your car insurance will cover repairing both cars. But what could make things worse?! It is unfortunate to have an accident, but it is even worse to have an accident when your license is expired!
When life gets busy, it is very likely to forget about your driver's license renewal! Needless to say, accidents always happen when you least expect them to and only at the most inconvenient of times! If you ever have the misfortune of getting into a car accident with an expired license, you must act quickly to handle the situation. Here is what you need when need to make a claim with an expired driving license.
What should I do if I get into an accident with an expired license?
Car accidents are never pleasant experiences. But, it's important to understand the necessary steps to take after an accident to protect yourself and prepare for a car insurance claim.
Usually, in situations like this, many may ask:
Is it fine to replace the unlicensed driver with another insured driver to cover the accident?
It is illegal to replace any driver after an accident – Even if the driver's license is expired! Overall, providing any kind of false information can break your insurance contract. This means that the insurer has the right to cancel your coverage, leaving you unprotected in the event of a claim. Also, possibly accusing you of insurance fraud.
Should I wait until I renew my expired license to report the accident?
Forget about it! What may seem like a bright idea now, can get you into a lot of legal and financial trouble later.
If the driver leaves the accident site before Najm attends the scene, this can lead to criminal charges. Many hit-and-run drivers will flee the scene of an accident without reporting the accident because they are trying to avoid charges. So, no matter the accident's severity, calling Najm and filing an accident report is essential. Without the report, you won't be able to repair the car or start your claims process. If you're in a hurry, learn more about the Najm remote accident system.
In this context, the Public Prosecution pointed out that drivers who fail to remain at the scene of the accident, fail to notify the competent traffic department about the accident, or replace drivers; will face 3 months of imprisonment or a SAR10,000 fine, or both penalties.
How to deal with an accident if I have an expired license
Taking the steps below will help you minimize complications down the line.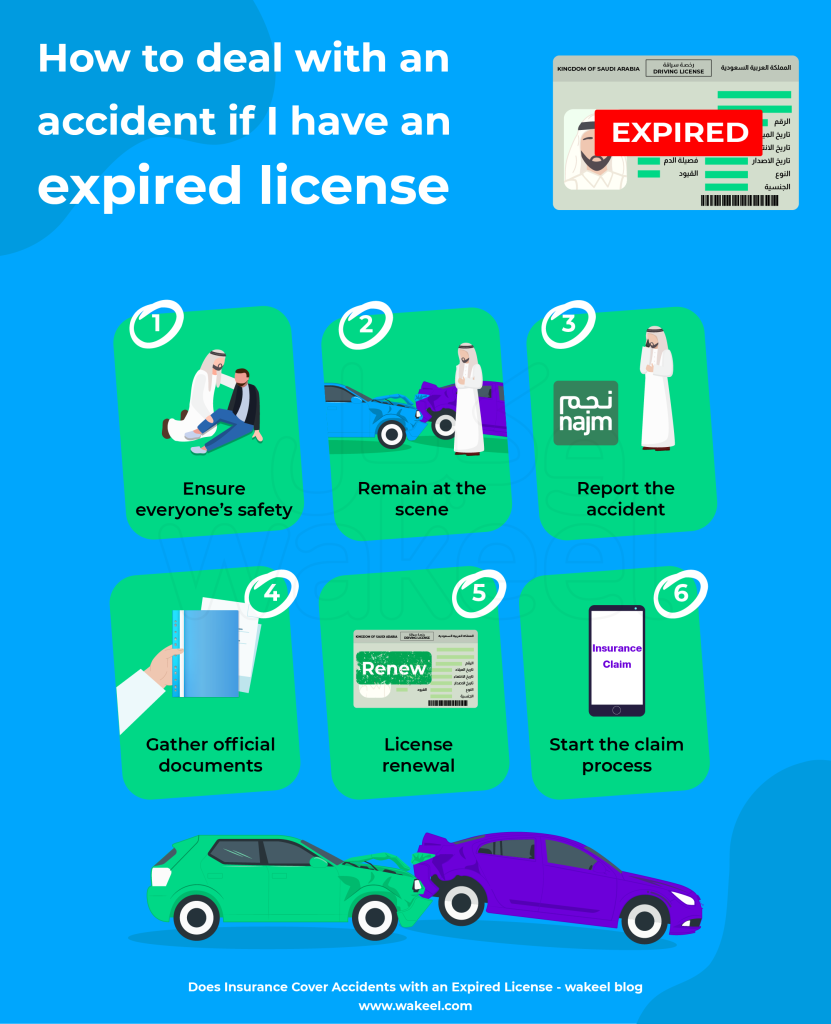 Ensure everyone's safety first. Check yourself and your passengers for injuries Ensure your safety and the safety of those with you. Also, make sure it's safe to step out of your car before springing into action and assessing the damage.
Remain at the scene. It is better not to move your car at all; unless its presence poses a danger to public safety or disrupts traffic.
Report the accident. If you (or the other party) have a valid insurance policy, report the accident to Najm. If there are any injuries or deaths, God forbid, call the police and ambulance.
Gather official documents. After filing a report, prepare the necessary official documents such as a valid insurance policy, vehicle registration (Istimara), and driver's license. Because you hold an expired driver's license, you will have to pay a fine.
License renewal. SAMA made an amendment, allowing a driver with an expired driving license, who has been in an accident, to renew it within a period of 50 days from the date of the accident; So as to avail of the necessary insurance coverage. However, if the driver fails to renew their license within this period, the insurer has the right to recover the amount of the claim paid for the loss.

Saudi GTD, calculates late fees of (100 SAR) annually after 60 days from the expiration date.

Start the claim process. As soon as you renew your license, you can start the claims process immediately.
Learn more about what to do after a car accident to file a claim.
Covering accidents of drivers with expired licenses
According to Article 8 of the Unified Compulsory Motor Vehicle Insurance Policy:
[The Insurance Company shall indemnify third parties while reserving the right of recovery against the insured if the vehicle was]

Driven by a person who does not hold a proper class of license corresponding to the type of vehicle driven, according to the relevant laws and regulations, or in the event that a competent entity issues an order for the forfeiture of the driver's license, or the license was expired at the time of the accident unless it was renewed within (50) working days from the date of the accident.

Unified Compulsory Motor Insurance Policy
To explain, drivers with an expired license would still be protected by car insurance coverage, only if they renew their license within 50 days. If drivers fail to renew within that period of time. Then, the insurance companies can exercise their right of recovery. Simply put, the right of recovery means the insurance company may ask to recover all the money payouts on your claim.
If an insurance company rejects your claim, send a complaint to the Customer Care department. If the insurance company doesn't resolve your complaint, then you can file a complaint through SAMA Cares portal.
Can an insurance company ask for their money back?
Yes, insurance companies could use their right of recovery to ask for money back. If you do not pay it back, they can sue you to collect the payment.
Does an expired license determine fault?
Many may assume that driving without a license automatically determines fault, but that is never the case. When a car accident occurs in Saudi Arabia, the investigator has the final say in deciding who was at fault.
To determine fault, the investigator looks at the damage and where the cars are now situated. After assessing the scene, the level of negligence of each driver is taken into consideration to determine fault. In most cases, more than one driver can be liable for causing an accident; regardless if someone is driving without a valid license.
How can I renew my license after an accident?
Keeping your driver's license up-to-date is essential for many reasons. But, after an accident, renewing driving license as soon as possible is crucial; to avoid paying out-of-pocket.
The Public Security Department provides an e-service through Absher platform, that enables individuals to renew a private driving license online. The applicant must:
Pay delay fees electronically through the SADAD system.
Pay all traffic fines issued against their license.
Have their fingerprint and a photo available on Absher for Individuals.
Bear in mind that, if you don't renew your driving license, you won't be able to renew your car's registration or insurance.
Can I buy or renew my insurance with an expired license?
To purchase or renew insurance, the applicant must hold a valid driver's license. Once your license expires, you will no longer be legally authorized to drive or purchase a new insurance policy; owing to the fact that insurance companies need to verify that you are still capable of driving safely and that the information on your license is still accurate. This kind of information allows insurance companies to assess your driving record, which feeds into your final insurance quote.
When looking for a new insurance policy, price comparison is a step you should never overlook! Use wakeel price comparison and get car insurance quotes from as many companies as possible to get the best rates.