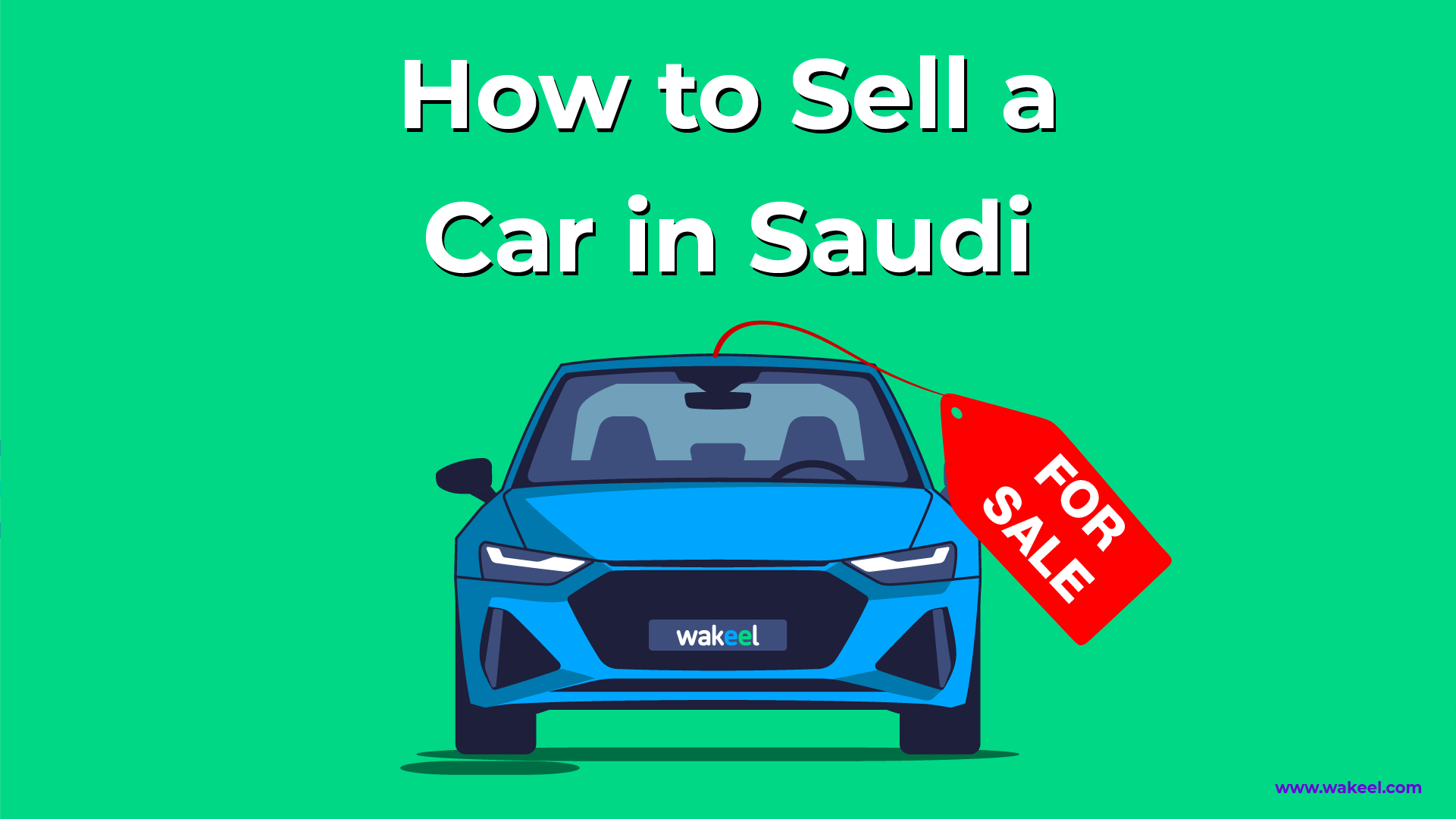 How to Sell a Car in Saudi
According to HIS, the average car lifespan is now almost 12 years – or about 240,000 kilometers. In spite of that, many cars can go even longer with proper care and regular maintenance. In Saudi, it's common to retain a car for 20 years if it's still in working condition. However, many other car owners in Saudi sell a car after 5 years of ownership. Overall, deciding to put a car up for sale and when to do is a subjective choice. But, the best time to put a used car up for sale is before you need to!
Today, the demand for used cars in Saudi is high, which may make it a good time to sell your car. In fact, your car may be worth more now than it was a year ago, thanks to the global microchip shortage. Use these tips to learn how to sell your car online & squeeze the most value out of your car.
3 Tips to Sell a Car Quickly in Saudi
Gone are the days when selling a car and transferring ownership was a daunting and ultimately exhausting task! The easiest and safest way to self-sell a car in Saudi is to use the vehicle sales e-service on Absher. With Absher, sellers and buyers can efficiently complete the paperwork electronically and pay securely online.
Nonetheless, selling a car, in general, requires a bit of time, effort, and research; to create a good ad, screen for serious buyers, and schedule test drives. Hence, before you decide to sell a car in Saudi, here are 3 crucial tips you need to check on for a smooth car sale.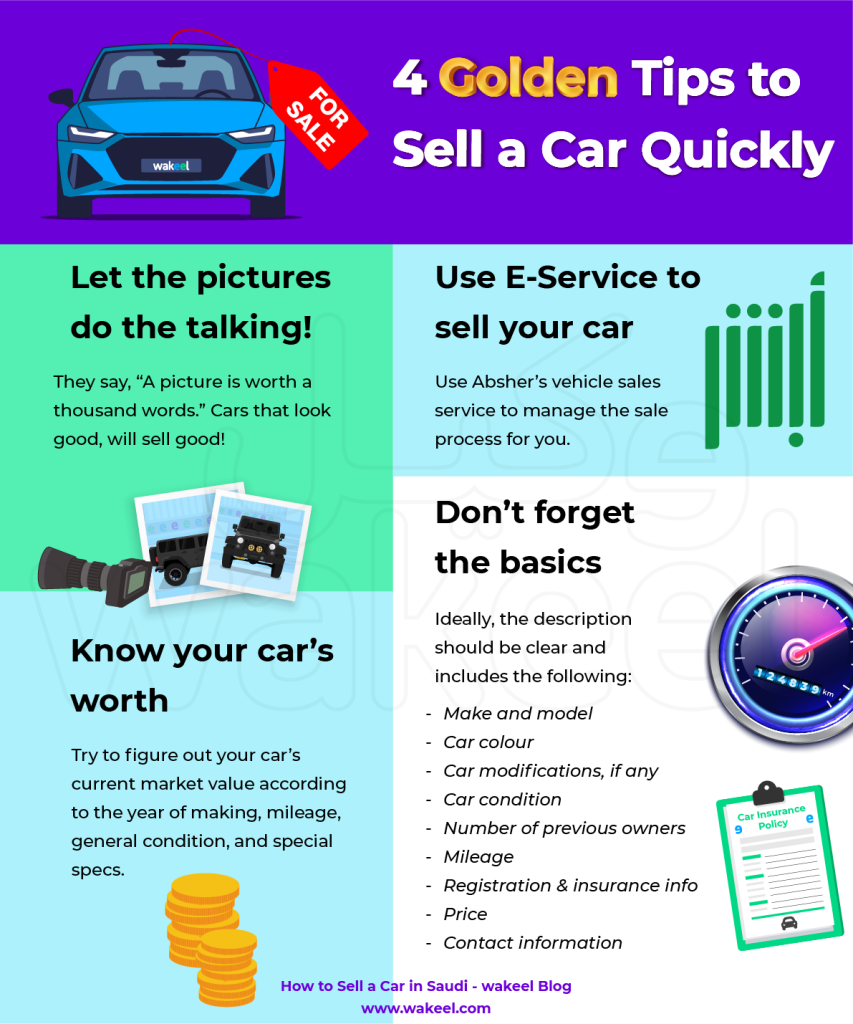 Let the pictures do the talking!
They say, "A picture is worth a thousand words." Naturally, potential buyers are more interested in car ads with good pictures than stock photos or low-quality ones. Keep in mind that buyers will initially assess your car by looking at its pictures first. Therefore, you need to take high-quality photos.
First things first, give your car a wash, clean the insides, and park it in a well-lit area. Next, take pictures from all angles and include some interior shots too. Use this opportunity to capture any cool features, accessories, or if your tires are in great condition.
Remember cars that look good, will sell good!
Don't forget the basics
In addition to posting good photos, you'll want to give some attention to the ad you write. Ideally, the description should be clear and thorough to answer most of the prospective buyers' questions immediately, as well as highlight the car's most valuable features.
In your car for sale ad, include the following:
Car colour
Features and modifications, if any
Car condition; mention maintenance history
Number of previous owners; Only if it's low for the age of your car
Mileage
Registration & insurance info
Price
Contact information
As a rule, keep your words simple, and break them into points; this way interested buyers won't mind spending a couple of minutes reading your entire ad.
Know your car's worth
There is just one last thing you need to take care of – setting a price for the car. Before anything, put your feelings aside to come up with a fair selling price. And instead of winging it, try to figure out your car's current market value according to the year of making, mileage, general condition, and special specs.
Here's an easier way to do this; use car-selling sites to search for cars of the same make and model. You will be able to figure out the average price as well as check out your competition. Take advantage of this to price your car competitively. Needless to say, the potential buyers will definitely compare prices while shopping. Additionally, expect that buyers will negotiate your price; So, allow yourself some room to wiggle and haggle.
Finally, all you have to do now is post your ad on social media and used car websites; Get your car in front of millions of shoppers without spending a riyal!
Use the Vehicle Sale e-service to sell a car in Saudi
Once you find your buyer, use Absher's vehicle sales service to manage the process for you. Vehicle sales service is an official service, that allows users to safely buy and sell cars online in Saudi Arabia. The e-service, provided by Absher platform, offers to take care of all car sale aspects to finalise the deal – from agreement documentation, and secure payment, to car ownership transfer. The terms of use of the service include:
Saudis can only sell vehicles of the type "private" or "private vehicles" and "private" only for residents.
Absher allows e-sale of vehicles within the price range of SAR 500 – SAR 1,000,000.
Vehicle registration license, technical inspection certificate, and insurance policy must be valid.
Vehicle must be in good running condition; it must not be missing, wanted, or impounded.
Pros of selling a car on Absher
It's a hassle-free, paperwork-free 100% online service.
Sales are protected on Absher. After the agreement, the buyer will deposit the agreed amount to a service intermediate account that guarantees your right to document the amounts and receive the vehicle.
In case of disagreement, the sale can be canceled at any time before completing the "delivery of the vehicle". This will ensure that all the amounts transferred will be refunded electronically.
How to sell a car on Absher
First, log in to the Absher platform.
Next, select vehicle sales from the service menu.
Then, choose the car you would like to sell.
Fill in the required data fields
Submit your request
Now, the buyer must log in to Absher and follow these steps:
Fill in the required data
Transfer the agreed amount to the intermediary account.
Buy car insurance – It only takes a few minutes to compare and buy insurance online in Saudi; try wakeel!
Pay vehicle ownership transfer fees + government fees, including VAT.
Finally, the seller can complete the sale from his personal account.
What's next?
As soon as the deal is sealed, you are supposed to cancel your insurance for three reasons. One is to avoid being liable for the new owner's behavior. Two, because you don't have to pay insurance for a car you no longer own! Contact your insurer to cancel your policy and receive the remaining balance.
Now, if you are planning to buy a new or used car, let us help shop around for reasonable car insurance — especially if it's been years since you last looked for a better rate. Worry not! All it takes is a little info, an idea of what coverages you need, and a few spare minutes to compare insurance quotes online on wakeel.